Rene Rast denied Audi stablemates Mattias Ekstrom, Jamie Green and Mike Rockenfeller the DTM title by finishing second in a tense final race of the season at Hockenheim.

Rast crossed the line three seconds adrift of the winning BMW of outgoing champion Marco Wittmann to claim the crown by just three points from Ekstrom, with Green six adrift and Rockenfeller 12 behind.

DTM rookie Rast always looked the favourite after qualifying his Team Rosberg-run RS5 on the front row, while Ekstrom and Green were mired down the field with grid penalties.

But it was a nervous race for Rast, who was barged aside at Turn 1 after the start by the Mercedes of Lucas Auer, and completed the opening lap in fifth place.

Rast looked to have great speed, and passed Robert Wickens's Mercedes for fourth on the fifth lap.

He then hunted down Auer, passing the Austrian four laps later.

Rast was right on the tail of the leading BMW duo of poleman Tom Blomqvist and Wittmann when Wittmann peeled into the pitlane for his mandatory stop.

Blomqvist pitted three laps later to promote Rast to the lead, and Audi decided to leave all four of its title contenders on the track until deep into the second half of the race.

On fresh rubber, Wittmann was able to take several tenths per lap out of Rast, and the Audi man rejoined a distant net second after his stop.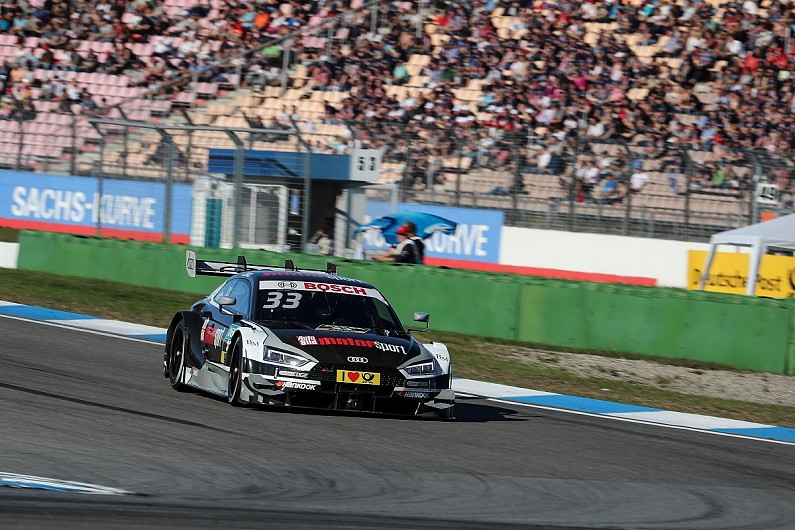 Rast looked as though he could be passed by the battling Blomqvist and Wickens as he got up to speed, but this duo took care of themselves when Wickens shovelled Blomqvist out of the way at the Spitzkehre hairpin, giving himself a drive-through penalty and forcing Blomqvist out of the race as a result of the damage.

The next nervous moment for Rast came when he tried to pass the ultra-late-stopping BMW of Bruno Spengler at Turn 2 - they made contact here, before Rast surged ahead down the back straight.

Rast carved chunks out of Wittmann's lead, but the title depended on the progress Green and Ekstrom made through the early stoppers on their fresh Hankooks.

Ekstrom had bumped Green's rear end on the opening lap, the Briton plummeting to 18th and last position as he seemed to struggle.

But Green regrouped and passed Ekstrom before the stops.

While Rockenfeller took third from top Mercedes finisher Gary Paffett, Green completed a remarkable recovery to fifth by passing Maxime Martin's BMW on the final lap, but it wasn't enough.

Augusto Farfus (BMW) took seventh from Ekstrom, with the Mercs of Edoardo Mortara and Auer rounding out the points.
Race two result
| Pos | Driver | Team | Car | Laps | Gap |
| --- | --- | --- | --- | --- | --- |
| 1 | Marco Wittmann | RMG | BMW | 36 | 56m47.699s |
| 2 | Rene Rast | Rosberg | Audi | 36 | 3.143s |
| 3 | Mike Rockenfeller | Phoenix | Audi | 36 | 6.280s |
| 4 | Gary Paffett | HWA | Mercedes | 36 | 15.844s |
| 5 | Jamie Green | Rosberg | Audi | 36 | 17.835s |
| 6 | Maxime Martin | RBM | BMW | 36 | 19.372s |
| 7 | Augusto Farfus | RMG | BMW | 36 | 20.386s |
| 8 | Mattias Ekstrom | Abt | Audi | 36 | 21.229s |
| 9 | Edoardo Mortara | HWA | Mercedes | 36 | 22.902s |
| 10 | Lucas Auer | HWA | Mercedes | 36 | 29.260s |
| 11 | Nico Muller | Abt | Audi | 36 | 30.428s |
| 12 | Timo Glock | RMR | BMW | 36 | 33.274s |
| 13 | Maro Engel | HWA | Mercedes | 36 | 41.344s |
| 14 | Bruno Spengler | RBM | BMW | 36 | 41.591s |
| 15 | Loic Duval | Phoenix | Audi | 36 | 42.972s |
| 16 | Paul Di Resta | HWA | Mercedes | 36 | 1m35.770s |
| 17 | Robert Wickens | HWA | Mercedes | 29 | 7 Laps |
| - | Tom Blomqvist | RMR | BMW | 26 | Retirement |
Final drivers' standings
| Pos | Driver | Points |
| --- | --- | --- |
| 1 | Rene Rast | 179 |
| 2 | Mattias Ekstrom | 176 |
| 3 | Jamie Green | 173 |
| 4 | Mike Rockenfeller | 167 |
| 5 | Marco Wittmann | 160 |
| 6 | Lucas Auer | 136 |
| 7 | Timo Glock | 133 |
| 8 | Maxime Martin | 132 |
| 9 | Robert Wickens | 119 |
| 10 | Gary Paffett | 102 |
| 11 | Paul Di Resta | 99 |
| 12 | Nico Muller | 81 |
| 13 | Bruno Spengler | 75 |
| 14 | Edoardo Mortara | 61 |
| 15 | Maro Engel | 51 |
| 16 | Augusto Farfus | 35 |
| 17 | Tom Blomqvist | 25 |
| 18 | Loic Duval | 22 |