BMW driver Marco Wittmann fended off Mike Rockenfeller to win a frantic second DTM race at Zandvoort.
The victory was Wittmann's first of 2017, as Loic Duval completed the podium to record his best result of the season so far.

NEWS UPDATE: Wittmann disqualified from victory

Audi's erstwhile points leader Rene Rast retired after contact with Maro Engel, and Mattias Ekstrom moved back into the standings lead.
BMW had locked out the top three spots on the grid as its M4 was the lightest car in the field by 10kg, but the Bavarian marque's 1-2-3 was disrupted immediately as Maxime Martin bogged down badly at the start.
Ahead of him, poleman Augusto Farfus was passed down the inside of Turn 1 by Wittmann, with Audi's Jamie Green unsuccessfully attempting to get past.
Further into the opening lap, Green went off-track while chasing Farfus, giving up third to Rockenfeller, who moved up to second when the Brazilian dived into the pits and kicked off the early stops.
While most of the field changed their tyres, Wittmann was content set the pace up front.
He left his stop until lap 12 of 37, with Rockenfeller coming in a lap later.
Rockenfeller was more than three seconds adrift of Wittmann, but he began to gradually close the gap and got a helping hand from fellow Audi driver Loic Duval.
As the last driver on track yet to stop, Duval held up Wittmann on lap 26 before pitting, with Rockenfeller using the opportunity to close right up to the reigning champion.
Wittmann had to repel attacks from Rockenfeller for several laps, but the Audi driver used up almost all of his DRS without coming particularly close - and eventually finished 0.8-seconds adrift.
Despite leaving his stop very late, Duval rejoined in third, just ahead of Mattias Ekstrom - and was soon lapping much quicker than the Swede, who was desperately struggling for pace.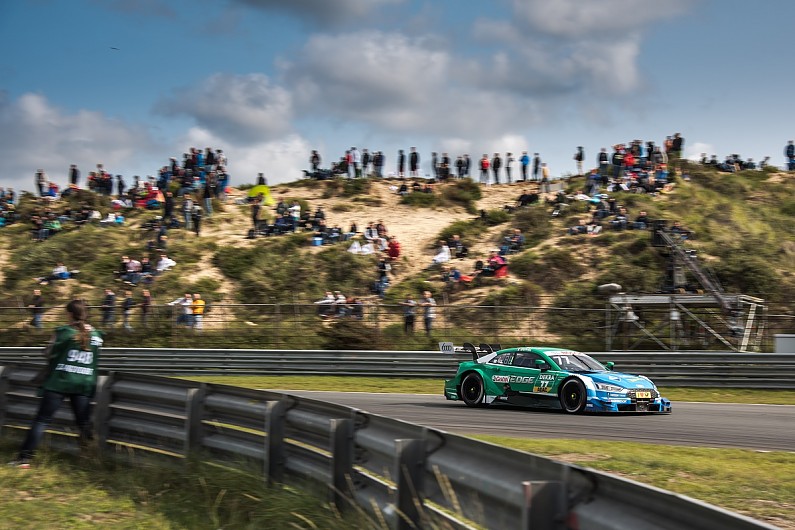 Duval therefore moved clear take his maiden DTM podium, having not scored any points in the previous 11 races of the season.
Ekstrom dropped to 40 seconds adrift of third as he tiptoed around in the final 10 laps - but held on to fourth regardless, largely due to the efforts of fellow Audi driver Nico Muller, who ran behind the Swede and defended their positions.
Gary Paffett - the top Mercedes finisher in sixth - dubbed this approach "ridiculous".
The recovering Martin was seventh, heading race one winner Timo Glock, who had been excluded from qualifying, and Farfus, with the latter involved in Turn 1 contact with Mercedes driver Lucas Auer, whose race was eventually undone by a puncture.
Rast was first slow off the line behind Martin and then retired as a result of contact with Maro Engel on exit of the hairpin-like Turn 4, after emerging from a late stop on cold tyres.
Rast's suspension snapped in the collision, and while Engel carried on a puncture forced him to make an extra stop and he came home 12th behind Green - who fell down the order after a clash with Robert Wickens early on - and Bruno Spengler.
Results
| Pos | Driver | Team | Car | Gap |
| --- | --- | --- | --- | --- |
| 1 | Mike Rockenfeller | Phoenix | Audi | 56m33.404s |
| 2 | Loic Duval | Phoenix | Audi | 16.581s |
| 3 | Mattias Ekstrom | Abt | Audi | 58.073s |
| 4 | Nico Muller | Abt | Audi | 58.620s |
| 5 | Gary Paffett | HWA | Mercedes | 58.848s |
| 6 | Maxime Martin | RBM | BMW | 59.390s |
| 7 | Timo Glock | RMR | BMW | 59.928s |
| 8 | Augusto Farfus | RMG | BMW | 1m00.069s |
| 9 | Jamie Green | Rosberg | Audi | 1m02.405s |
| 10 | Bruno Spengler | RBM | BMW | 1m12.009s |
| 11 | Maro Engel | HWA | Mercedes | 1m30.127s |
| 12 | Edoardo Mortara | HWA | Mercedes | 1m30.761s |
| 13 | Tom Blomqvist | RMR | BMW | 1m31.278s |
| 14 | Lucas Auer | HWA | Mercedes | 1 Lap |
| 15 | Robert Wickens | HWA | Mercedes | 4 Laps |
| - | Marco Wittmann | RMG | BMW | Disqualified |
| - | Paul Di Resta | HWA | Mercedes | Retirement |
| - | Rene Rast | Rosberg | Audi | Retirement |