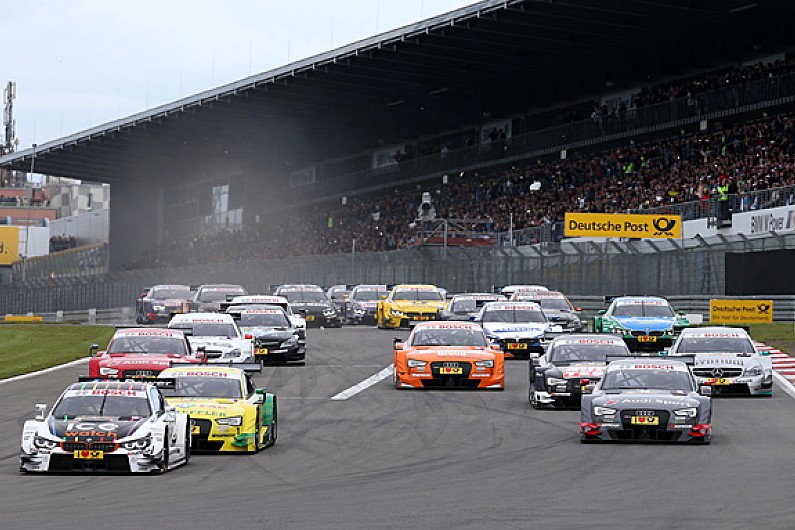 Gary Paffett wants a rethink of the DTM format and claims pit-window regulations are causing 'fabricated' races that invite penalties.
The current sporting regulations dictate that drivers must stop at least once during the race, and can only use the softer option tyre for 50 per cent of the distance.
Although this has produced some good races, 2005 champion Paffett argues that having a narrow pit-window and limited use of the softer tyre results in too many drivers pitting on the same lap, which prompts unsafe-release controversies.
"[At the Nurburgring] the option tyre was three seconds per lap quicker, so everybody was obviously going to use it for the maximum amount of time - so you have half the grid stopping one lap, and half the grid stopping two laps later," said Paffett.
"You don't want to pit on the same lap as another car, because you're going to lose time in the pitlane.
"But the problem is, you have to, or you'll lose seconds from being on the wrong tyre. They've forced us into this position with the rules.
"It's not dangerous for us, it's dangerous for our crews. That's who is in danger, real danger."
Paffett's suggestion is that the prime tyre should be abandoned, and the pit-window and mandatory stops abolished, with a single softer tyre and free strategy choice instead.
"What we don't want is fabricated races. That's what we've had for years," he said.
"If you just have the prime tyre, nobody will pit, because you could do the whole race.
"With the soft tyre, you could maybe do Norisring in one stop, and that's fair enough.
"At Zandvoort, you'd probably need to make two stops. But you need to have the choice. You've got to open the strategy.
"At the moment you can get rid of your strategists, because they don't have a job."
DTMDA TO PLAY A ROLE
Paffett believes the newly-formed DTM Drivers' Association, led by ex-racer Manuel Reuter, is the perfect opportunity to make a difference.
"Manuel has been invited to some more ITR meetings to look at the future, and look at next year, and we've been asked to come up with some ideas about how we feel the DTM should change," explained Paffett.
"We've still got work to do, but we're starting to get involved in the system, and I think we now have a bit of a voice and we can now be heard.
"It's not that we don't have good ideas, it's just that they've never had a way of hearing the ideas.
"We get to Hockenheim race one, and they go 'right, here's a new rule', and we say 'hang on, what about this' and they say 'oh yeah, we never thought about that'."