Josh Cook has been excluded from his victory in the opening race of the British Touring Car Championship round at Oulton Park after failing the post-race rideheight check.

From second on the grid, Cook's BTC Racing Honda Civic Type R had dropped as low as fifth with excess wheelspin off the line in wet conditions before moving quickly up to fourth by the end of the opening lap.
He had already stormed back to second by the time a safety car came out to repair barrie damage at Old Hall, and passed polesitter Rory Butcher shortly after the restart to take a lead he held to the end for what would have been his first win since Thruxton last year.
However, Cook's exclusion means that Rory Butcher inherits his first win of the season, and the maiden victory for the brand-new fourth-generation Ford Focus ST.
"We ran though these sorts of set-ups on Saturday," said Cook.
"You have to run a different set-up in these conditions to deal with the different tyre pressures, and it looks like we've just sustained a little bit of damage on one side, and it knocked the splitter down.
"It's obviously really gutting for the team - everybody deserved that result.
"The car was brilliant in the race.
"I'm sure we'll argue it was unfair, and that they'll argue we broke the rules, but we've just got to take it on the chin."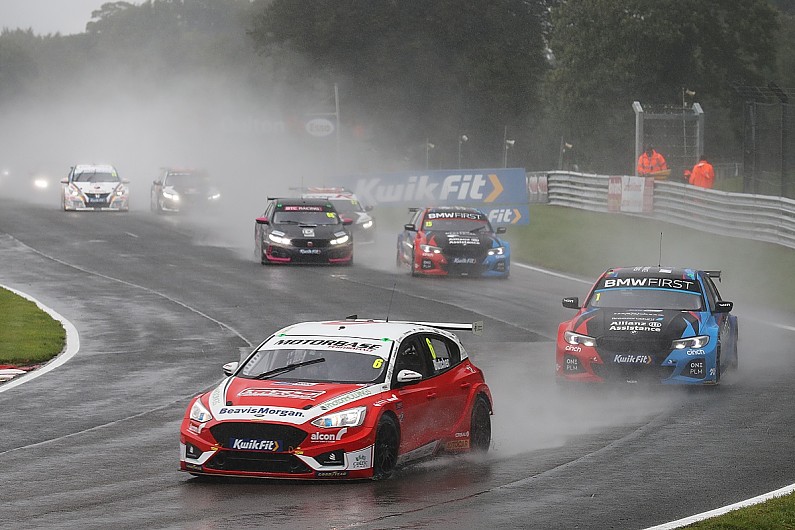 Up to second comes the works Team Dynamics-run Honda of Dan Cammish, while Jake Hill claims his first podium of 2020 with the older-spec FK2 Civic of MB Motorsport.
Championship leader Colin Turkington moves up to fourth in his West Surrey Racing BMW, which was laden with 60kg of ballast in race one, with Cook's BTC team-mate Tom Chilton and the Speedworks Toyota Corolla of Tom Ingram completing the top six.
Adam Morgan (Mercedes), Ash Sutton (Infiniti) and Chris Smiley (Hyundai) move up to seventh, eighth and ninth, with Senna Proctor now making it two of the Excelr8 Motorsport-run Hyundai i30s in the top 10.
Cook will start the second race from the back of the grid.
Ammended race one result - 15 laps
| Pos | Driver | Team | Car | Gap |
| --- | --- | --- | --- | --- |
| 1 | Rory Butcher | Motorbase Performance | Ford | 25m23.005s |
| 2 | Dan Cammish | Team Dynamics | Honda | 1.680s |
| 3 | Jake Hill | AmD Tuning | Honda | 2.521s |
| 4 | Colin Turkington | WSR | BMW | 7.250s |
| 5 | Tom Chilton | BTC Racing | Honda | 8.822s |
| 6 | Tom Ingram | Speedworks Motorsport | Toyota | 9.559s |
| 7 | Adam Morgan | Ciceley Motorsport | Mercedes | 11.980s |
| 8 | Ash Sutton | Laser Tools Racing | Infiniti | 19.497s |
| 9 | Chris Smiley | Excelr8 Motorsport | Hyundai | 20.357s |
| 10 | Senna Proctor | Excelr8 Motorsport | Hyundai | 26.018s |
| 11 | Michael Crees | BTC Racing | Honda | 27.142s |
| 12 | Tom Oliphant | WSR | BMW | 28.801s |
| 13 | Ollie Jackson | Motorbase Performance | Ford | 30.033s |
| 14 | Bobby Thompson | Trade Price Cars Racing | Audi | 30.364s |
| 15 | Andy Neate | Motorbase Performance | Ford | 30.759s |
| 16 | Sam Osborne | AmD Tuning | Honda | 31.650s |
| 17 | Aiden Moffat | Laser Tools Racing | Infiniti | 32.041s |
| 18 | James Gornall | Trade Price Cars Racing | Audi | 36.600s |
| 19 | Jack Butel | Ciceley Motorsport | Mercedes | 45.746s |
| 20 | Stephen Jelley | Team Parker Racing | BMW | 49.971s |
| 21 | Mike Bushell | Power Maxed Racing | Vauxhall | 2 Laps |
| 22 | Ollie Brown | Team Hard | Volkswagen | 2 Laps |
| - | Josh Cook | BTC Racing | Honda | Disqualified |
| - | Nicolas Hamilton | Team Hard | Volkswagen | Retirement |
| - | Matt Neal | Team Dynamics | Honda | Retirement |
| - | Jack Goff | Team Hard | Volkswagen | Retirement |
| - | Carl Boardley | Team Hard | BMW | Retirement |