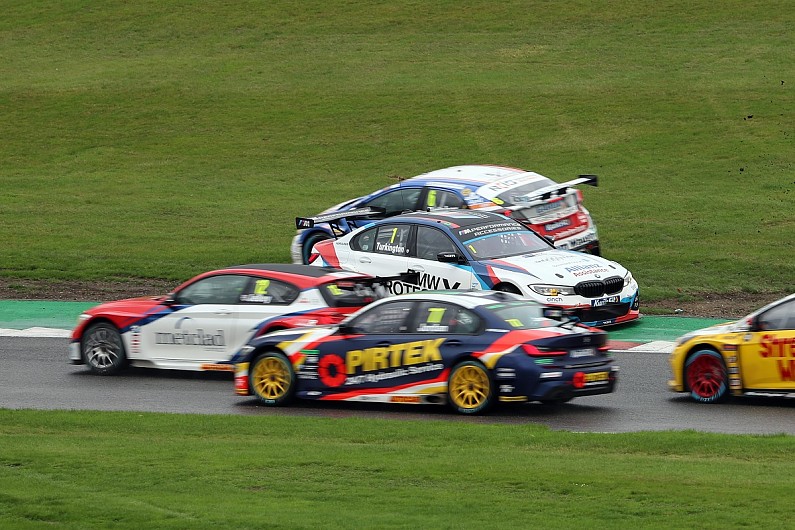 Colin Turkington reckons he is out of the 2019 British Touring Car Championship title fight after being hit by Matt Neal in the second race at Brands Hatch.
The WSR driver lined up fifth but made an excellent launch to climb to second ahead of Matt Neal, tucking in behind nearest title rival Dan Cammish.
But on the run to Graham Hill Bend, as Turkington defended his position, he was hit from behind and spun across the track and rejoined down in 28th place.
Turkington only recovered to 25th, meaning Cammish takes an eight-point lead into the final race - which he will start ninth.
"Matt's one of the guys you have a bit more trust with," Turkington told ITV4. "You would have thought he would have respected what I was doing."
"If I was a Honda, not a BMW... would he have hit the Honda? I think he would have held a brake a bit longer.
"It takes me out of the championship."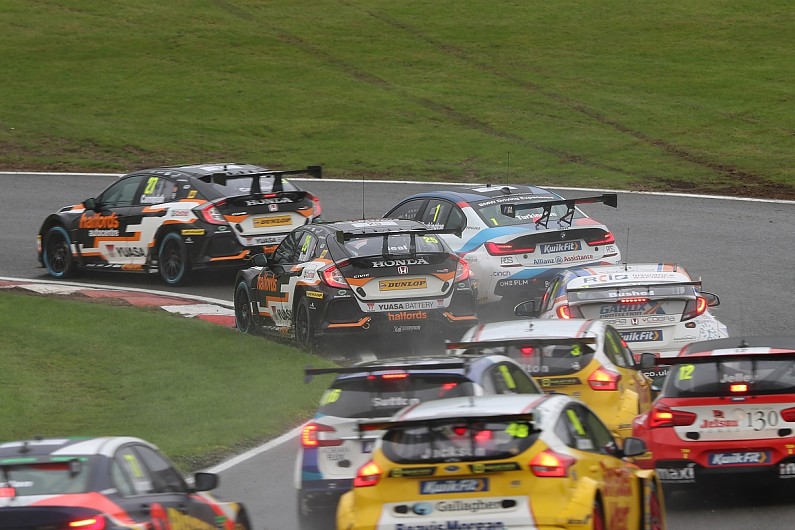 The reigning champion added that it could have been a deliberate move from Team Dynamics driver Neal to swing the title fight in Cammish's favour.
"It was extremely selfish on his behalf. I don't know what excuse he'll bring to the table but it was lap one," said Turkington.
"The feedback from the team is that he came from a long way back and hit me up the rear.
"I'me sure when he saw me up front and behind Dan he was pretty keen to reverse the situation.
"If it had been a Honda in front of him I bet he wouldn't have hit it. A BMW is a much easier target.
"I feel like I'm out of [the title fight] now."
Turkington did pit under the safety car and gambled for slick tyres, but wet rubber remained the quicker option until the final lap.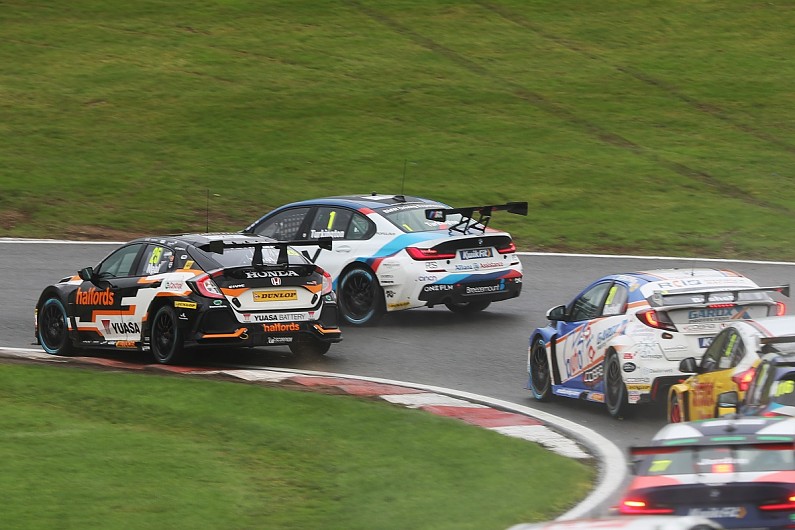 Neal reckoned he was without blame for the incident, and that he could have hit Turkington at any point had he wanted to take him out.
"I didn't see anything wrong," argued Neal.
"My car was clearly down his inside and he just turned across me.
"There's no malice between me and Colin at all. I am respectful.
"If I want to do Colin then I would have done it in first place.
"The door was open and he turned across."
In the race, Ash Sutton ran on to his first win of the season by five seconds ahead of Turkington's team-mate Andrew Jordan.
Prior to what is expected to be his final BTCC race, Jordan sits five points off Turkington and 13 behind Cammish.
Leading drivers' standings
| Pos | Driver | Points |
| --- | --- | --- |
| 1 | Dan Cammish | 318 |
| 2 | Colin Turkington | 310 |
| 3 | Andrew Jordan | 305 |
| 4 | Josh Cook | 266 |
| 5 | Rory Butcher | 249 |
Race three grid
| Pos | Driver | Team | Car |
| --- | --- | --- | --- |
| 1 | Senna Proctor | BMR Racing | Subaru |
| 2 | Stephen Jelley | Team Parker Racing | BMW |
| 3 | Rory Butcher | AmD Tuning | Honda |
| 4 | Michael Caine | Motorbase Performance | Ford |
| 5 | Jason Plato | Power Maxed Racing | Vauxhall |
| 6 | Ollie Jackson | Motorbase Performance | Ford |
| 7 | Tom Chilton | Motorbase Performance | Ford |
| 8 | Dan Cammish | Team Dynamics | Honda |
| 9 | Andrew Jordan | WSR | BMW |
| 10 | Ash Sutton | BMR Racing | Subaru |
| 11 | Aiden Moffat | Laser Tools Racing | Infiniti |
| 12 | Josh Cook | BTC Racing | Honda |
| 13 | Matt Neal | Team Dynamics | Honda |
| 14 | Carl Boardley | Team Hard | Volkswagen |
| 15 | Daniel Rowbottom | Ciceley Motorsport | Mercedes |
| 16 | Bobby Thompson | Team Hard | Volkswagen |
| 17 | Rob Collard | Power Maxed Racing | Vauxhall |
| 18 | Mike Bushell | AmD Tuning | Honda |
| 19 | Jake Hill | Trade Price Cars Racing | Audi |
| 20 | Rob Smith | Excelr8 Motorsport | MG |
| 21 | Tom Ingram | Speedworks Motorsport | Toyota |
| 22 | Sam Osborne | Excelr8 Motorsport | MG |
| 23 | Michael Crees | Team Hard | Volkswagen |
| 24 | Chris Smiley | BTC Racing | Honda |
| 25 | Colin Turkington | WSR | BMW |
| 26 | Adam Morgan | Ciceley Motorsport | Mercedes |
| 27 | Matt Simpson | Simpson Racing | Honda |
| 28 | Mark Blundell | Trade Price Cars Racing | Audi |
| 29 | Jack Goff | Team Hard | Volkswagen |
| 30 | Tom Oliphant | WSR | BMW |