Sam Tordoff topped the British Touring Car Championship times in free practice at Oulton Park, with his early effort four tenths clear of practice two pacesetter Dan Cammish.
AmD Tuning driver Tordoff has suffered a difficult start to the 2019 season so far, most notably dropping from the lead in the first race at Thruxton due to an electrical issue.
But his 1m26.073s effort aboard his Honda Civic Type R was 0.089s clear of closest challenger Cammish in the first 40-minute session and was 0.432s ahead of the latter's FP2 benchmark.
The warmer second session pushed the tyres outside of their operating window and led to a slight reduction in engine power, which slowed the times.
The front-wheel drive runners emerged fastest out of the blocks, with the Toyota Corolla of Tom Ingram and Tordoff setting the pace early on in the first practice session.
That carried over into practice two, where Cammish was the first to post a representative time in the low 1m27s but was soon bettered by the Audi S3 of Jake Hill.
After the morning running Hill had complained of excessive oversteer through the high-speed Druids corner but after set-up changes he was vying for fastest lap in the afternoon.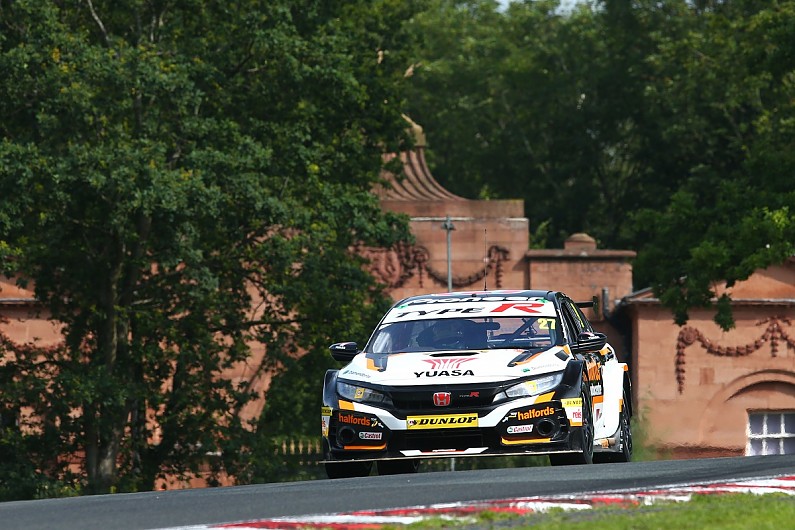 Cammish replaced Hill at the top of the times with a 1m26.939s before the second practice session was red flagged 10 minutes in.
A double winner last time out at Croft, Andrew Jordan spun his WSR-run BMW 330i M Sport at Old Hall where he was collected by Matt Simpson.
Simpson had not set a banker lap, so ended the session without a time and last at the venue where he won the opening race last season.
After a 10-minute pause, Tordoff improved to head the times and dropped to a 1m26.900s with Ingram and Colin Turkington bettering their initial laps also.
Jason Plato then found one thousandth of a second over Tordoff to squeak ahead, although he was close to 1.5s off his 2015 qualifying lap record.
But Cammish responded on his next quick run to pull out a comfortable four-tenth advantage at the top, and from there he was never headed.
The third BMW of Tom Oliphant ate into Cammish's cushion to go second, with Hill also edging closer on the next tour.
But it was Cammish's Team Dynamics team-mate Matt Neal who came closest, ending the second session runner-up and 0.232 shy.
Hill's previous effort was enough for him to wind up third, clear of Plato and Oliphant with Tordoff dropping to sixth.
Aidan Moffat was seventh with reigning champion and points leader Colin Turkington finishing practice in a quiet eighth from Adam Morgan and Tom Ingram.
Plato's Power Maxed Racing team-mate Rob Collard was 14th ahead of 2017 champion Ashley Sutton in a session where one second covered the top 19 cars.
Josh Cook was 16th for BTC Racing with Tom Chilton 18th ahead of ex-Formula 1 driver Mark Blundell.
Due to the extensive damage to the floor of Jordan's BMW, lengthy repairs truncated his session and he wound up 20th.
Rory Butcher in the sister AmD Tuning Honda was 24th.
FP1 result
| Pos | Driver | Team | Car | Time | Gap | Laps |
| --- | --- | --- | --- | --- | --- | --- |
| 1 | Sam Tordoff | AmD Tuning | Honda | 1m26.073s | - | 18 |
| 2 | Dan Cammish | Team Dynamics | Honda | 1m26.162s | 0.089s | 17 |
| 3 | Andrew Jordan | WSR | BMW | 1m26.340s | 0.267s | 15 |
| 4 | Jason Plato | Power Maxed Racing | Vauxhall | 1m26.361s | 0.288s | 15 |
| 5 | Tom Ingram | Speedworks Motorsport | Toyota | 1m26.448s | 0.375s | 17 |
| 6 | Matt Neal | Team Dynamics | Honda | 1m26.536s | 0.463s | 16 |
| 7 | Chris Smiley | BTC Racing | Honda | 1m26.540s | 0.467s | 19 |
| 8 | Ash Sutton | BMR Racing | Subaru | 1m26.648s | 0.575s | 17 |
| 9 | Rory Butcher | AmD Tuning | Honda | 1m26.663s | 0.590s | 19 |
| 10 | Stephen Jelley | Team Parker Racing | BMW | 1m26.668s | 0.595s | 17 |
| 11 | Colin Turkington | WSR | BMW | 1m26.752s | 0.679s | 17 |
| 12 | Tom Chilton | Motorbase Performance | Ford | 1m26.775s | 0.702s | 16 |
| 13 | Matt Simpson | Simpson Racing | Honda | 1m26.857s | 0.784s | 18 |
| 14 | Josh Cook | BTC Racing | Honda | 1m26.870s | 0.797s | 18 |
| 15 | Adam Morgan | Ciceley Motorsport | Mercedes | 1m26.881s | 0.808s | 18 |
| 16 | Aiden Moffat | Laser Tools Racing | Mercedes | 1m26.927s | 0.854s | 16 |
| 17 | Jake Hill | Trade Price Cars Racing | Audi | 1m27.014s | 0.941s | 15 |
| 18 | Tom Oliphant | WSR | BMW | 1m27.028s | 0.955s | 13 |
| 19 | Jack Goff | Team Hard | Volkswagen | 1m27.041s | 0.968s | 14 |
| 20 | Bobby Thompson | Team Hard | Volkswagen | 1m27.107s | 1.034s | 17 |
| 21 | Senna Proctor | BMR Racing | Subaru | 1m27.186s | 1.113s | 16 |
| 22 | Ollie Jackson | Motorbase Performance | Ford | 1m27.199s | 1.126s | 16 |
| 23 | Daniel Rowbottom | Ciceley Motorsport | Mercedes | 1m27.218s | 1.145s | 16 |
| 24 | Rob Collard | Power Maxed Racing | Vauxhall | 1m27.323s | 1.250s | 18 |
| 25 | Rob Smith | Excelr8 Motorsport | MG | 1m27.794s | 1.721s | 19 |
| 26 | Michael Crees | Team Hard | Volkswagen | 1m27.953s | 1.880s | 19 |
| 27 | Mark Blundell | Trade Price Cars Racing | Audi | 1m27.977s | 1.904s | 19 |
| 28 | Nicolas Hamilton | Motorbase Performance | Ford | 1m28.123s | 2.050s | 17 |
| 29 | Sam Osborne | Excelr8 Motorsport | MG | 1m28.218s | 2.145s | 20 |
| 30 | Carl Boardley | Team Hard | Volkswagen | - | - | 4 |
FP2 result
| Pos | Driver | Team | Car | Time | Gap | Laps |
| --- | --- | --- | --- | --- | --- | --- |
| 1 | Dan Cammish | Team Dynamics | Honda | 1m26.505s | - | 12 |
| 2 | Matt Neal | Team Dynamics | Honda | 1m26.549s | 0.044s | 12 |
| 3 | Jake Hill | Trade Price Cars Racing | Audi | 1m26.674s | 0.169s | 15 |
| 4 | Jason Plato | Power Maxed Racing | Vauxhall | 1m26.804s | 0.299s | 14 |
| 5 | Tom Oliphant | WSR | BMW | 1m26.873s | 0.368s | 13 |
| 6 | Sam Tordoff | AmD Tuning | Honda | 1m26.900s | 0.395s | 18 |
| 7 | Aiden Moffat | Laser Tools Racing | Mercedes | 1m26.917s | 0.412s | 12 |
| 8 | Colin Turkington | WSR | BMW | 1m26.961s | 0.456s | 14 |
| 9 | Adam Morgan | Ciceley Motorsport | Mercedes | 1m26.967s | 0.462s | 13 |
| 10 | Tom Ingram | Speedworks Motorsport | Toyota | 1m27.049s | 0.544s | 12 |
| 11 | Ollie Jackson | Motorbase Performance | Ford | 1m27.160s | 0.655s | 12 |
| 12 | Stephen Jelley | Team Parker Racing | BMW | 1m27.195s | 0.690s | 16 |
| 13 | Chris Smiley | BTC Racing | Honda | 1m27.268s | 0.763s | 10 |
| 14 | Rob Collard | Power Maxed Racing | Vauxhall | 1m27.270s | 0.765s | 14 |
| 15 | Ash Sutton | BMR Racing | Subaru | 1m27.319s | 0.814s | 18 |
| 16 | Josh Cook | BTC Racing | Honda | 1m27.384s | 0.879s | 16 |
| 17 | Bobby Thompson | Team Hard | Volkswagen | 1m27.455s | 0.950s | 13 |
| 18 | Tom Chilton | Motorbase Performance | Ford | 1m27.499s | 0.994s | 12 |
| 19 | Mark Blundell | Trade Price Cars Racing | Audi | 1m27.504s | 0.999s | 15 |
| 20 | Andrew Jordan | WSR | BMW | 1m27.574s | 1.069s | 3 |
| 21 | Senna Proctor | BMR Racing | Subaru | 1m27.689s | 1.184s | 15 |
| 22 | Daniel Rowbottom | Ciceley Motorsport | Mercedes | 1m27.745s | 1.240s | 15 |
| 23 | Jack Goff | Team Hard | Volkswagen | 1m27.783s | 1.278s | 6 |
| 24 | Rory Butcher | AmD Tuning | Honda | 1m27.886s | 1.381s | 8 |
| 25 | Carl Boardley | Team Hard | Volkswagen | 1m27.928s | 1.423s | 14 |
| 26 | Nicolas Hamilton | Motorbase Performance | Ford | 1m28.044s | 1.539s | 12 |
| 27 | Rob Smith | Excelr8 Motorsport | MG | 1m28.227s | 1.722s | 16 |
| 28 | Sam Osborne | Excelr8 Motorsport | MG | 1m28.237s | 1.732s | 16 |
| 29 | Michael Crees | Team Hard | Volkswagen | 1m28.339s | 1.834s | 15 |
| 30 | Matt Simpson | Simpson Racing | Honda | - | - | 3 |