Andrew Jordan scored his second victory of the British Touring Car Championship season in the opening race at Thruxton after polesitter Sam Tordoff suffered a late electrical issue.
WSR BMW driver Jordan was forced out of the second and third races in the previous round at Donington Park after being hospitalised following a violent crash, but he bounced back at Thruxton to win by 1.339 seconds.
Tordoff made a clean getaway and built up a controlled half-second lead over Jordan, who climbed a place to second after Dan Cammish was slow away in his Team Dynamics Honda Civic Type R.
That allowed Jordan's team-mate Colin Turkington to close, and the top four broke away in a processional opening half of the race.
But with three of the 16-lap race remaining, the rear of Tordoff's AmD Tuning Civic broke lose on the run out of the high-speed Church corner.
Tordoff blamed the error on an electrical issue, which set off an alarm in the car before affecting the power steering.
The loss of momentum allowed Jordan to close and pass prior to the braking zone of the final-corner chicane complex.
BMW 330i M Sport driver Jordan pulled one second clear during his first lap out in front and controlled that gap to the flag.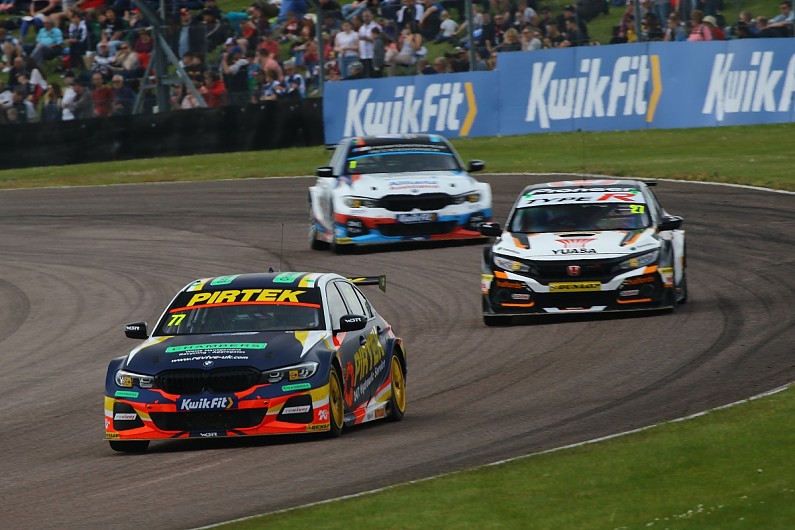 On the final lap, Tordoff again struggled out of Church and allowed Cammish an attempt at a similar run, but Tordoff held on to second place ahead of the Honda, with Turkington fourth.
As the leading quartet ran clear, Tordoff's team-mate Rory Butcher headed the Vauxhall Astra of Jason Plato for fifth.
Ashley Sutton and Matt Neal diced behind, with pre-race points leader Sutton carrying the maximum 54kg of success ballast.
Neal, laden with 18kg, attempted a pass and was fractionally ahead as they braked on entry to the chicane but a nudge from Sutton knocked Neal sideways.
He collected the slide and had to cut the chicane, but having already been ahead Neal retained the place to finished seventh ahead of Rob Collard with Sutton's Subaru Levorg down to ninth.
Jake Hill rounded out the top 10 ahead of Josh Cook and Donington Park race three winner Tom Ingram.
After losing his fastest lap for causing a red flag in qualifying, Tom Chilton climbed from 22nd on the grid to 18th, while Mark Blundell progressed from 30th to 27th.
Race one result
| Pos | Driver | Team | Car | Laps | Gap |
| --- | --- | --- | --- | --- | --- |
| 1 | Andrew Jordan | WSR | BMW | 16 | 20m42.432s |
| 2 | Sam Tordoff | AmD Tuning | Honda | 16 | 1.339s |
| 3 | Dan Cammish | Team Dynamics | Honda | 16 | 1.690s |
| 4 | Colin Turkington | WSR | BMW | 16 | 2.267s |
| 5 | Rory Butcher | AmD Tuning | Honda | 16 | 3.574s |
| 6 | Jason Plato | Power Maxed Racing | Vauxhall | 16 | 5.595s |
| 7 | Matt Neal | Team Dynamics | Honda | 16 | 6.933s |
| 8 | Rob Collard | Power Maxed Racing | Vauxhall | 16 | 8.308s |
| 9 | Ash Sutton | BMR Racing | Subaru | 16 | 10.584s |
| 10 | Jake Hill | Trade Price Cars Racing | Audi | 16 | 13.181s |
| 11 | Josh Cook | BTC Racing | Honda | 16 | 13.672s |
| 12 | Tom Ingram | Speedworks Motorsport | Toyota | 16 | 14.243s |
| 13 | Stephen Jelley | Team Parker Racing | BMW | 16 | 18.387s |
| 14 | Chris Smiley | BTC Racing | Honda | 16 | 18.914s |
| 15 | Matt Simpson | Simpson Racing | Honda | 16 | 20.981s |
| 16 | Ollie Jackson | Motorbase Performance | Ford | 16 | 21.324s |
| 17 | Adam Morgan | Ciceley Motorsport | Mercedes | 16 | 21.842s |
| 18 | Tom Chilton | Motorbase Performance | Ford | 16 | 22.192s |
| 19 | Daniel Rowbottom | Ciceley Motorsport | Mercedes | 16 | 22.732s |
| 20 | Aiden Moffat | Laser Tools Racing | Mercedes | 16 | 23.527s |
| 21 | Jack Goff | Team Hard | Volkswagen | 16 | 24.302s |
| 22 | Senna Proctor | BMR Racing | Subaru | 16 | 25.186s |
| 23 | Tom Oliphant | WSR | BMW | 16 | 27.494s |
| 24 | Nicolas Hamilton | Motorbase Performance | Ford | 16 | 37.493s |
| 25 | Rob Smith | Excelr8 Motorsport | MG | 16 | 41.175s |
| 26 | Michael Crees | Team Hard | Volkswagen | 16 | 45.665s |
| 27 | Mark Blundell | Trade Price Cars Racing | Audi | 16 | 51.906s |
| 28 | Sam Osborne | Excelr8 Motorsport | MG | 16 | 52.188s |
| 29 | Carl Boardley | Team Hard | Volkswagen | 16 | 59.277s |
| 30 | Bobby Thompson | Team Hard | Volkswagen | 14 | 2 Laps |