Ex-Formula 1 driver Mark Blundell has been given a verbal reprimand for his collision with Tom Chilton during qualifying for the British Touring Car Championship round at Thruxton.
A power steering failure extensively delayed Blundell in the session, and as he was warming his tyres to start a flying lap he was nudged by Chilton into the final chicane.
Blundell ran his Audi S3 off the track as a result, but as he rejoined the pair hit and Chilton's Ford Focus RS carried into the tyre wall, damaged the barriers and resulted in a red flag with under two minutes remaining.
The verbal warning follows 2019 BTCC rookie Blundell earning a strike for his shunt with Sam Osborne in the previous round at Donington Park.
Ian Watson, senior clerk of the course, told Autosport: "We imposed a verbal reprimand, which is part of a strike.
"He made an error of judgement, that's just pure and simple. It wasn't malicious, he knew what he'd done wrong.
"The option he took wasn't the best option."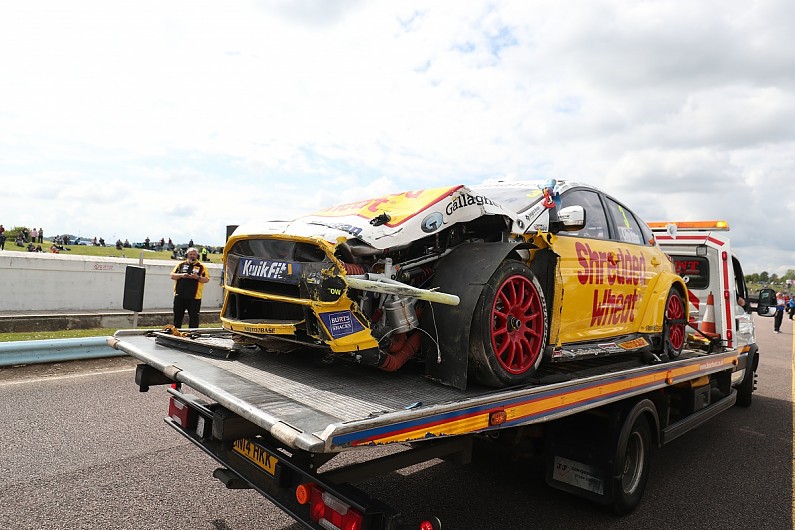 Blundell added that, as he was warming his tyres, there was a significant chance an altercation could have occurred at any point during his out-lap.
"It was down to circumstances. I was sat in the pits for 24 minutes, I had done no time due to a power steering failure," he said.
"Everyone else was out on circuit, the chances are I would have messed up someone's lap anyway.
"I started my first flier and there were caution flags and so I had to back out of it. I started another lap and Tom was quite a long way back.
"OK, there is a scenario where I could have pulled over for him but at what point do I get my lap when there are four minutes left and I have got no time on the board?
"The other thing for me is that we had made changes to the car and I hadn't tried them and so I was still trying to understand what I had.
"I would sooner rather push through a slow-speed chicane trying to understand what I have got under me in the car rather than go into a fifth gear corner [Allard, the first turn], not knowing what I had."
There was further controversy in qualifying after 22 lap times were deleted for drivers exceeding track limits, which led organising body TOCA to place an additional tyre stack at the final chicane to prevent a repeat in the races.
BTCC director Alan Gow told Autosport that the high number of indiscretions was largely exclusive to qualifying.
"Every year it happens, every year. The kerb hasn't changed," he said.
"They push the boundaries in qualifying. There's more people doing it in qualifying than doing it in free practice. That tells you they're pushing the boundaries, obviously, in qualifying as much as they can."