Aiden Moffat claimed his second British Touring Car Championship victory in the first race of the Brands Hatch finale, as Ash Sutton extended his points lead over Colin Turkington.
Team BMR driver Sutton finished the race in third - with Tom Ingram splitting him and Moffat - in his Subaru Levorg, while Turkington could only manage 15th in his WSR BMW 125i M Sport after struggling in tricky conditions.
The majority of the field opted to start on slicks on a greasy track after overnight rain, and Moffat made a better getaway than polesitter Jack Goff on the run to Paddock Hill before backing out of a move around the outside.
Laser Tools Racing driver Moffat then inherited the lead in his Mercedes A-Class when Goff lost his Eurotech Honda Civic Type R exiting the corner and slid into the barrier.
Moffat set about building a small cushion over Sutton - up from third on the grid - whose mirrors were filled by the fast-starting Speedworks Motorsport Toyota Avensis of Ingram.
Ingram had made his way past Sutton by the start of lap six after engineering a gap out of Clearways at the end of the previous lap, but found similar opportunities with Moffat hard to come by.
Despite gradually being caught by the Toyota man, Moffat held firm at the front and was then afforded a bit of breathing space on the final lap after clearing lapped traffic as Sutton came back at Ingram.
Ingram survived an attack at Druids but lost crucial ground to Moffat, who crossed the line 0.345 seconds clear to clinch his second win of the season.
Mat Jackson was fourth in his Motorbase Ford Focus, thanks in part to a gain of seven places on the opening lap, ahead of the two Power Maxed Racing Vauxhall Astras of Tom Chilton and Senna Proctor.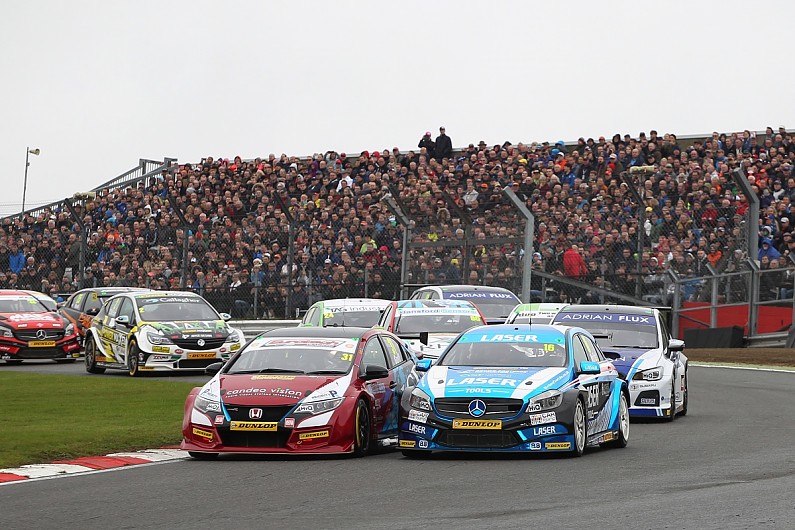 Gordon Shedden set the fastest lap on his way to seventh in his Team Dynamics Honda Civic Type R, with the BTC Norlin Chevrolet Cruze of Dave Newsham and Handy Motorsport's Rob Austin (Toyota Avensis) separating the Scot from team-mate Matt Neal.
Turkington did at least score a point for 15th, but struggled throughout and is now 24 points shy of Sutton in the drivers' championship.
The Northern Irishman lost two positions on the opening lap and, while he made up ground as others wobbled ahead of him, his pace was such that he ceded a spot to the recovering Goff before mid-distance.
Turkington was able to follow the Civic through the order, however, and the pair were 12th and 13th by the time Turkington launched a retaliatory attack to get back past Goff.
He lost position again a lap later, though, and dropped to 15th on the final lap after squirming wide and tapping Matt Simpson's Civic at Graham Hill bend before being passed by the Audi S3 of Ollie Jackson.

Turkington needs to outscore Sutton by at least three points in Sunday's second race, with a maximum of 22 available in the final race of the season.
Race one result
| Pos | Driver | Team | Car | Gap |
| --- | --- | --- | --- | --- |
| 1 | Aiden Moffat | Laser Tools Racing | Mercedes | 24m10.915s |
| 2 | Tom Ingram | Speedworks Motorsport | Toyota | 0.345s |
| 3 | Ash Sutton | Team BMR | Subaru | 1.499s |
| 4 | Mat Jackson | Motorbase | Ford | 14.474s |
| 5 | Tom Chilton | Power Maxed Racing | Vauxhall | 15.802s |
| 6 | Senna Proctor | Power Maxed Racing | Vauxhall | 16.195s |
| 7 | Gordon Shedden | Dynamics/Honda | Honda | 19.140s |
| 8 | Dave Newsham | BTC Racing | Chevrolet | 29.547s |
| 9 | Rob Austin | Handy Motorsport | Toyota | 31.577s |
| 10 | Matt Neal | Dynamics/Honda | Honda | 41.344s |
| 11 | Chris Smiley | BTC Racing | Chevrolet | 47.480s |
| 12 | Jack Goff | Eurotech Racing | Honda | 47.708s |
| 13 | Matt Simpson | Dynamics/Honda | Honda | 49.110s |
| 14 | Ollie Jackson | AmD Tuning | Audi | 50.241s |
| 15 | Colin Turkington | WSR | BMW | 50.667s |
| 16 | Ant Whorton-Eales | AmD Tuning | Audi | 50.891s |
| 17 | Brett Smith | Eurotech Racing | Honda | 1m05.495s |
| 18 | Michael Epps | Team Hard | Volkswagen | 1m08.822s |
| 19 | James Cole | Team BMR | Subaru | 1m14.046s |
| 20 | Stephen Jelley | Team Parker Racing | Ford | 1m14.698s |
| 21 | Martin Depper | Motorbase | Ford | 1m24.787s |
| 22 | Josh Price | Team BMR | Subaru | 1m26.364s |
| 23 | Aron Taylor-Smith | Triple Eight/MG | MG | 1m38.336s |
| 24 | Rory Butcher | Motorbase | Ford | 1 Lap |
| 25 | Josh Cook | Triple Eight/MG | MG | 1 Lap |
| 26 | Jake Hill | Team Hard | Volkswagen | 1 Lap |
| 27 | Andrew Jordan | WSR | BMW | 1 Lap |
| 28 | Jason Plato | Team BMR | Subaru | 1 Lap |
| 29 | Stewart Lines | Maximum Motorsport | Ford | 1 Lap |
| - | Adam Morgan | Ciceley Racing | Mercedes | Retirement |
| - | Rob Collard | WSR | BMW | Withdrawn |