Rob Huff says he would need to be offered a paid drive in the British Touring Car Championship drive to consider a full-time return to the series.
The 2012 World Touring Car champion stood in for Tom Chilton in a Power Maxed Racing Vauxhall Astra at Silverstone, which marked his first BTCC appearance since his campaign with SEAT in 2004.
Huff was 16th in Sunday's first race, but finished eighth in race two and completed his weekend with a second place in race three after leading much of the finale.
Chilton - who is recovering from an operation - is expected to be fit enough to contest the season finale at Brands Hatch, and Huff says a permanent return would only be possible if he was offered a salary for a seat.
"The bottom line is I've made a career out of racing cars," said Huff. "To do that, you have to be paid.
"I'm probably right in saying nobody's being paid here to race by a team or a manufacturer.
"If you bring the sponsorship then of course you can pay yourself. I've never been in a position where I'm capable of doing that.
"Although I've got loyal sponsors, they're not budget sponsors. They want to be involved with me and the name and the brand.
"If manufacturers start coming back to British Touring Cars then hell yeah, I'd love to come back.
"Everyone here is getting paid apart from the drivers and that makes everything a little bit harder for someone like me who relies on that to drive a car."
Victory near miss
Huff jumped the polesitting BTC Racing Chevrolet Cruze of Dave Newsham at the start of Sunday's third race and pulled away early on before his lead was wiped out by a lengthy safety car period.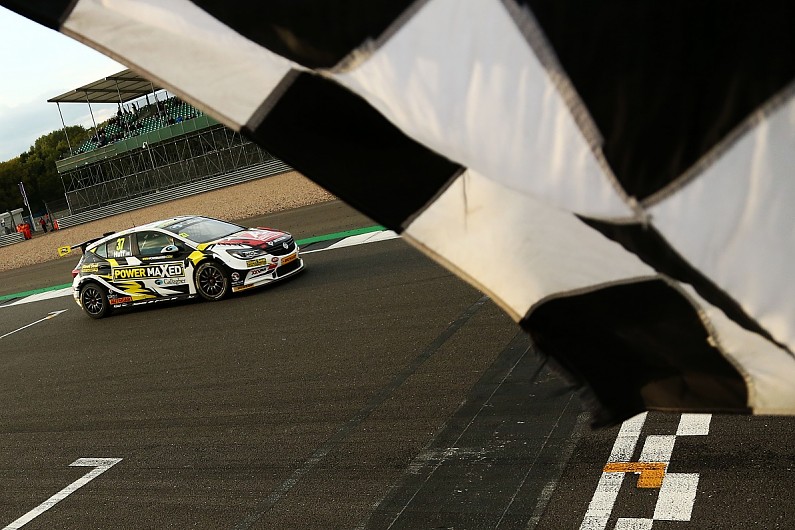 He briefly escaped again on the restart but was then caught by Tom Ingram.
Although Huff shook off the Speedworks Motorsport driver, by forcing him onto the grass, he was then reeled in by Matt Neal who had enough of a gap out of Copse to get up Huff's inside on the run to Maggotts on lap 21 of 25 to take the lead.
"I got a good restart - I went in a place where no one expected me to and that caught them out a little bit," said Huff.
"But Matt was on the [softer] medium tyre with no weight and in a Honda that's very well developed by one of the best teams in the world.
"He was behind me for five or six laps and after that I thought 'I might be able to do this'.
"But where he was strongest, I was weakest and that was at Copse.
"It was a shame that he got past me, but he did a very fair move, stayed well within the track and sometimes you have to cede places."