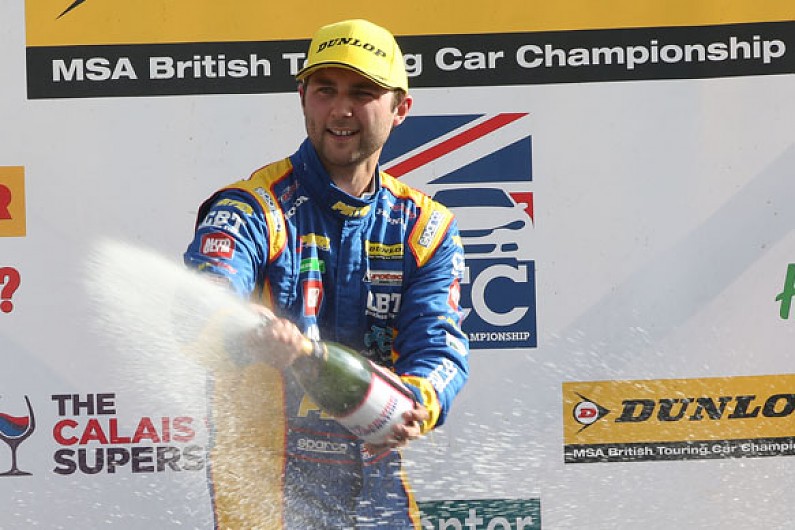 Reigning British Touring Car champion Andrew Jordan won the reversed-grid race at Croft after a chaotic encounter.

The race had four leaders in the first half lap. Poleman Jack Goff led initially, but clashed with Tom Ingram's Speedworks Toyota between the first and second corners.

Goff went off and Ingram did likewise at the chicane, allowing Fabrizio Giovanardi's Motorbase Ford Focus into the lead.

The former double champion made it as far as Barcroft before a touch from Jordan helped the Ford into the barriers.

"I think he had a problem with his car, because of the closing speed at the Jim Clark Esses" said Jordan of the clash.

Jordan thus moved to the front, while the safety car was scrambled.

After the restart, Matt Neal - having already hit the Toyota of Glynn Geddie as the Honda charged from the back - went three-wide with Rob Austin's Audi and the BMR Vauxhall of Warren Scott.

The result was all three going off the road and an unimpressed Neal soon toured into the pits to retire.

Following him into retirement was double Croft winner Colin Turkington, who had been running sixth, with suspected clutch failure.

While Jordan drove off to win, Goff found himself under attack from Rob Collard's WSR BMW in the battle for second.

That was resolved when Collard hit Goff at Sunny Out, a move that also allowed Mat Jackson's Motorbase Ford to pass the Insignia.

Gordon Shedden's Honda Civic Tourer, which had started from row four, was the next to challenge Goff. He overtook the Vauxhall with a robust move at Sunny and soon attacked Jackson.

On the penultimate lap, Shedden made it by the Ford at Hawthorn to secure his third podium of the day, as he pulled clear of Jackson.

Goff's bruising race continued right until the last corner where he ran wide. That allowed Adam Morgan's Ciceley Mercedes to get the better exit and beat the Vauxhall to the line by a nose to finish fifth.

The Triple Eight MGs continued to struggle, title contender Jason Plato only making it as high as 10th after his grid penalty for contact with Alain Menu in race two.
Results - 18 laps:                                      
                                                        
Pos Driver               Team/Car               Time/Gap
 1. Andrew Jordan        Eurotech Honda       28m24.822s
 2. Rob Collard          WSR BMW                 +3.492s
 3. Gordon Shedden       Honda                  +14.940s
 4. Mat Jackson          Motorbase Ford         +18.517s
 5. Adam Morgan          Ciceley Mercedes       +19.179s
 6. Jack Goff            BMR Vauxhall           +19.180s
 7. Nick Foster          WSR BMW                +19.382s
 8. Alain Menu           BMR VW                 +19.751s
 9. Aron Smith           BMR VW                 +20.397s
10. Jason Plato          MG                     +21.370s
11. Martin Depper        Eurotech Honda         +29.252s
12. Hunter Abbott        RAR Audi               +29.334s
13. Sam Tordoff          MG                     +32.097s
14. Lea Wood             Houseman Toyota        +33.467s
15. James Cole           UA Toyota              +34.295s
16. Dave Newsham         AmD Ford               +38.948s
17. Warren Scott         BMR Vauxhall           +46.649s
18. Simon Belcher        Handy Toyota           +50.523s
19. Ollie Jackson        Welch Proton           +50.475s
20. Aiden Moffat         Moffat Chevrolet     +1m19.750s
                                                        
Retirements:                                            
                                                        
    Jack Clarke          Motorbase Ford          10 laps
    Glynn Geddie         UA Toyota                9 laps
    Marc Hynes           MG                       8 laps
    Dan Welch            Welch Proton             8 laps
    Colin Turkington     WSR BMW                  7 laps
    Matt Neal            Honda                    6 laps
    Rob Austin           RAR Audi                 5 laps
    Fabrizio Giovanardi  Motorbase Ford           5 laps
    Robb Holland         Rotek Audi               4 laps
    Tom Ingram           Speedworks Toyota        0 laps