Round 1, Thruxton>
Fabrizio Giovanardi agreed a late one-off deal to return to the Triple 8 squad and promptly delivered a sensational double win in what was the squad's maiden race weekend without a factory Vauxhall contract.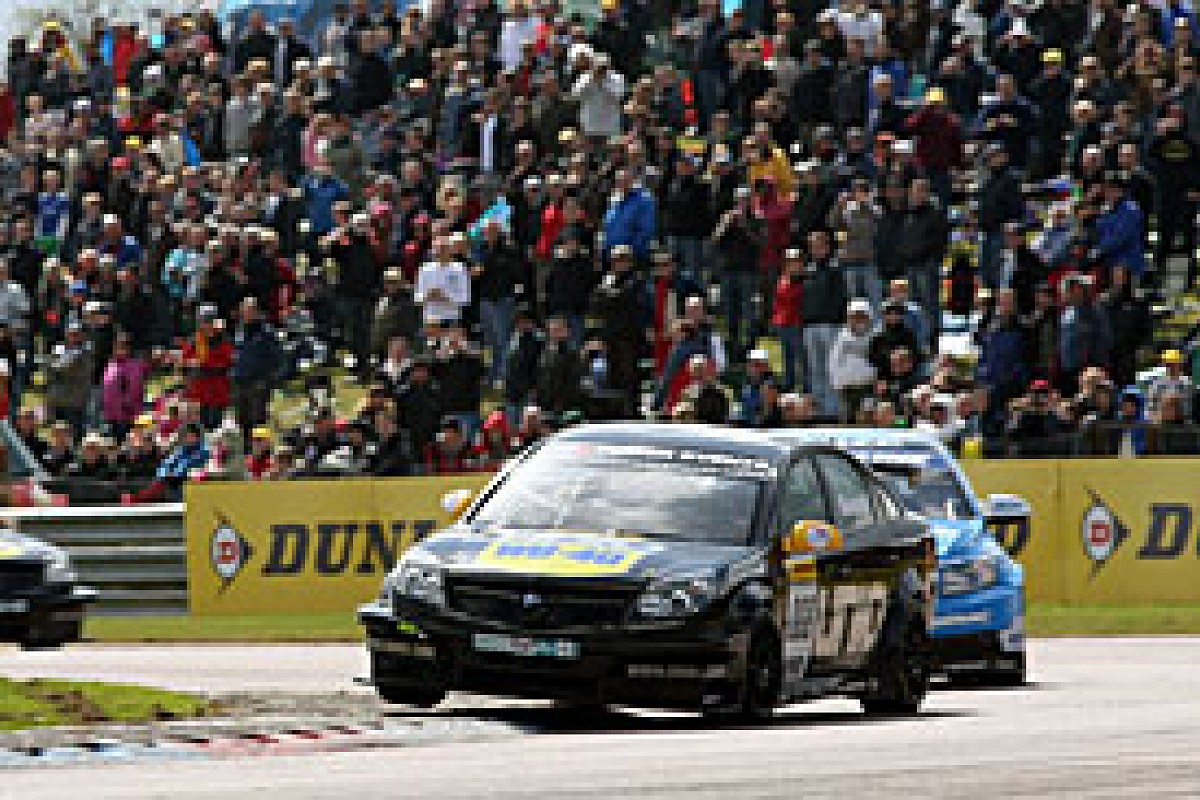 Fabrizio Giovanardi winning at Thruxton © LAT
The Vectra driver was not the out-and-out pace-setter; that honour fell to Gordon Shedden, but a front-left puncture threw him into the tyres at high speed at Church while leading. Flat tyres also affected his team-mate Matt Neal, both Fords and 10 others.
Neal spun Rob Collard out of the lead and into the wall in race three, handing Steven Kane his maiden BTCC win and Motorbase BMW a first one-two. Jason Plato was inside the top four in all three races to bag an impressive points haul on the Chevrolet Cruze's debut while Paul O'Neill starred with a podium in race two.
Points:
1 Giovanardi 38
2 Plato 31
3 Jackson 28
4 O'Neill 23
Round 2, Rockingham>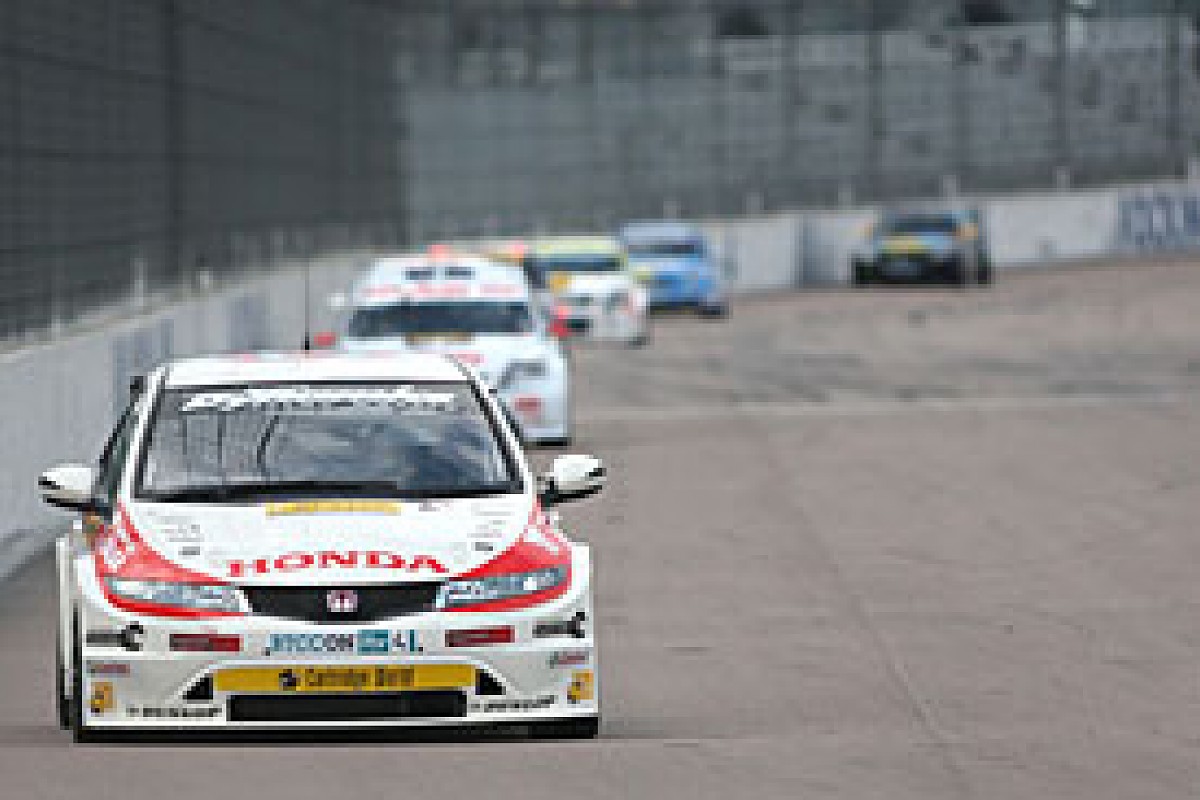 Matt Neal scored a double win at Rockingham © LAT
Neal benefitted from the improved handling of the Honda with his first double win since 2006. The first came courtesy of a gamble on slicks on a damp track and some tremendous car control as he beat team-mate Shedden to the flag by 8s. Tom Chilton gave LPG power its maiden pole, but the Arena Ford man chose wet tyres and slipped to 11th while tail-ender Martin Johnson performed heroics to finish ninth from a pitlane start.
Plato earned the Cruze's first win in race two, holding off a late charge from Collard's WSR BMW while O'Neill gave Tech-Speed its best BTCC finish with second in race three, behind Neal. Triple 8 replaced Giovanardi with James Nash after major American sponsorship agreed at Thruxton failed to materialize. The Italian stayed away as a result.
Points:
1 Plato 64
2 Neal 47
3 Kane 45
4 O'Neill 43
Round 3, Brands Hatch>
Chilton took Ford's first win since 2000 in torrential rain and then doubled up later when Shedden spun his lead away while trying to master a restart. Joy was fleeting for the spiky-haired one though when his car was disqualified for being either underweight or failing a ride-height test (even now race officials can't agree on the reason). That gave Tom Onslow-Cole victory from Shedden, his winning margin of 0.009s being the smallest in series history.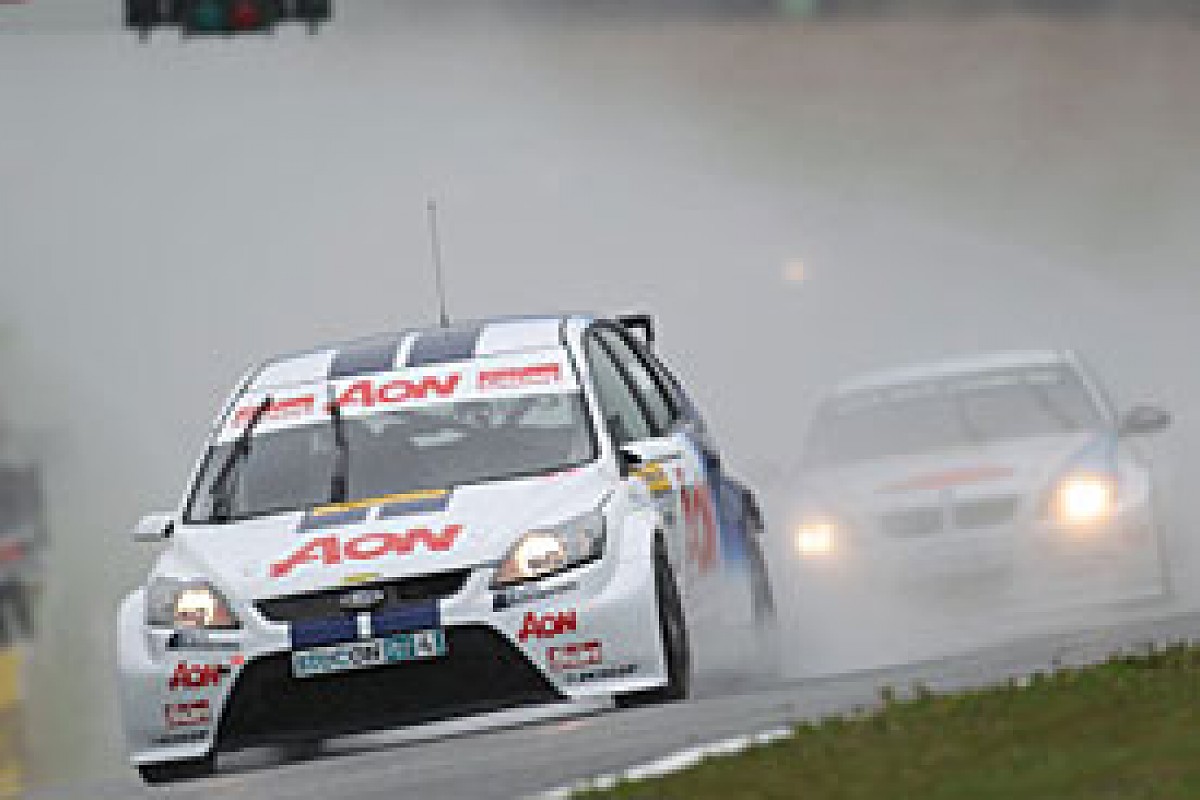 Tom Chilton won and was then excluded at Brands © LAT
The rain subsided for race three, making tyre choice a gamble. Mat Jackson opted for wets all round on his Motorbase BMW and won, but by just 0.5s from Neal, who went for a wet/slick combo and fought through from 13th on the grid. David Pinkney was on course for a podium when his gearbox refused to downshift going into Druids and sent the self-run Vectra into the gravel.
Plato has a dismal weekend. Electronic problems robbed him of any dry running on Saturday and they returned on Sunday to give him a double DNF and only a solitary eighth place to show for his troubles.
Points:
1 Neal 67
2 Plato 67
3 Kane 59
4 O'Neill 56
Round 4, Oulton Park>
An unballasted Onslow-Cole made it three poles in a row for Arena and grabbed a 'proper' win in race one, using the torque of his turbocharged LPG unit to get him out of the slow turns quicker than the rest.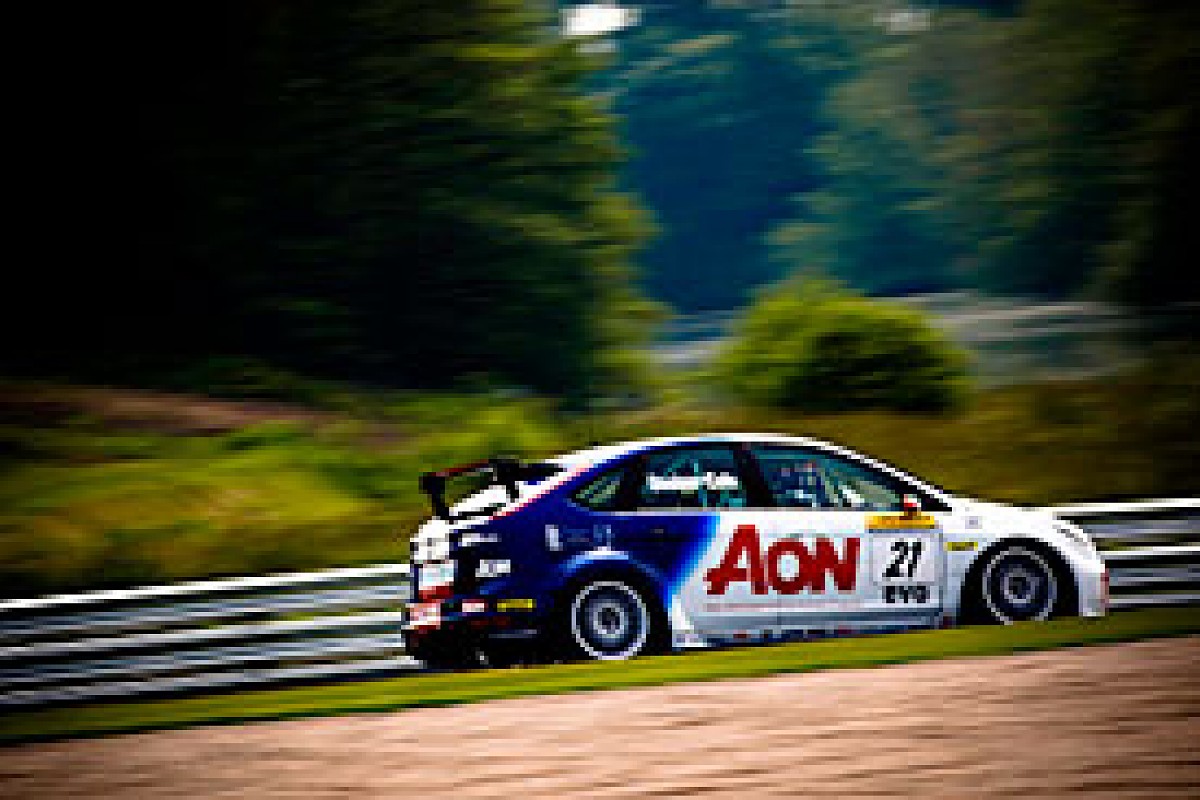 Tom Onslow-Cole wins at Oulton © LAT
Plato was punted out of fourth place by Jackson in race one and took his revenge on Onslow-Cole while fighting for the lead in the second encounter. The result was a collision at the Island hairpin and substantial damage to the front of the Chevrolet - not that it stopped the veteran from winning.
Alex MacDowall retired from the lead of race three with a broken driveshaft on his Chevy, leaving Tom Boardman looking good. But then the Special Tuning UK SEAT got a tap from Neal which broke Boardman's steering rack and handed the Honda man victory and Nash a first podium of the year.
Points:
1 Neal 98
2 Plato 90
3 Kane 82
4 Onslow-Cole 76
Round 5, Croft>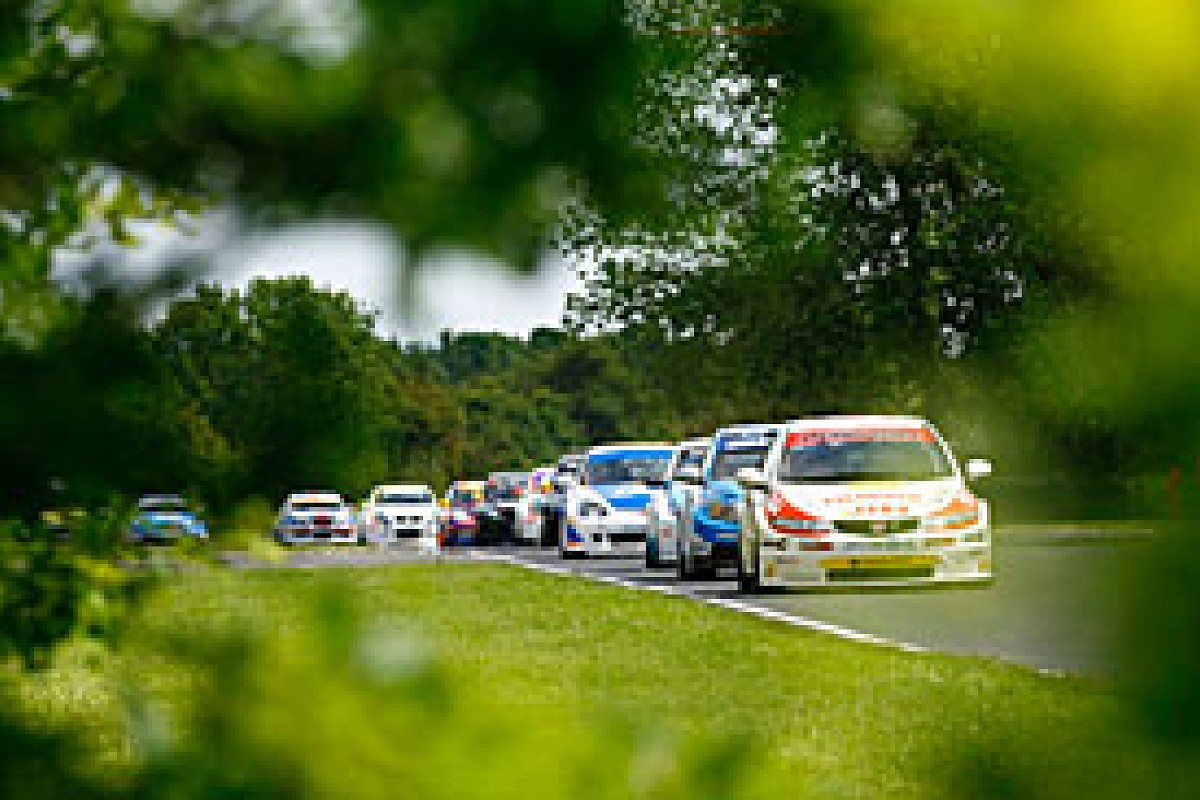 Gordon Shedden leads at Croft © LAT
Shedden scored his first win for two years and doubled up later on, making it a sensational day for the Scotsman as the sweet-handling Honda looked a cut above the rest in Yorkshire.
Chilton took another Ford pole despite crashing on an early qualifying lap. Again though, luck deserted him on raceday. Plato played the consistency card with two podiums, but a puncture in race three dropped him to the back of the pack and left him trailing Neal in the points.
Andrew Jordan made the most of his reversed grid pole in race three to take his maiden BTCC race win and the first for an NGTC-spec engine. Six drivers battled over third spot with the inevitable last-lap carnage. Kane went from sixth to third in four entertaining corners.
Points:
1 Neal 119
2 Plato 111
3 Shedden 100
4 Onslow-Cole 97
Round 6, Snetterton>
Buoyed by a breakthrough test during the summer break, Chevrolet was dominant with Plato taking a double win. Jackson was his only realistic challenger throughout the opening two encounters. Plato recovered the points lead too for the first time since May.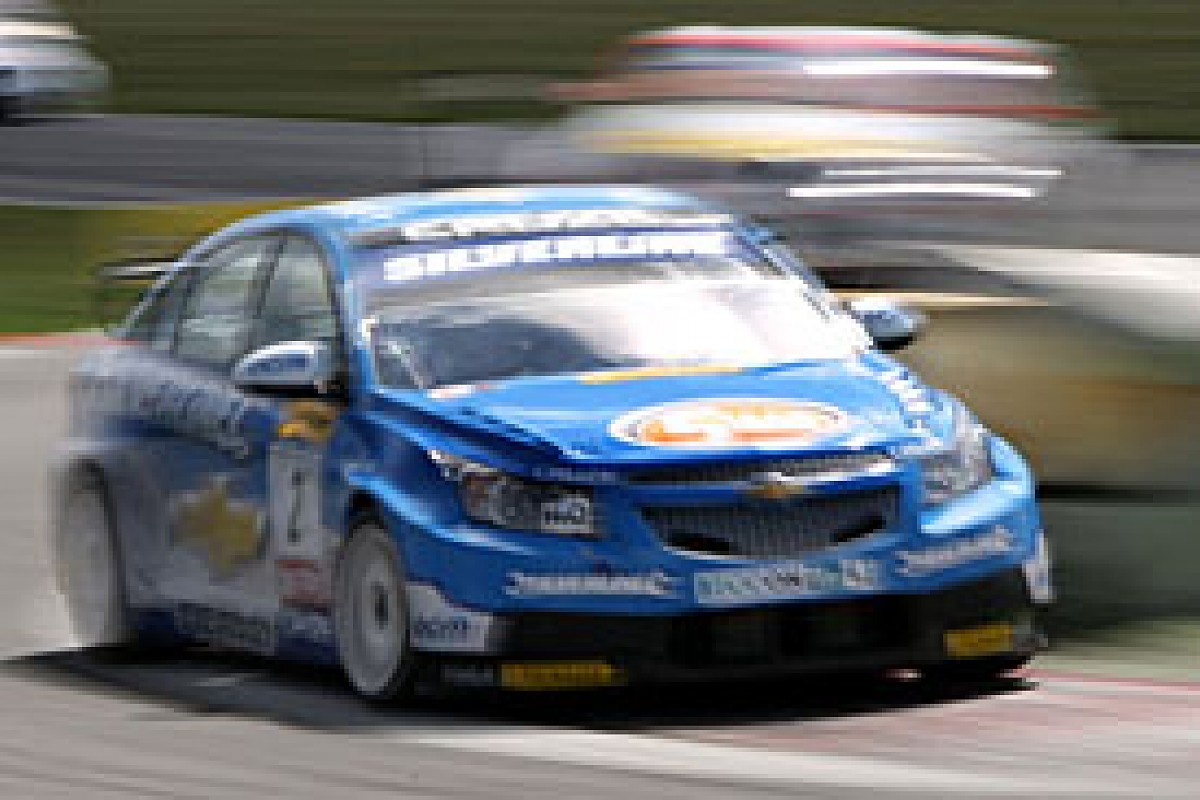 Jason Plato's breakthrough win at Snetterton © LAT
Team-mate MacDowall surprised onlookers with his maiden BTCC pole, but broke his gearlever within seconds of the race one start and was doomed for the rest of the day. The Hondas struggled with both carrying ballast for the first time during the Saturday sessions and neither Shedden nor Neal was able to exploit their Civics on the power track.
Weight-free though, Shedden and Neal managed first and third in the finale after poleman Nash spun into the cabbage field. Collard performed more heroics as a race one hit from Onslow-Cole left him holding his door shut with one hand and using the other to steer and change gear!
Points:
1 Plato 151
2 Neal 131
3 Shedden 127
4 Onslow-Cole 113
Round 7, Silverstone>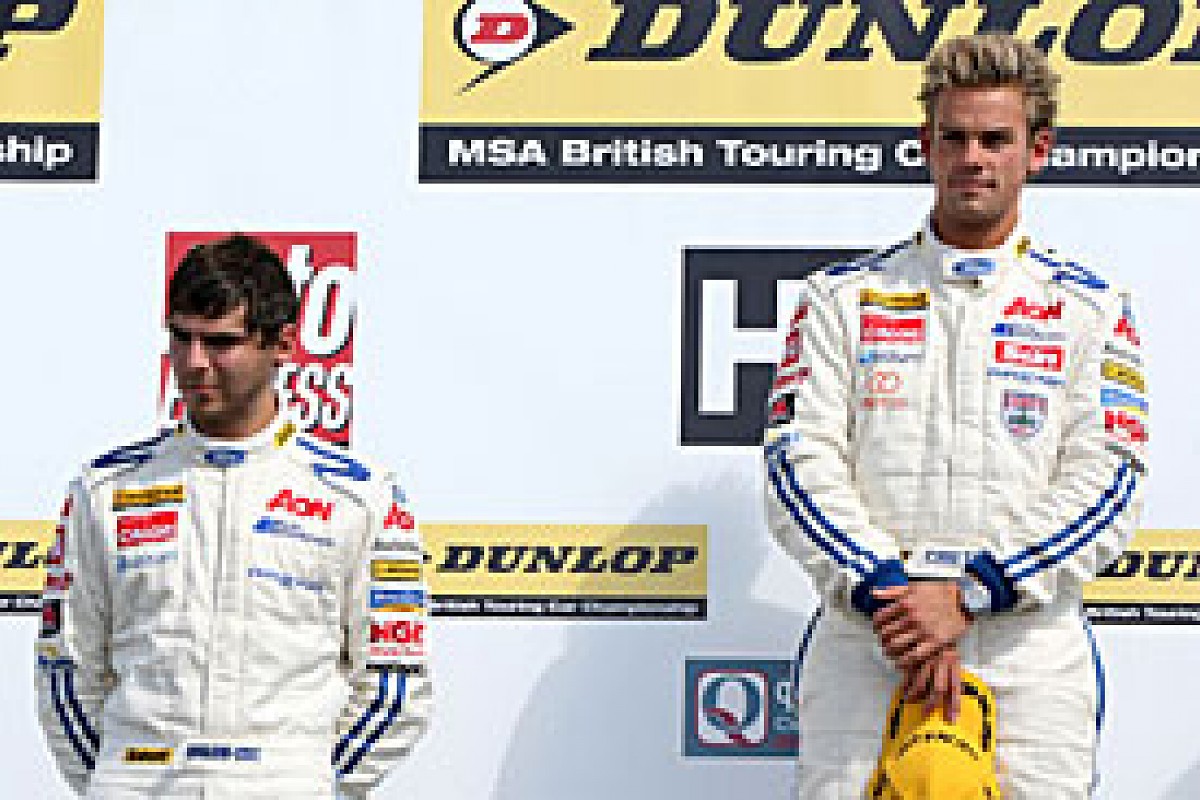 Tom Chilton inherited a win at Silverstone © LAT
Onslow-Cole looked on for a tremendous treble victory, but was denied such a result by bizarre team orders from Arena, which gifted Chilton two wins instead despite him trailing his title-contending team-mate by more than 30 points. The team insisted a gearbox glitch was the cause of the first, but admits to tactics in the second. Still with a sour taste in his mouth, Onslow-Cole made amends by winning the third race as the Focuses stretched their legs on Silverstone's National layout.
Rumours persist that had Chilton made it by runner-up O'Neill, that his namesake would have been told to move over again.
Despite the Fords being hit with a lower boost limit and another air restrictor penalty after qualifying, nobody could get near the two Toms. Plato and Neal collided at the start of race three, dropping to fourth and ninth by the flag while Chilton was eventually knocked down to sixth by Jackson after running into tyre worries early on.
Points:
1 Plato 171
2 Onslow-Cole 157
3 Neal 148
4 Shedden 138
Round 8, Knockhill>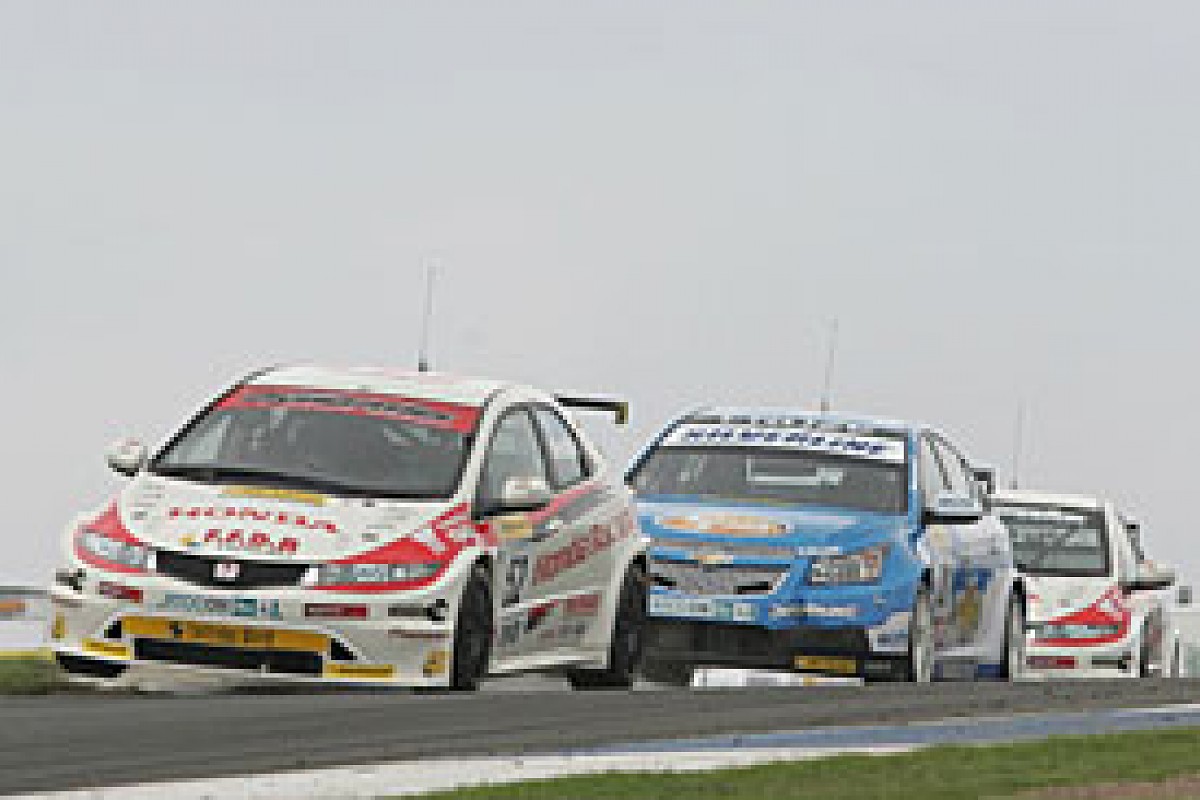 Shedden won on home ground © LAT
Honda returned to form in style as Shedden won at the track he runs during the week in spite of a punt at the first corner from polesitter MacDowall.
Neal sliced by his team-mate at the hairpin to win the second race while the rest of the field struggled to keep it together within the narrow confines of the hillside circuit. Two separate first lap skirmishes at the chicane in race three involved Jackson, Shedden, Chilton and Onslow-Cole, and gave Plato a clear run to victory.
Arena's engine restrictions began to look right as, with no long straights to stretch their legs, the Focuses just manage to crack the top six on raceday.
Points:
1 Plato 202
2 Neal 182
3 Onslow-Cole 178
4 Shedden 169
Round 9, Donington Park>
A massive race-one pile-up at the revised Goddard's chicane put Plato and Jordan in the barriers and damaged the cars of Onslow-Cole, Neal, Collard and Nash.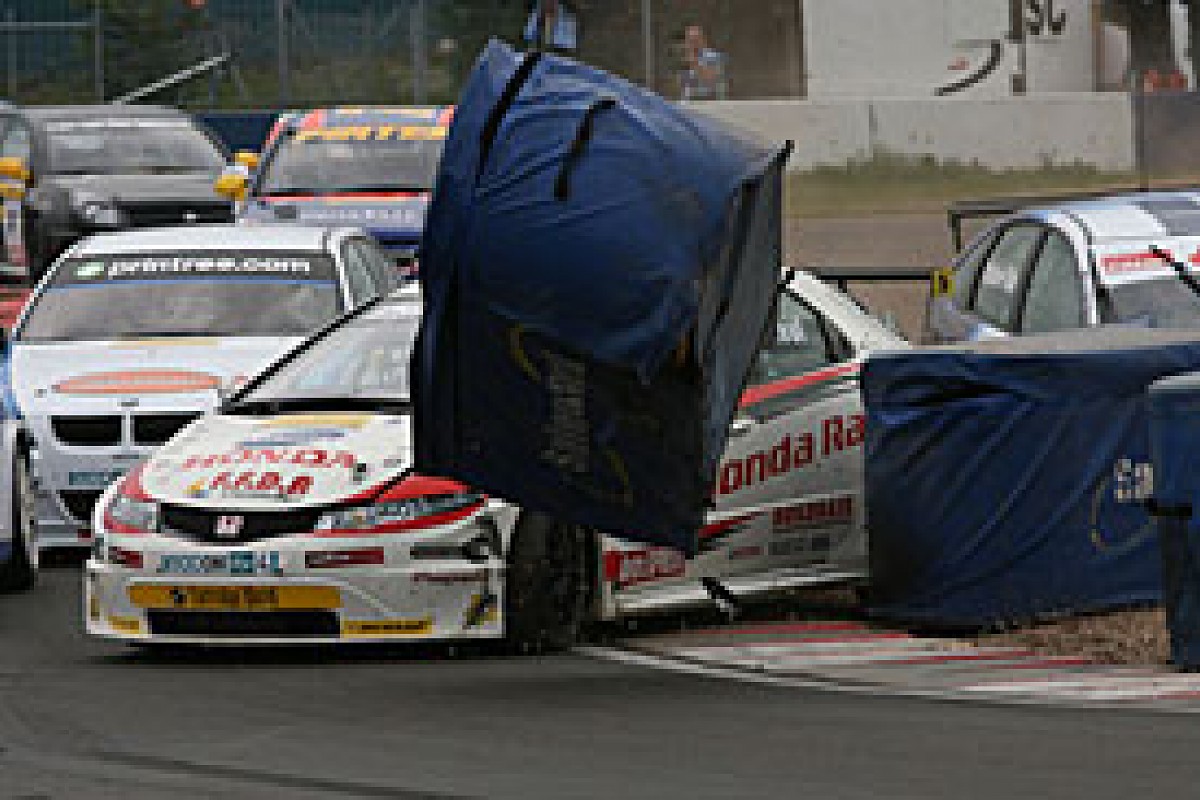 Crashes eliminated the front runners at Donington © LAT
Shedden picked up the baton to win from pole-sitter Chilton, who bodged his start by holding the brake with his heel. Onslow-Cole, minus ballast after dropping to eighth in race one, charged through the field and nailed the Honda on the brakes at Goddard's at mid-distance to take a fourth win of 2010.
Plato produced the drive of the season to climb from 19th to third in race two with no ballast and then went from seventh to the podium in the finale with 27kg on board. Jordan looked on course for a race three win before he slid wide under pressure from Neal at Redgate and then fell back to seventh by the end with a mystery handling problem.
Points:
1 Plato 224
2 Neal 207
3 Shedden 203
4 Onslow-Cole 200
Round 10, Brands Hatch>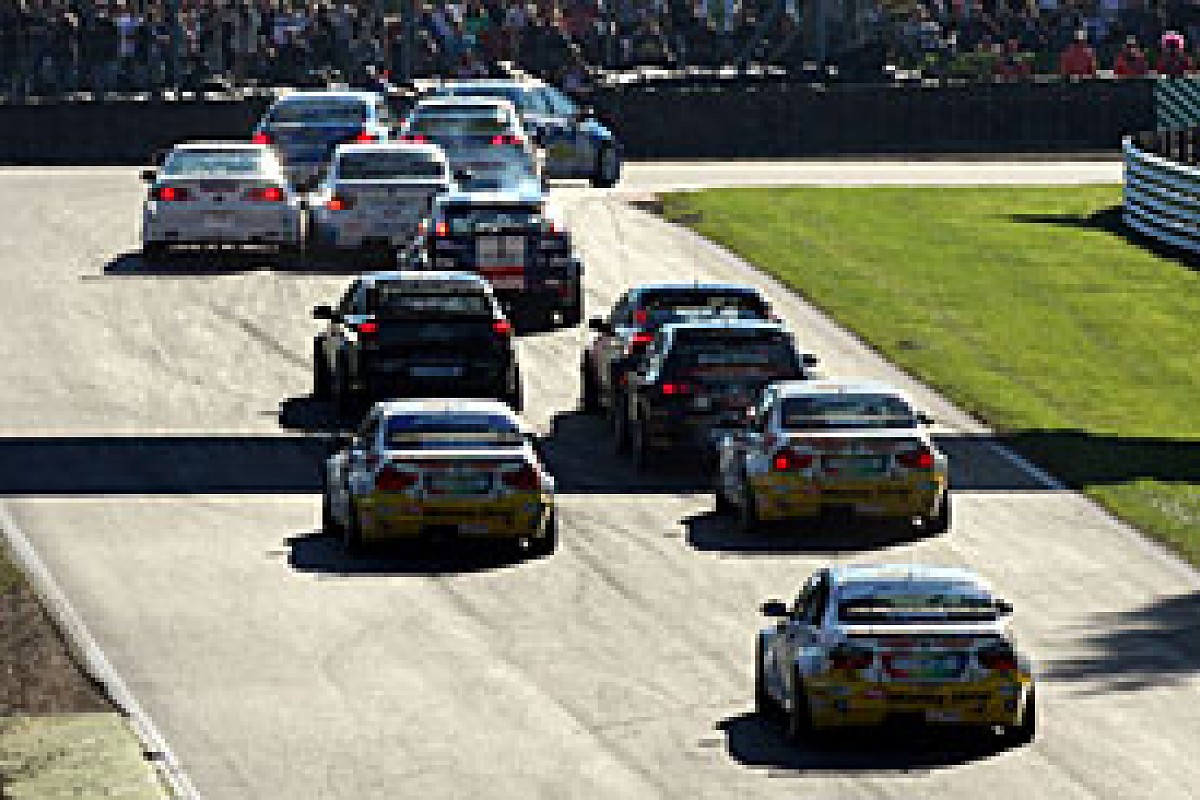 Jason Plato leads the field to title glory © LAT
Four men; Plato, Neal, Shedden and Onslow-Cole arrived in Kent as potential champions, but it was the Chevrolet man who ended a nine-year wait to win a second title.
He did it with style too, taking his first pole of the year despite carrying maximum ballast and Cruze-ing (sorry!) to a pair of wins. His second of the day was a record-equalling 60th of his BTCC career and netted him a first title for nine years.
Jordan resisted huge pressure from Kane throughout the season finale to end the year with a victory while Chilton claimed the independents title at the death as Onslow-Cole failed to finish any of the races due to hydraulic problems.
Points:
1 Plato 260
2 Neal 229
3 Shedden 218
4 Onslow-Cole 200
2010 BTCC final points standings
*For the full analysis of the BTCC season, including an in-depth look at the new Next Generation Touring Car, buy this week's AUTOSPORT magazine - or get the online version, here.