Sensational. That's about the only word that can be used to describe the 2009 British Touring Car Championship.
From April to October the cream of the nation's tin-top stars banged wing mirrors (and often more) in search of glory. Fabrizio Giovanardi was at his brilliant best as he sought to give Vauxhall the crown in its farewell season. Matt Neal rediscovered some of the form that seemed to have deserted him in '08, and fellow fortysomething Jason Plato proved that virtually no build-up was no deterrent at all to a successful campaign as he took a season-high seven wins.
And at the end of it all - including a Brands Hatch finale that will stand the test of time - there was a thoroughly deserving champion in the form of Colin Turkington, who became the first BMW driver to win the title for 16 years and gave Dick Bennetts' WSR squad an overall crown for the first time since it moved into the BTCC in 1996. Like I said, sensational.
Round-by-Round
Round 1, Brands Hatch, April 5
Matt Neal begins with a pole and victory that looks highly likely to kick off a serious title challenge in his second year with the Vauxhall squad, but his joy is nothing compared to that of the Motorbase squad as Rob Collard claims its maiden BTCC win.
A superb on-the-road double is completed when Collard's team-mate Jonathan Adam takes the race three spoils, but stewards later demote the debutant back to second for a hefty punt on Jason Plato at Paddock during the early stages. Plato thus inherits a win - and Chevrolet's first since the 1970s - just three days after confirming his one-off deal to race an RML-prepared Lacetti. Colin Turkington keeps his powder clean (he only loses the lead of race two on the penultimate lap after a tap) to come away with a second, a third and a fourth, but there is disaster for Fabrizio Giovanardi, who - forced to start near the back after an earlier puncture - gets caught up in an opening lap fracas at Graham Hill bend.
Round 2, Thruxton, April 26
As expected, the high-speed Hampshire bowl plays into the hands of the brilliantly stable and slippery Vauxhall Vectras - Giovanardi heading Neal and Andrew Jordan to a remarkable 1-2-3 finish in race one. The Italian can't make it a double though, his 45kg of success ballast making him easy meat for Turkington's BMW (carrying only 18kg) at Noble on the last lap.
The final race, just like the one at Brands Hatch, goes to a returnee in a Chevy, although this time it's Mat Jackson, who flummoxes his chasers with the restart of the century after a mid-race safety car and speeds off into the distance. Adam Jones is a fine second in his Clyde Valley Racing SEAT - the Brummie taking the first podium finish in BTCC history for a biofuel car, while former champion James Thompson returns to the series with Team Dynamics and grabs the final podium spot after what was an incredible six-car final lap battle.
Round 3, Donington Park, May 17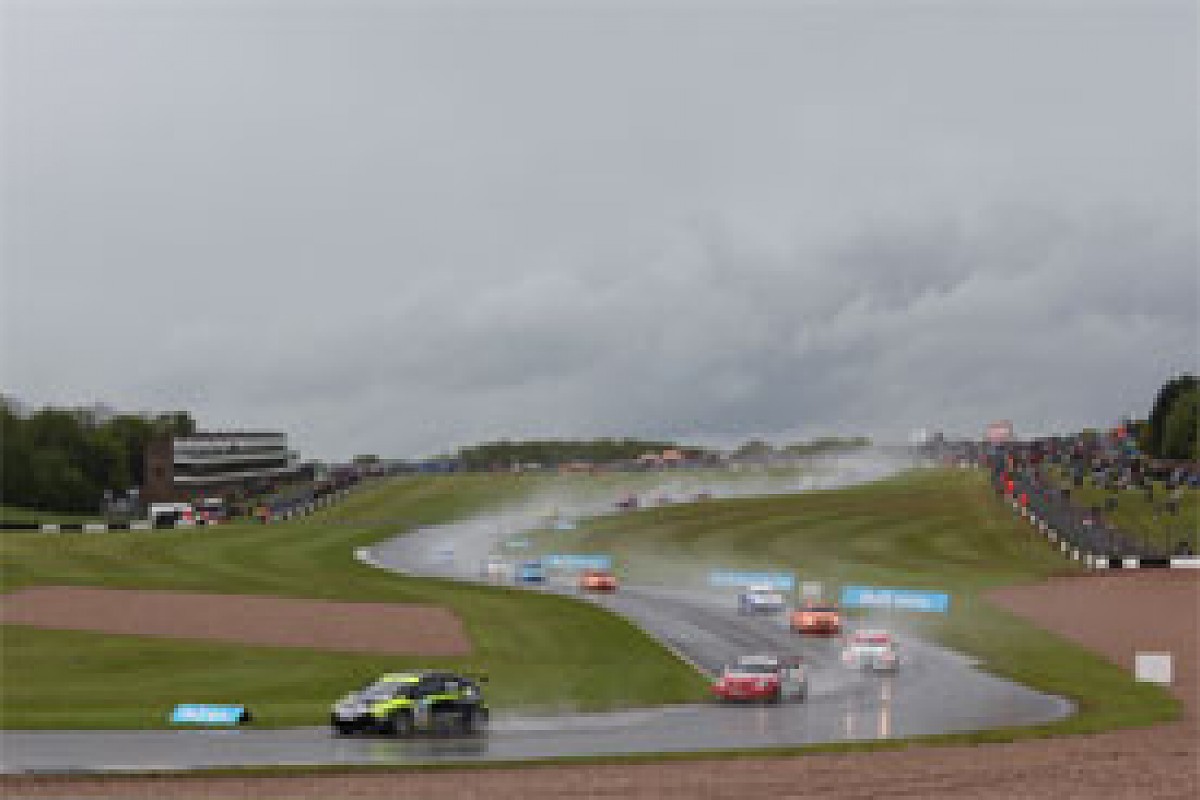 James Thompson leads at Donington Park © LAT
Nobody bats an eyelid at a forecast shower shortly before race one, but it proves problematic as it doesn't stop for five hours. Thompson takes full advantage of a 'slightly soft' Civic on the sodden track to take a pair of fantastic victories while Jordan takes his first BTCC pole and best finish with second in race one.
Neal keeps racking up the points with a pair of podiums while Turkington picks up his only non-finish of the season after a punt from Adam Jones at McLeans. Giovanardi, stripped of race one pole after failing a ride-height check post-session, picks up handy points, but gets into a heated confrontation with Harry Vaulkhard after he and the Tempus Chevy driver get together on-track in race three.
Plato, his RML deal now firmed up for the rest of the season, loses further ground.
Round 4, Oulton Park, May 31
Rear-wheel drive traction gives Turkington the lead at the first corner of each of the first two races, but supreme skill keeps him there on a day when high temperatures shortened tyre lives considerably. The Vauxhall drivers feel the heat more than most, although Jordan and Neal (whose series lead is cut to two points) do make it onto the rostum in the final race.
Thompson struggles for pace all weekend, but pole on the reversed grid and "a hairbrain set-up," enables him to romp to a race three win ahead of Jordan, while Collard, left at the back of the grid following an earlier broken propshaft, delivers one of the drives of the season to come up to fourth without putting a scratch on his Motorbase BMW.
Round 5, Croft, June 14
Turkington seizes a championship lead that he will not lose with another double win on the most BMW of BMW circuits (in the dry, at least). Team-mate Stephen Jelley backs him up with three podiums on what is a real breakthrough weekend for the ex-GP2 driver, while behind them Giovanardi, Neal and Plato do battle for the mid-ranking points places.
A massive shunt involving Vaulkhard and Tom Chilton after 13 laps puts both machines out for the rest of the day, while Jackson heads home after only five laps on a drip after succumbing to the effects of overnight food poisoning. They all miss a final race held in flood-like conditions that features the move of the season from Giovanardi on Thompson as the Vauxhall man goes around the outside of the Briton for three corners before snatching the lead at the complex.
Round 6, Snetterton, August 2
Turkington is hampered - and then helped - by two separate incidents involving RML Chevrolets. First Plato goes for a tiny gap at the Esses in race one, spinning the orange BMW out of the lead and onto the grass (and breaking his own steering rack in the process). He later inherits the final race victory after James Nash's disqualification for triggering a massive accident involving Rob Collard and Stephen Jelley.
Amid the drama, Giovanardi puts in his most impressive day's work of the year to take two victories and adds a second in the finale. His effort reduces his points deficit to Turkington to just 17, with Plato a massive 56 behind. Happier than both though is Paul O'Neill, who takes his first podium finish for six years in race one.
Round 7, Knockhill, August 16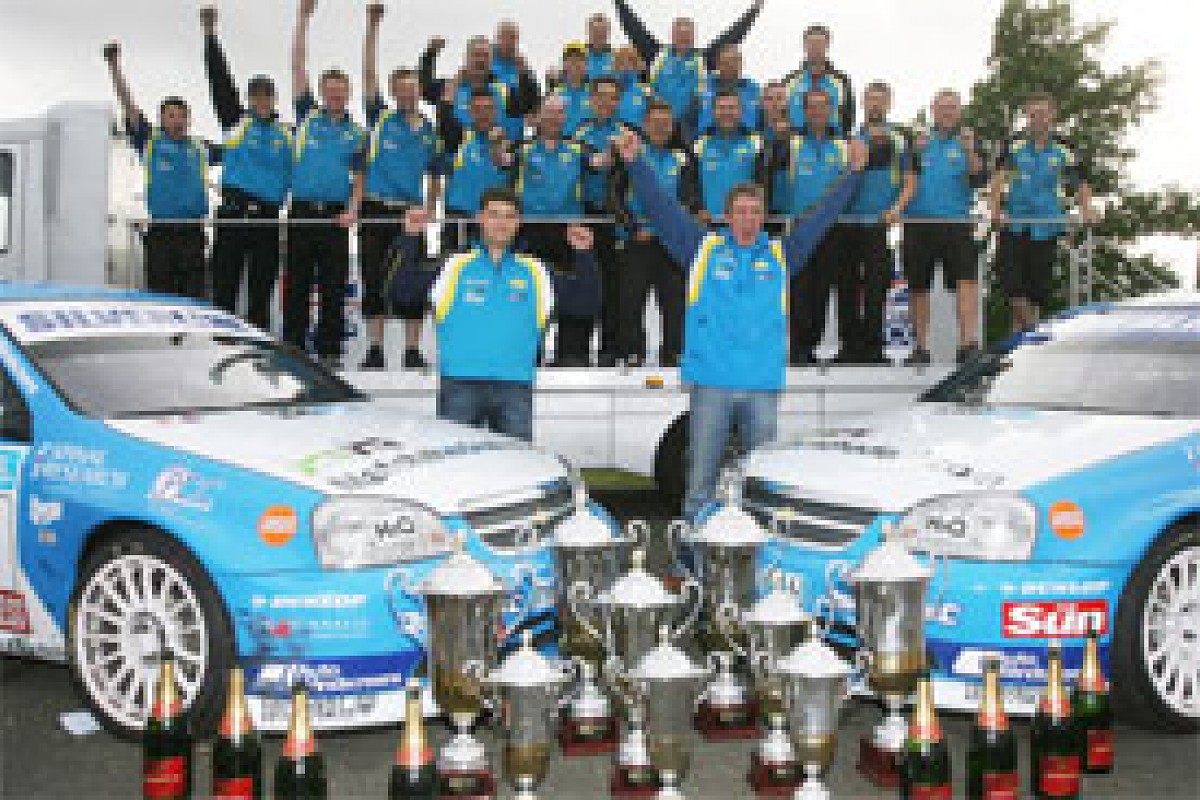 Mat Jackson and Jason Plato took a win apiece in Knockhill, and RML scored their 100th victory © LAT
Plato takes an easy pole on the championship's annual trip north of the border and dominates the opener, but his hopes of a double are dashed when an electrical problem forces him to pit at the end of the formation lap and prevents him taking the start. His race three drive from the back of the pack to second - on a track not conducive to passing - is something to behold.
Only team-mate Jackson avoids being passed by the 2001 champion as he adds to his two earlier podiums with his second win of the year. Giovanardi takes the middle race while Neal loses further ground as he gets involved - and shoved into the gravel - with both Motorbase BMWs in race one.
Round 8, Silverstone, August 30
"If you're not driving one of those blue things, you've not got a hope in hell this weekend." That was Neal's dire premonition for all but the three RML drivers. He was right too. Pole and two wins for Jackson, either side of one for Plato puts the seal on a dominant weekend for RML, with Nash weighing in with a maiden podium in race one to make it a 1-2-3.
Early race one leader Collard loses lead to Jackson after a mega move by the latter, then kills his BMW's tyres, but sensibly alters his set-up and manages his rubber better in the finale. A stirring charge just fails to net him a win - just like Giovanardi's does once light rain begins to fall in the middle race. Jelley comes to the aid of Turkington with a cheeky move on Giovanardi's Vauxhall in race three, and plays rear gunner for the remainder.
Round 9, Rockingham, September 20
Jelley takes a breakthrough maiden win in race one, and adds another in the reversed grid encounter, the WSR man driving impressively all day - apart from a slip that briefly loses him the lead of race three to Jordan.
An imbalance and maximum ballast leaves Turkington 14th on the grid, but he ends up with a pair of top fours, the latter one coming in a corker of a final race. He and Plato, fresh from his 50th BTCC win in race two, get tangled up at Tarzan, with the Chevy driver suffering a puncture. Turkington continues and becomes involved in an entertaining fight with Giovanardi and ex-Formula 1 man Johnny Herbert, competing in his second round for Team Dynamics. Damage done to Giovanardi's car leaves him wounded and Martin Johnson even takes 10th and the final point on the last lap. Chilton, meanwhile, takes the much-improved Focus's maiden podium.
Round 10, Brands Hatch, October 4
Chilton puts his Ford on pole and leads most of race one, but Plato is at his sensational best and takes advantage of his rival going wide at the last corner to take the closest BTCC win in history - just 0.015s. He doubles up in race two to bring himself to within eight points of Turkington, while Giovanardi - on the podium twice - lies only five off the lead heading into the last race.
The finale is the best race of the year with each man racing hammer and tongs. The crunch point comes on lap nine when Turkington and Giovanardi - battling for the lead - rub shoulders at Clark Curve and slow each other, enabling Plato to pass both around the outside spectacularly into Paddock to make it a phenomenal triple win. The final figures? Turkington, 275; Plato, 270; Giovanardi, 266. Fantastic.

Five key moments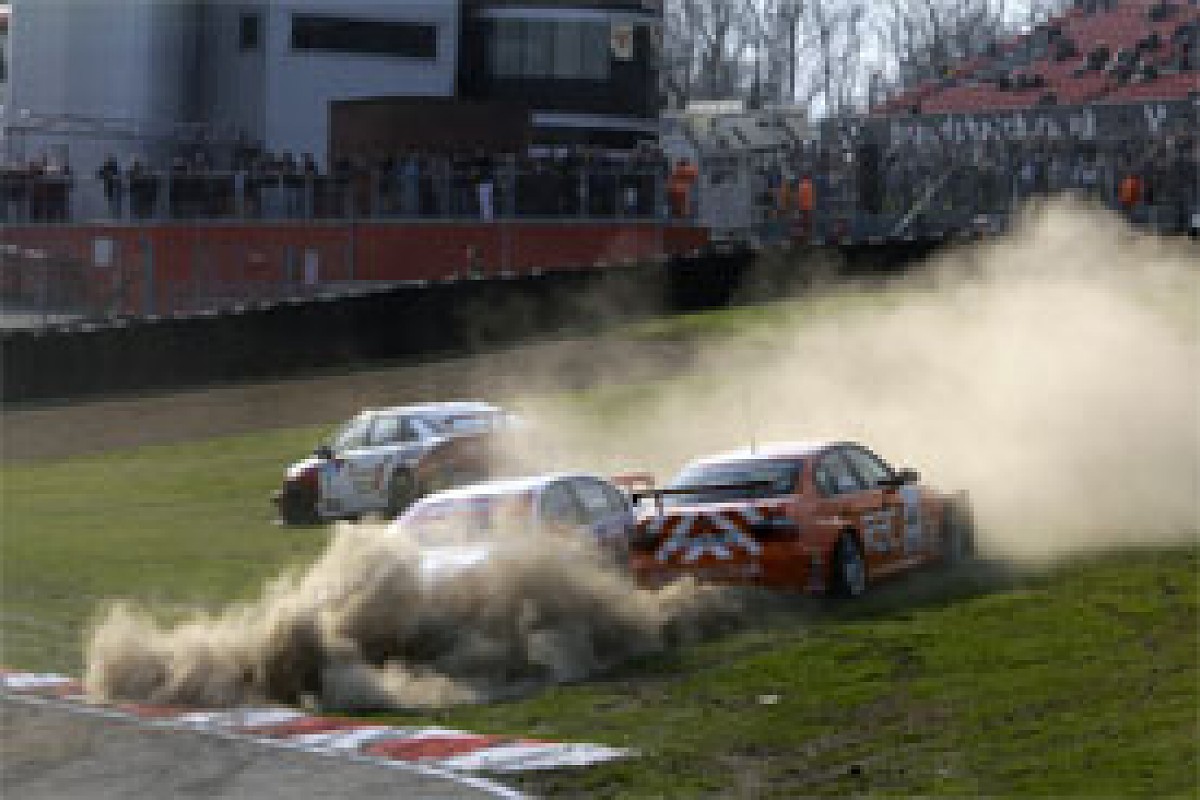 Fabrizio Giovanardi escapes the chaos of Rob Collard and Stephen Jelley © LAT
1. A puncture and some first-lap melee at Brands Hatch costs Giovanardi a big points haul and puts him on the back foot for the rest of the year. What follows, in a Vectra that is no longer the class of the field, is arguably his most impressive display of driving over a season.
2. Thompson returns at Thruxton. The three wins he takes during the first two thirds of the season deny the championship contenders a couple of maximum hauls. Had he not been there, Plato's Brands Hatch triple may just have netted him a remarkable title.
3. Having just dominated the opener at Knockhill, polesitter Plato pits at the end of the race two's formation lap with an electrical failure that prevents him taking the start. It's potentially 17 points lost - 17 points that Plato will rue later on.
4. With a tap from Plato leaving Turkington broadside at Rockingham's Tarzan hairpin, James Nash arrives on the scene and, trying to avoid the melee, clips his team-mate and somehow straightens up Turkington in the process.
5. A lap after both are passed by Plato for the lead of the year's last race at Brands Hatch, Turkington fails to flinch when Giovanardi tries to nose inside him at Clark Curve, and pushes the Italian towards the pit wall. Seven laps later, he is champion.