Seven years have passed since three drivers came to the final round of the British Touring Car Championship with a chance of claiming the title. But with just this weekend's Brands Hatch triple-header to go, that is exactly the scenario that has played out before our eyes.
For Colin Turkington, a seven-year-long apprenticeship in the BTCC is behind him, and the WSR BMW driver has finally put himself in the best position of all to become champion. But with double champion Fabrizio Giovanardi only 13 points behind and 2001 title-winner Jason Plato just 28 adrift, with 52 up for grabs, drama is guaranteed. Only one though, will come out singing.
Colin's superb season
Colin Turkington, WSR Team RAC BMW 320si © LAT
Turkington is the favourite to add to his three straight independents' titles (including this year) with a maiden overall crown. It's easy to see why, too. Six wins, six other podium finishes and just two non-scores all season have made him a formidable opponent for heavyweight names like Giovanardi, Plato, Matt Neal and James Thompson this season.
With just a few days before the destiny of the title is decided, Turkington is keeping to his usual levels of calm and control. It's the only way he knows.
"I just want to get on with it," says Turkington, who interestingly, has yet to give away 13 points to Giovanardi all season. "Two weeks between the last two rounds is long enough - if you have too big a gap, you start to think more and that's when the pressure can get to you.
"My tactic has to be to build up to this race just like any other and Dick [Bennetts, WSR team principal] and the rest of the guys in the team are making sure that's exactly what we'll do."
Key to Turkington's quest for three solid points finishes will be how he and WSR deal with the 45kg of success ballast that he carries into the finale as championship leader.
Turkington had a dreadful Saturday at Rockingham last time out, but is optimistic that the high-speed nature of the Brands Hatch Grand Prix circuit will make the extra weight less of a disadvantage to his lighter rivals.
"We always knew Rockingham would be the worst track to carry weight at," he says. "It's the only place on the calendar where you can actually see on the telemetry the effect it's having. The problem is that you're almost always in a corner at Rockingham, and when you're trying to accelerate, it really kills you. There's only two slow corners at Brands, and one of them has a downhill exit. The rest of the turns are all about momentum, and that should suit us pretty well."
Gio's Italian job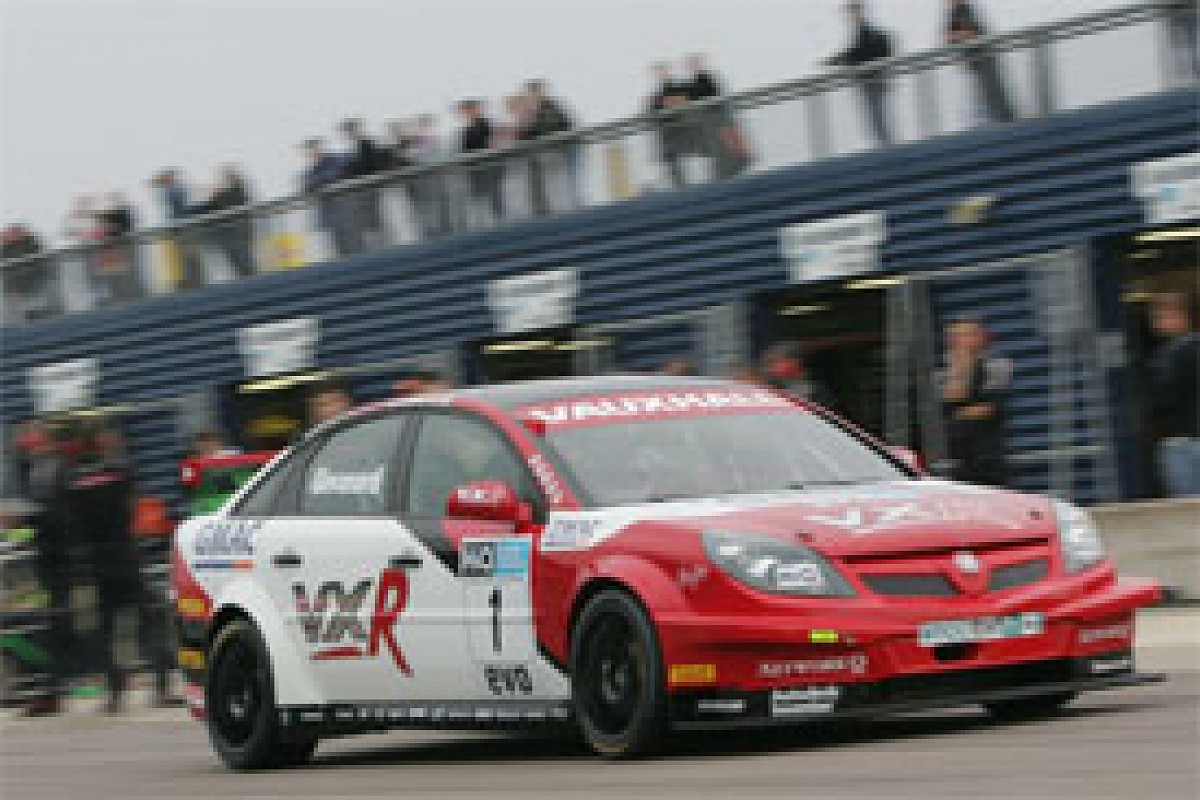 Fabrizio Giovanardi, VX Racing Vauxhall Vectra © LAT
Giovanardi, of course, provides the greatest challenge to Turkington due to the gap between the pair. The Italian closed the championship gap to an agonising five points after the second race at Rockingham, only to see it rise back up to 13 thanks to damage sustained in separate collisions with Jonathan Adam and Johnny Herbert in the reversed-grid finale that dropped him outside the points by the flag.
The Vauxhall driver though, has been in this position before. In 2007 he arrived at the Thruxton finale nine points behind Plato's SEAT, and ended up champion. Equally, he endured a terrible final round last year, scoring only a point, but still wound up champion thanks to the buffer he had already established.
The 42-year-old Italian is planning to use the experience he has garnered over 17 years at the top level of touring car racing and has his strategy all mapped out.
"I have to attack, attack, attack. It's win or nothing," he says. "That's the only way I can approach it. It's just like 2007 with Jason. If I try and I fail, then I still finish second, or third, but I haven't lost anything really. I have to try, because the prize is very important.
"Of course, I think it will be a lot harder than '07. Then, Jason and I had the fastest packages and we knew we'd be battling at the front. This time, there are so many cars that are fast enough to win, so 13 points [more than Turkington] is not so easy to find."
Giovanardi, who is aiming to become the first man since Andy Rouse in 1985 to win three straight BTCC crowns, knows he will be at a disadvantage from the off, having not raced on the Brands Hatch Grand Prix for 20 years. But he is downplaying the problems it will cause and instead has bigger things on his mind.
"Sure, it means I will lose the first practice session with having to learn the track and so that probably costs me a set of tyres overall," he says. "It's not the end of the world though. I have data I can look at and guys like [team-mate] Matt [Neal] who can help me.
"The bigger problem is that there are so many fast cars, that especially with the ballast [36kg in his case], qualifying well is not so easy and then you get involved with guys who are only out to get a good result for themselves and not worried about the championship. That was the problem I had with Johnny [Herbert] at Rockingham and ended up damaging my car."
Jason chasin'
Jason Plato, RML Racing Silverline Chevrolet Lacetti © LAT
Plato's season draws many parallels with that of his final year with SEAT. As in 2008, his RML Chevrolet Lacetti was ready late (his deal to race it was only signed two days before the season-opener at the Brands Hatch Indy circuit).
As in 2008, his team took half a season to really get its act together operationally. And, as in 2008, once it had done so, it turned its car into the fastest machine in the championship.
Plato has grasped his opportunity, winning four times (including his 50th in the BTCC at Rockingham) and reducing his deficit to Turkington from 56 points at its largest, to just half that now.
"It was a late start," says Plato. "And certainly by the time we got to mid-season, I'd given up any hope of the championship and just decided to go for as many race wins as I could. Now it's all looking much closer.
"I'm not getting my hopes up. Last year I came to the last round still within the amount of points of Fabrizio that I needed to be to win the title and it just didn't happen. After the second race at Rockingham [when the gap was 20 points] I thought it was possible, but now... I guess we'll just have to see.
"I know this Lacetti is going to absolutely fly around the GP loop, so I have no worries about what I can do. I just have to keep pushing because you never know, Colin and Fabrizio could take each other off, and if I'm in the hunt, I can take big points off them."
Three men, all with their own reasons for winning. Whichever does, Brands Hatch is going to be unmissable.