Rob Huff claimed a sensational World Touring Car Cup pole position in a dramatic second Macau Guia Race qualifying as the TCR lap record was broken twice in two sessions.
Yvan Muller had earlier taken pole for Saturday's opening race, in which championship leader Esteban Guerrieri will start at the back - though he later secured pole for race two's partially-reversed grid.
---
Watch all three WTCR races - and the rest of the Macau Grand Prix and GT World Cup action - live on Autosport this weekend
---
Sebastien Loeb Racing driver Huff was limited to seventh in first qualifying by a damper issue but was on song in the second session, topping all three segments as he beat compatriot Andy Priaulx to pole.
Huff elected to run first in the Q3 shootout session and, while his Volkswagen Golf GTI lost ground to every other runner in sector one, he was fastest of all in the final two sectors as he romped to his first pole position of the WTCR season.
His 2m28.538s lap - which he bettered in the second part of qualifying - had been close to eight tenths of a second faster than the next best until Priaulx's run, as the Lynk & Co driver recorded his best qualifying performance since returning to World Touring Cars.
The three-time world champion was more than half a second up on Huff's benchmark at the end of the second sector, but could not match Huff in the second half of the lap and ended up 0.206s down in second.
WRT driver Jean-Karl Vernay was third in his Audi RS3 LMS ahead of the lead BRC Racing Hyundai of Nicky Catsburg, while Huff's team-mate Johan Kristoffersson ended up fifth.
Kristoffersson was the only Macau rookie to make the shootout but wrecked his lap by clattering the barrier at Moorish, and ended up close to three seconds off the pace in third.
Race one polesitter Muller was bumped from a place in the shootout by Kristoffersson after failing to improve on his final Q2 run.
Four-time world champion Muller will therefore start Sunday's final race from sixth, ahead of the Team Mulsanne Alfa Romeo Giulietta Veloce of Kevin Ceccon, who also failed to improve on his final run, and fellow Lynk & Co drivers Thed Bjork and Yann Ehrlacher.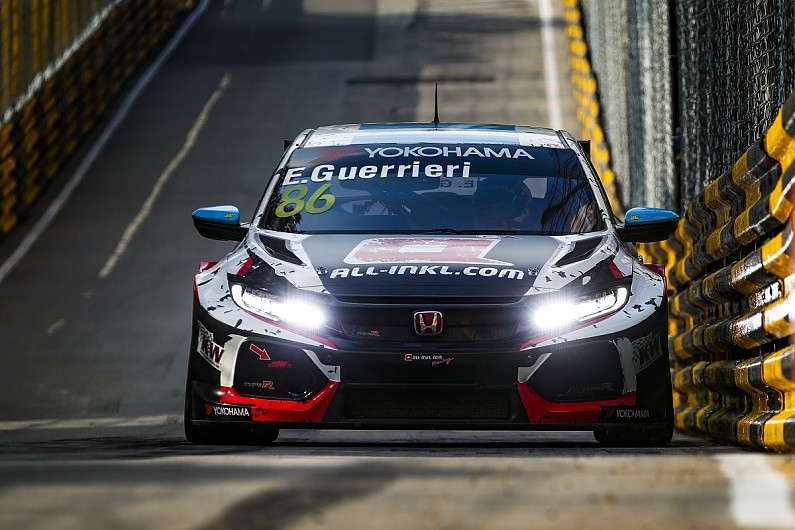 After finishing 13th in the first qualifying session, only to receive a back of the grid penalty for having his engine changed, points leader Guerrieri fared far better in the afternoon session and qualified 10th.
Guerrieri's Munnich Motorsport Honda Civic did not have the pace to challenge for a place in the shootout, but he crucially beat the sole time set by Hyundai driver Gabriele Tarquini to clinch pole for the reversed-grid race.
The Argentinian scraped into Q2 by the skin of his teeth, in part thanks to an incident involving his nearest championship rival Norbert Michelisz - who collected the stranded WRT Audi of Gordon Shedden near the end of Q1.
Shedden ran nose-first into the Moorish barrier and, while Tiago Monteiro and Guerrieri were able to sneak past the RS3 LMS, Michelisz was unsighted and collected the rear of Shedden's car, causing significant damage to the front-left corner of his Hyundai i30 N.
That brought the session to a premature end, and precluded Michelisz - who had been fourth in the Q1 order - from contesting the second session, meaning he will start both Sunday races from 11th.
While he was denied pole in Friday morning's opening qualifying session, Michelisz was able to reduce Guerrieri's points lead by qualifying second for the opening race.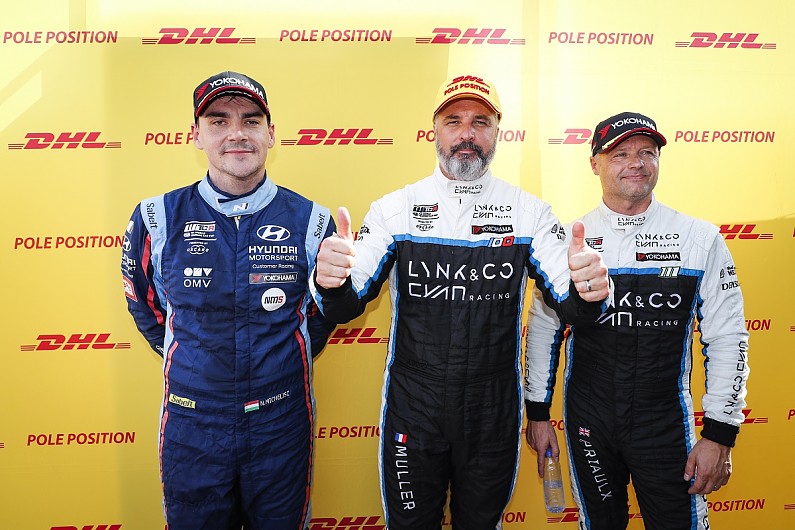 In that session Muller recorded personal-best times in the second, third and fourth sectors to set a 2m28.661s, which was also quicker than Huff's previous qualifying lap record of 2m29.040s from last year's opening Guia Race qualifying session, to deny Michelisz by 0.068s.
Michelisz's time did prevent Cyan from recording a front-row lockout, as Priaulx's late effort fell 0.077s short of the Hungarian's.
Two-time Guia Race winner Priaulx will share the second row of the grid for the opening race of the weekend with Ceccon, who was a further 0.040s back but could have achieved pole had he strung his best sectors together.
Race one starting grid
| Pos | Driver | Team | Car | Time | Gap |
| --- | --- | --- | --- | --- | --- |
| 1 | Yvan Muller | Cyan Racing | Lynk & Co | 2m28.661s | - |
| 2 | Norbert Michelisz | BRC Squadra Corse | Hyundai | 2m28.729s | 0.068s |
| 3 | Andy Priaulx | Cyan Performance | Lynk & Co | 2m28.806s | 0.145s |
| 4 | Kevin Ceccon | Team Mulsanne | Alfa Romeo | 2m28.846s | 0.185s |
| 5 | Yann Ehrlacher | Cyan Performance | Lynk & Co | 2m28.942s | 0.281s |
| 6 | Thed Bjork | Cyan Racing | Lynk & Co | 2m29.060s | 0.399s |
| 7 | Rob Huff | SLR VW Motorsport | Volkswagen | 2m29.451s | 0.790s |
| 8 | Gabriele Tarquini | BRC Squadra Corse | Hyundai | 2m29.470s | 0.809s |
| 9 | Benjamin Leuchter | SLR Volkswagen | Volkswagen | 2m29.660s | 0.999s |
| 10 | Mikel Azcona | PWR Racing | Cupra | 2m29.683s | 1.022s |
| 11 | Frederic Vervisch | Comtoyou Audi | Audi | 2m29.709s | 1.048s |
| 12 | Nicky Catsburg | BRC Racing Team | Hyundai | 2m29.770s | 1.109s |
| 13 | Esteban Guerrieri | Munnich Motorsport | Honda | 2m29.833s | 1.172s |
| 14 | Robert Dahlgren | PWR Racing | Cupra | 2m29.891s | 1.230s |
| 15 | Tiago Monteiro | KCMG | Honda | 2m29.919s | 1.258s |
| 16 | Johan Kristoffersson | SLR Volkswagen | Volkswagen | 2m30.039s | 1.378s |
| 17 | Jean-Karl Vernay | WRT | Audi | 2m30.200s | 1.539s |
| 18 | Nestor Girolami | Munnich Motorsport | Honda | 2m30.353s | 1.692s |
| 19 | Ma Qinghua | Team Mulsanne | Alfa Romeo | 2m30.445s | 1.784s |
| 20 | Aurelien Panis | Comtoyou Cupra | Cupra | 2m30.462s | 1.801s |
| 21 | Mehdi Bennani | SLR VW Motorsport | Volkswagen | 2m30.788s | 2.127s |
| 22 | Attila Tassi | KCMG | Honda | 2m30.835s | 2.174s |
| 23 | Niels Langeveld | Comtoyou Audi | Audi | 2m30.867s | 2.206s |
| 24 | Gordon Shedden | WRT | Audi | 2m30.888s | 2.227s |
| 25 | Luca Engstler | BRC Racing Team | Hyundai | 2m31.533s | 2.872s |
| 26 | Tom Coronel | Comtoyou Cupra | Cupra | 2m31.608s | 2.947s |
| 27 | Jim Ka To | KC Motorgroup | Honda | 2m33.654s | 4.993s |
| 28 | Billy Lo | Tian Shi Zuver Team | Audi | 2m34.791s | 6.130s |
| - | James Tang | Team TRC | Honda | 2m36.795s | 8.134s |
| - | Kwai Wah Wong | Son Veng Racing Team | Volkswagen | 2m39.999s | 11.338s |
| - | Terence Tse | Team TRC | Honda | 2m43.146s | 14.485s |
| - | Arthur Law | Team TRC | Honda | - | - |
Race two grid
| Pos | Driver | Team | Car |
| --- | --- | --- | --- |
| 1 | Yann Ehrlacher | Cyan Performance | Lynk & Co |
| 2 | Thed Bjork | Cyan Racing | Lynk & Co |
| 3 | Kevin Ceccon | Team Mulsanne | Alfa Romeo |
| 4 | Esteban Guerrieri | Munnich Motorsport | Honda |
| 5 | Yvan Muller | Cyan Racing | Lynk & Co |
| 6 | Johan Kristoffersson | SLR Volkswagen | Volkswagen |
| 7 | Nicky Catsburg | BRC Racing Team | Hyundai |
| 8 | Jean-Karl Vernay | WRT | Audi |
| 9 | Andy Priaulx | Cyan Performance | Lynk & Co |
| 10 | Rob Huff | SLR VW Motorsport | Volkswagen |
| 11 | Gabriele Tarquini | BRC Squadra Corse | Hyundai |
| 12 | Norbert Michelisz | BRC Squadra Corse | Hyundai |
| 13 | Niels Langeveld | Comtoyou Audi | Audi |
| 14 | Tom Coronel | Comtoyou Cupra | Cupra |
| 15 | Luca Engstler | BRC Racing Team | Hyundai |
| 16 | Attila Tassi | KCMG | Honda |
| 17 | Nestor Girolami | Munnich Motorsport | Honda |
| 18 | Frederic Vervisch | Comtoyou Audi | Audi |
| 19 | Mehdi Bennani | SLR VW Motorsport | Volkswagen |
| 20 | Robert Dahlgren | PWR Racing | Cupra |
| 21 | Aurelien Panis | Comtoyou Cupra | Cupra |
| 22 | Mikel Azcona | PWR Racing | Cupra |
| 23 | Ma Qinghua | Team Mulsanne | Alfa Romeo |
| 24 | Benjamin Leuchter | SLR Volkswagen | Volkswagen |
| 25 | Tiago Monteiro | KCMG | Honda |
| 26 | Billy Lo | Tian Shi Zuver Team | Audi |
| 29 | James Tang | Team TRC | Honda |
| 30 | Kwai Wah Wong | Son Veng Racing Team | Volkswagen |
| 31 | Terence Tse | Team TRC | Honda |
| 32 | Arthur Law | Team TRC | Honda |
| 1001 | Gordon Shedden | WRT | Audi |
| 1002 | Jim Ka To | KC Motorgroup | Honda |
Race three grid
| Pos | Driver | Team | Car | Time | Gap |
| --- | --- | --- | --- | --- | --- |
| 1 | Rob Huff | SLR VW Motorsport | Volkswagen | 2m28.538s | - |
| 2 | Andy Priaulx | Cyan Performance | Lynk & Co | 2m28.744s | 0.206s |
| 3 | Jean-Karl Vernay | WRT | Audi | 2m29.336s | 0.798s |
| 4 | Nicky Catsburg | BRC Racing Team | Hyundai | 2m29.531s | 0.993s |
| 5 | Johan Kristoffersson | SLR Volkswagen | Volkswagen | 2m31.369s | 2.831s |
| 6 | Yvan Muller | Cyan Racing | Lynk & Co | 2m28.860s | - |
| 7 | Kevin Ceccon | Team Mulsanne | Alfa Romeo | 2m29.010s | - |
| 8 | Thed Bjork | Cyan Racing | Lynk & Co | 2m29.133s | - |
| 9 | Yann Ehrlacher | Cyan Performance | Lynk & Co | 2m29.291s | - |
| 10 | Esteban Guerrieri | Munnich Motorsport | Honda | 2m29.571s | - |
| 11 | Gabriele Tarquini | BRC Squadra Corse | Hyundai | 2m29.986s | - |
| 12 | Norbert Michelisz | BRC Squadra Corse | Hyundai | - | - |
| 13 | Niels Langeveld | Comtoyou Audi | Audi | 2m30.070s | - |
| 14 | Tom Coronel | Comtoyou Cupra | Cupra | 2m30.092s | - |
| 15 | Luca Engstler | BRC Racing Team | Hyundai | 2m30.146s | - |
| 16 | Nestor Girolami | Munnich Motorsport | Honda | 2m30.375s | - |
| 17 | Attila Tassi | KCMG | Honda | 2m30.359s | - |
| 18 | Frederic Vervisch | Comtoyou Audi | Audi | 2m30.510s | - |
| 19 | Mehdi Bennani | SLR VW Motorsport | Volkswagen | 2m30.684s | - |
| 20 | Robert Dahlgren | PWR Racing | Cupra | 2m31.048s | - |
| 21 | Aurelien Panis | Comtoyou Cupra | Cupra | 2m31.496s | - |
| 22 | Mikel Azcona | PWR Racing | Cupra | 2m31.605s | - |
| 23 | Ma Qinghua | Team Mulsanne | Alfa Romeo | 2m31.691s | - |
| 24 | Benjamin Leuchter | SLR Volkswagen | Volkswagen | 2m31.871s | - |
| 25 | Tiago Monteiro | KCMG | Honda | 2m32.183s | - |
| 26 | Billy Lo | Tian Shi Zuver Team | Audi | 2m35.384s | - |
| 29 | James Tang | Team TRC | Honda | 2m37.801s | - |
| 30 | Kwai Wah Wong | Son Veng Racing Team | Volkswagen | 2m41.201s | - |
| 31 | Terence Tse | Team TRC | Honda | - | - |
| 32 | Arthur Law | Team TRC | Honda | - | - |
| 1001 | Gordon Shedden | WRT | Audi | 2m30.328s | - |
| 1002 | Jim Ka To | KC Motorgroup | Honda | - | - |
Autosport has produced a standalone special magazine to celebrate our 70th birthday. All current print subscribers will receive a copy for free. To order your copy of the 196-page Autosport 70th Anniversary issue, please go to: autosport.com/autosport70th