PWR Racing's Mikel Azcona claimed his first World Touring Car Cup victory in the second race at Vila Real after a joker lap mistake from Team Mulsanne's Ma Qing Hua.
Azcona started third and made his own joker on the fifth lap of 11 to keep the pressure on leader Ma. Ma went too deep in the joker and lost out to Azcona after clumsily bouncing over the kerbs on entry.
Championship leader Esteban Guerrieri restored his points advantage over Norbert Michelisz with a well-deserved third place finish, as three of the four Hyundai drivers hit trouble.
Race one winner Michelisz started a lowly 16th after trouble in qualifying but was forced out following contact with the second Alfa Romeo of Kevin Ceccon.
Michelisz received a drivethrough penalty for his part in this incident, but his race was ultimately over due to extensive damage on the front left-hand corner.
Gabriele Tarquini and Augusto Farfus, who both started from the back of the grid following post-qualifying engine changes, also retired.
At the start, Ma got the jump on fellow front-row starter Guerrieri and Azcona as joker lap strategies dictated the pace of the majority of the pack.
The Cyan Racing Lynk & Cos were the first to implement 'backing up" strategies, with Yann Ehrlacher making a gap for his uncle Yvan Muller to fit in.
This tactic worked not only for Muller but also for Ehrlacher as KCMG Honda duo Tiago Monteiro and race three polesitter Attila Tassi did likewise.
Monteiro and Tassi secured ninth and tenth place finishes as a result, with Ehrlacher ending up eighth and one place ahead of Guerrieri's Munnich Motorsport team-mate Nestor Girolami.
Having successfully jumped Guerrieri at the joker lap, Azcona then set a number of fastest lap times to close to within two-and-a-half seconds of Ma before the latter's turn to go through the joker.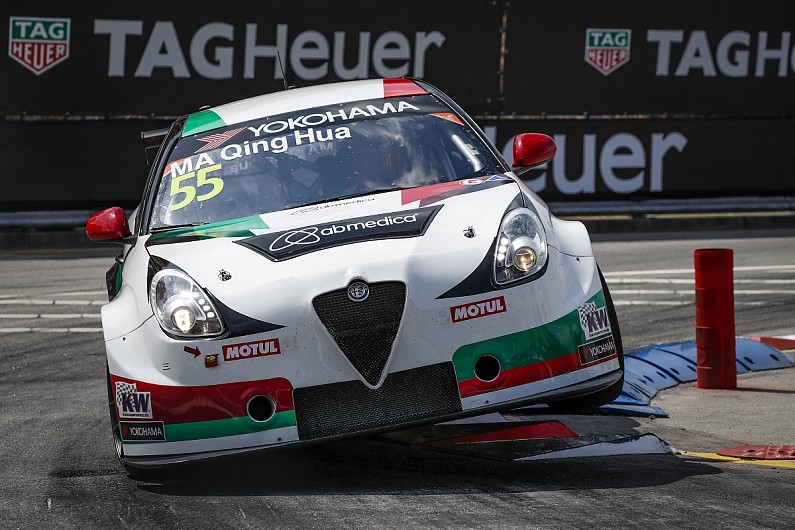 Ma locked up slightly on entry and lost a handful of time to the reigning TCR Europe champion, who eventually opened up a 4.832s winning margin at the finish.
Jean-Karl Vernay finished fourth in his Team Audi Sport RS3 LMS, nipping past the sole-remaining BRC Racing Hyundai i30 N of Nicky Catsburg, who tried in vain to hold up Guerrieri before his joker two laps from home.
Championship contender Thed Bjork salvaged two points in his Cyan Racing Lynk & Co after starting 15th.
Bjork attempted to get past the Frederic Vervisch in the closing laps, and only just avoided the back of his rival's Audi after missing his braking point at the Turn 18 chicane.
Result - 11 laps
| Pos | Driver | Team | Car | Gap |
| --- | --- | --- | --- | --- |
| 1 | Mikel Azcona | PWR Racing | Cupra | 22m36.529s |
| 2 | Ma Qinghua | Team Mulsanne | Alfa Romeo | 4.832s |
| 3 | Esteban Guerrieri | Munnich Motorsport | Honda | 5.538s |
| 4 | Jean-Karl Vernay | WRT | Audi | 6.812s |
| 5 | Nicky Catsburg | BRC Racing Team | Hyundai | 7.482s |
| 6 | Yvan Muller | Cyan Racing | Lynk & Co | 9.221s |
| 7 | Rob Huff | SLR VW Motorsport | Volkswagen | 9.537s |
| 8 | Yann Ehrlacher | Cyan Performance | Lynk & Co | 11.374s |
| 9 | Nestor Girolami | Munnich Motorsport | Honda | 14.253s |
| 10 | Tiago Monteiro | KCMG | Honda | 14.626s |
| 11 | Attila Tassi | KCMG | Honda | 15.109s |
| 12 | Frederic Vervisch | Comtoyou Audi | Audi | 19.969s |
| 13 | Thed Bjork | Cyan Racing | Lynk & Co | 20.988s |
| 14 | Johan Kristoffersson | SLR Volkswagen | Volkswagen | 22.388s |
| 15 | Andy Priaulx | Cyan Performance | Lynk & Co | 25.873s |
| 16 | Aurelien Panis | Comtoyou Cupra | Cupra | 26.825s |
| 17 | Benjamin Leuchter | SLR Volkswagen | Volkswagen | 27.787s |
| 18 | Niels Langeveld | Comtoyou Audi | Audi | 30.562s |
| 19 | Mehdi Bennani | SLR VW Motorsport | Volkswagen | 31.255s |
| 20 | Gordon Shedden | WRT | Audi | 34.815s |
| 21 | Daniel Haglof | PWR Racing | Cupra | 35.585s |
| - | Tom Coronel | Comtoyou Cupra | Cupra | Disqualified |
| - | Gabriele Tarquini | BRC Squadra Corse | Hyundai | Retirement |
| - | Norbert Michelisz | BRC Squadra Corse | Hyundai | Retirement |
| - | Kevin Ceccon | Team Mulsanne | Alfa Romeo | Retirement |
| - | Augusto Farfus | BRC Racing Team | Hyundai | Retirement |