Cyan Racing's decision to swap Thed Bjork and Yann Ehrlacher twice in Sunday's third Zandvoort World Touring Car Cup race resulted from the team believing Ehrlacher had received a penalty.
Bjork made a better getaway than his polesitting team-mate Ehrlacher and assumed the lead on the run to the first corner, despite taking a hit from Ehrlacher's Lynk & Co 03 off the line.
The 2017 World Touring Car champion Bjork was asked before the start of lap three of 15 to swap positions with Ehrlacher on the main straight, as the team believed Ehrlacher would receive a drivethrough penalty for the start incident.
Ehrlacher spent longer in the lead but was then instructed to move over and allow Bjork back through when it transpired that he had not been penalised, as the team's opinion was that he had "pulled across too early".
That prompted a complaint from Ehrlacher, who said over his team radio, "What the fuck? I have the weakest engine of everybody [at Cyan], of course if we do a drag race [at the start] I lose", but he ultimately obeyed the request despite completing a further two laps in first.
While Ehrlacher was shown a black and white flag by stewards for driving standards during the race, it is understood this was deemed sufficient and that a penalty was not required.
Ehrlacher told Autosport he got a lot of wheelspin during his poor start because "the procedure went wrong", but also said a pre-race agreement had been in place between the pair.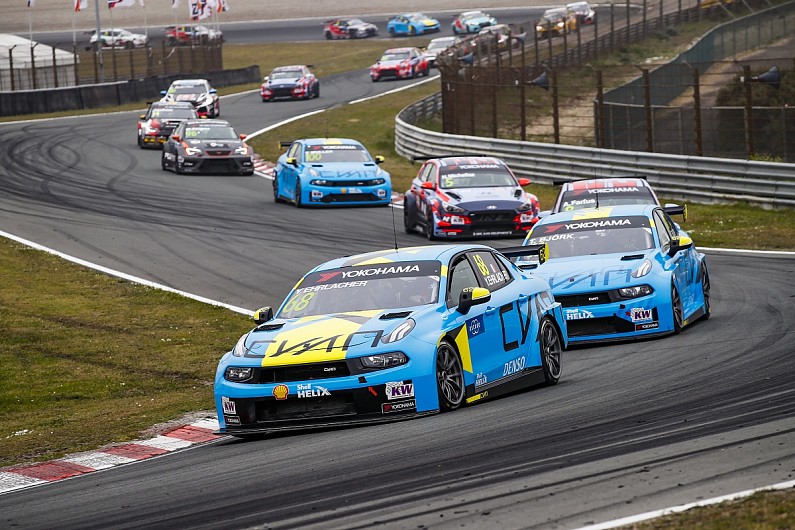 "We had an order not to race each other, so that's why he [Bjork] gave me back the place, but then... he had a better start, so I let him go again," said Ehrlacher.
"In between there was a lot of discussions. They [Cyan] did the right choice, and from my point of view they are doing things right, and what you give you will get it back at some point.
"[Before the race] we said don't take any risks, we just want to take as much points as we can, so please don't take any risks together.
"And they saw that maybe we raced each other a bit too hard, so I had the priority because I was on pole, but then actually he [Bjork] did the better start than me so he deserved to win, even if it's not my fault that I had an issue at the start."
Speaking in the post-race press conference, Bjork said: "It was a good start from my side and Yann had a little bit less of a good start, so I had the better run - and then he wanted to win.
"We are team-mates and if he is first at the first corner I would not attack him or risk anything because we want the points for the championship, of course. But that was tight.
"I would have done the same so I would not say anything about it."