Honda's Norbert Michelisz was declared winner of the second World Touring Car Championship race at Motegi, which was suspended early after increasingly heavy rain.
The race was the second in as many rounds to be truncated, with the second race at the Ningbo circuit in China a fortnight ago also called off due to heavy rainfall.
Unlike in China, cars were allowed to race after an initial two laps behind the safety car and during that spell Michelisz eked out a small advantage over the Volvo S60 Polestar of Nicky Catsburg.
A total of four green flag laps were completed before the safety car returned to the track on lap seven as the rain intensified, with polesitter Michelisz leading the following snake of cars in his Honda Civic.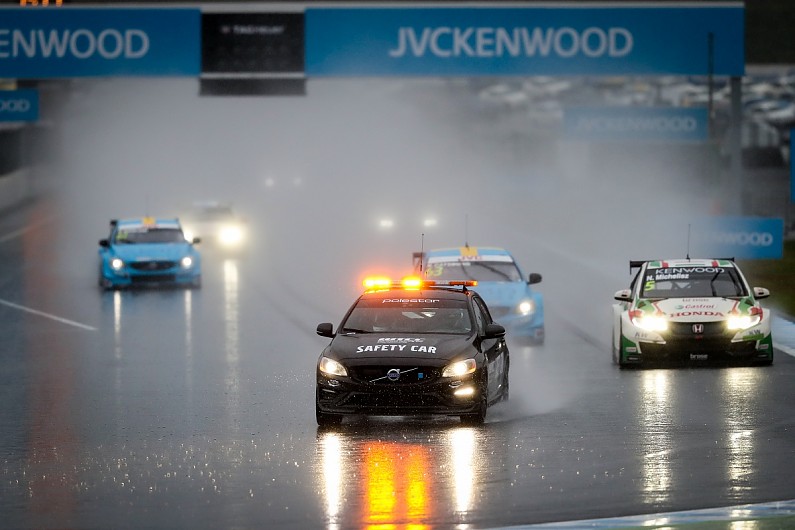 The race was formally stopped on lap 11 of an extended 15-lap schedule, with the countback result taking in the first nine laps.
That allowed full points to be awarded, meaning Michelisz moves into second place in the championship, 16.5 points behind Thed Bjork.
Volvo driver Bjork completed one of just a handful of overtakes during the green flag running, eventually getting the better of Ryo Michigami's factory Civic for fifth after a squabble along the start/finish straight.
Michigami then squirmed off at the tight Turn 9 left-hander and beached himself in the gravel, before being dug out.
The Japanese driver returned to the pits after recovering to the circuit, and was the weekend's only retiree.
Catsburg and team-mate Nestor Girolami completed the podium in their Volvo S60 Polestars, while Esteban Guerrieri backed up his third place finish in the opening race with a fourth to complete a strong weekend as stand-in for Tiago Monteiro.
Bjork was classified fifth ahead of the leading Citroen C-Elysee of Mehdi Bennani and the RC Motorsport Lada Vestas of Yann Ehrlacher and Kevin Gleason.
Bennani's Sebastien Loeb Racing team-mates John Filippi and Tom Chilton completed the points.
Race two result
| Pos | Driver | Team | Car | Laps | Gap |
| --- | --- | --- | --- | --- | --- |
| 1 | Norbert Michelisz | Honda Racing Team JAS | Honda | 9 | 22m17.924s |
| 2 | Nicky Catsburg | Polestar Cyan Racing | Volvo | 9 | 0.392s |
| 3 | Nestor Girolami | Polestar Cyan Racing | Volvo | 9 | 1.798s |
| 4 | Esteban Guerrieri | Honda Racing Team JAS | Honda | 9 | 3.306s |
| 5 | Thed Bjork | Polestar Cyan Racing | Volvo | 9 | 5.554s |
| 6 | Mehdi Bennani | Sebastien Loeb Racing | Citroen | 9 | 6.196s |
| 7 | Yann Ehrlacher | RC Motorsport | Lada | 9 | 7.063s |
| 8 | Kevin Gleason | RC Motorsport | Lada | 9 | 7.537s |
| 9 | John Filippi | Sebastien Loeb Racing | Citroen | 9 | 7.911s |
| 10 | Tom Chilton | Sebastien Loeb Racing | Citroen | 9 | 8.764s |
| 11 | Rob Huff | Munnich Motorsport | Citroen | 9 | 9.633s |
| 12 | Kris Richard | Campos Racing | Chevrolet | 9 | 11.544s |
| 13 | Tom Coronel | ROAL Motorsport | Chevrolet | 9 | 12.472s |
| 14 | Daniel Nagy | Zengo Motorsport | Honda | 9 | 13.254s |
| 15 | Filipe Souza | RC Motorsport | Lada | 9 | 14.899s |
| 16 | Zsolt Szabo | Zengo Motorsport | Honda | 9 | 16.640s |
| - | Ryo Michigami | Honda Racing Team JAS | Honda | 3 | Retirement |
Drivers' standings

| Pos | Driver | Points |
| --- | --- | --- |
| 1 | Thed Bjork | 228.5 |
| 2 | Norbert Michelisz | 212 |
| 3 | Nicky Catsburg | 209.5 |
| 4 | Tiago Monteiro | 200 |
| 5 | Tom Chilton | 184.5 |
| 6 | Mehdi Bennani | 184 |
| 7 | Esteban Guerrieri | 180 |
| 8 | Rob Huff | 142 |
| 9 | Nestor Girolami | 110 |
| 10 | Yann Ehrlacher | 90 |
| 11 | Tom Coronel | 41 |
| 12 | John Filippi | 34 |
| 13 | Kevin Gleason | 27.5 |
| 14 | Filipe Souza | 8.5 |
| 15 | Ryo Michigami | 4 |
| 16 | Aurelien Panis | 2 |
| 17 | Daniel Nagy | 1 |