Norbert Michelisz claimed his first pole of the season to give Honda a front-row start at its home World Touring Car Championship event at Suzuka.
The Hungarian shot to the top of the timesheets with the weekend's first sub-53s lap, and then watched as his main rivals either fell short or committed errors while trying to depose him.
Alex MacDowall proved to be Zengo driver Michelisz's nearest challenger, moving his Bamboo Chevrolet onto a share of the front row minutes from the end of qualifying.
Others were still on fast laps however, including champion elect Yvan Muller and works Honda pair Gabriele Tarquini and Tiago Monteiro.
All three were undone by errors: Muller went too deep into Turn 1 and had to save a lurid sideways moment; Tarquini ran off and through the gravel at Turn 3, while Monteiro followed up a new overall best in the first sector by surrendering seven seconds in the middle split.
Sonoma race-winner Tom Chilton therefore held onto third ahead of Muller, with James Nash leaping Monteiro for fifth.
Pepe Oriola meanwhile will share the fourth row with Tarquini.
Mehdi Bennani captured reverse-grid pole courtesy of qualifying 10th, fractions behind fellow BMW man Tom Coronel.
Rob Huff and James Thompson just made it through to Q2, but were unable to crack the top 10 - Huff missing out by just 0.069s - and will therefore share the sixth row for both races.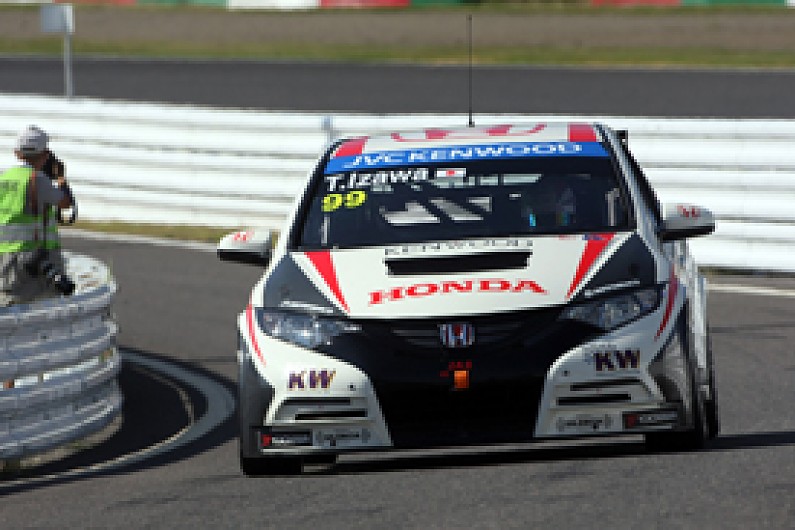 Huff had been on the brink of a Q1 exit, but was ultimately able to seal his progress by just two hundredths of a second.
Charles Ng was the man who came closest to denying Huff, although Marc Basseng, Takuya Izawa and Fernando Monje all came within two tenths of making it through to the pole shootout.
Izawa was best of the newcomers in 15th, but Nika's Hiroki Yoshimoto could have denied him the honour but for mistakes on successive quick laps.
Pos  Driver              Team/Car                Time     Gap
 1.  Norbert Michelisz   Zengo Honda             52.886s
 2.  Alex MacDowall      Bamboo Chevrolet        53.011s  +0.125s
 3.  Tom Chilton         RML Chevrolet           53.101s  +0.215s
 4.  Yvan Muller         RML Chevrolet           53.119s  +0.233s
 5.  James Nash          Bamboo Chevrolet        53.125s  +0.239s
 6.  Tiago Monteiro      Honda                   53.365s  +0.479s
 7.  Pepe Oriola         Tuenti Chevrolet        53.365s  +0.479s
 8.  Gabriele Tarquini   Honda                   53.379s  +0.493s
 9.  Tom Coronel         ROAL BMW                53.432s  +0.546s
10.  Mehdi Bennani       Proteam BMW             53.466s  +0.580s
11.  Rob Huff            Munnich SEAT            53.535s  +0.649s
12.  James Thompson      Lada                    53.648s  +0.762s
13.  Charles Ng          Engstler BMW            53.733s  Q1
14.  Marc Basseng        Munnich SEAT            53.812s  Q1
15.  Takuya Izawa        Honda                   53.827s  Q1
16.  Fernando Monje      Campos SEAT             53.870s  Q1
17.  Hiroki Yoshimoto    Nika Chevrolet          53.986s  Q1
18.  Stefano D'Aste      PB BMW                  53.991s  Q1
19.  Darryl O'Young      ROAL BMW                54.027s  Q1
20.  Rene Munnich        Munnich SEAT            54.158s  Q1
21.  Masaki Kano         Engstler BMW            54.263s  Q1
22.  Mikhail Kozlovskiy  Lada                    54.292s  Q1
23.  Tom Boardman        Special Tuning SEAT     54.395s  Q1
24.  Yukinori Taniguchi  Wiechers BMW            54.471s  Q1
25.  Jeronimo Badaraco   Son Veng Chevrolet      55.257s  Q1
26.  Henry Ho            Engstler BMW            55.611s  Q1
27.  Filipe de Souza     China Dragon Chevrolet  55.672s  Q1
28.  Kin Veng Ng         China Dragon Chevrolet  56.103s  Q1
29.  Ka Lok Mak          RPM BMW                 56.478s  Q1