Four months from the season's Macau finale, the full effect of Chevrolet's retreat from the World Touring Car Championship on long-time partner RML is tough to quantify.
But a trip to RML's Wellingborough headquarters over British Grand Prix week provides verification that the company is well placed to negotiate challenges stemming from the decision.
Spilt into five divisions, RML's various industrial units are houses to hives of activity, the various epicentres of which include the WTCC Cruze race cars, Nissan's DeltaWing Le Mans projectiles and high-spec automotive development projects.
That Chevrolet decided to call time on a WTCC campaign that is set to yield three consecutive titles, so soon after RML stepped back from the British Touring Car championship last winter, is unfortunate. But the only gloom visible at the Whittle Close factory during AUTOSPORT's visit is provided by the British summer. Ushered from the lashing rain into the shelter of a hospitality unit adjacent to one of the team's race trucks, team founder Ray Mallock assesses the implications from the loss of the Chevrolet deal.
"We have been able to provide some exceptional success for Chevrolet in the WTCC," begins Mallock methodically and with an aura of calm, "and touring car racing has been a really important platform for RML, where we've built a great deal of our reputation. But it's really important to stress we're not reliant on one programme or one manufacturer."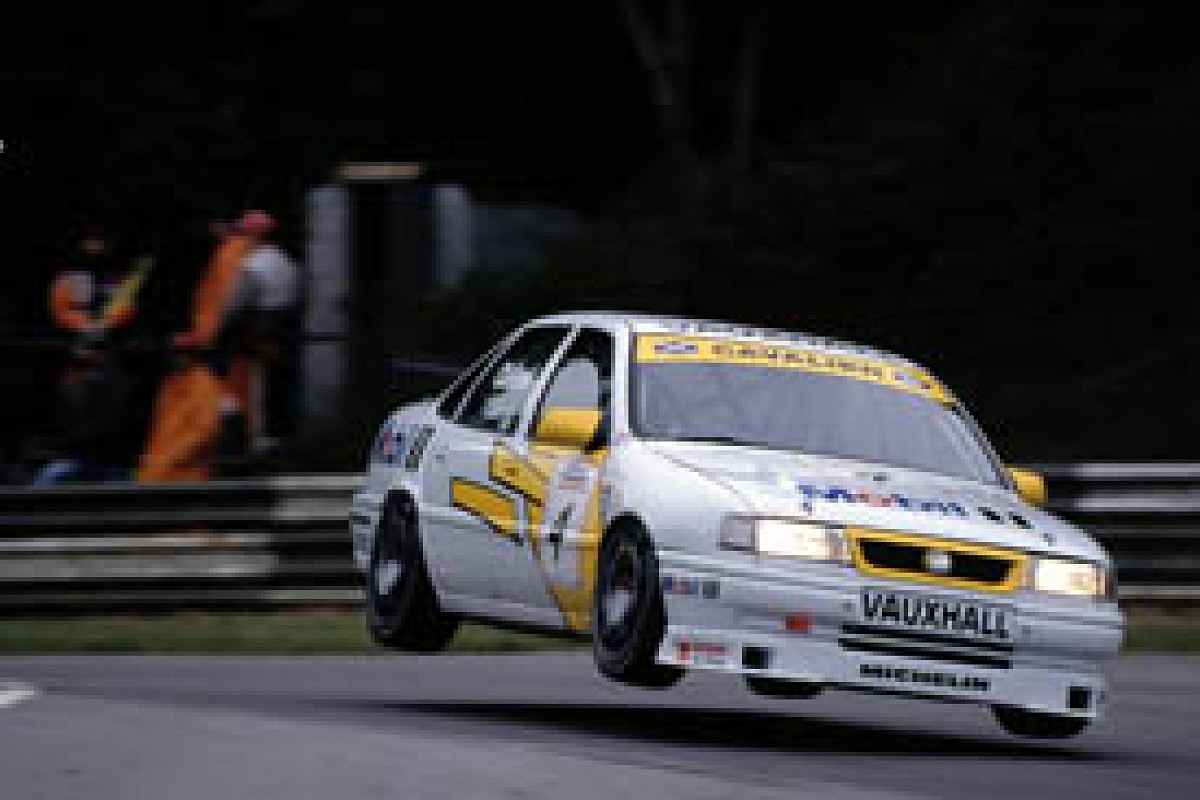 RML Vauxhall during the 1995 BTCC © LAT
Those seeking affirmation of this should note that none of the 100 staff at RML were made redundant following the closure of the BTCC operation. Indeed, since the company was founded in 1984, growth has been progressive. Championship success in the BTCC with Vauxhall in 1995 and Nissan in the late 1990s, together with World Touring Car pre-eminence fielding a three-car team of Chevrolets, leaves RML perhaps uniquely placed to ensnare any incoming WTCC manufacturer. While attracting a partner for 2013, or securing private finance to continue running the Cruzes next year, could prove challenging, in the longer term RML can rightly claim robust WTCC prospects.
"One of the things on the radar is to run the Cruzes ourselves," confirms Mallock. "We appreciate with Honda coming in [as a factory team] the competition is going to be tough. Getting a works-style budget together from external sponsorship is going to be extremely difficult, but we do have the equipment and the team."
Mallock, along with son Michael and RML MD George Lendrum, is aware of the task ahead over the next months. The option of developing an all-new car for 2013 has not been dismissed, but the clock is ticking. The team can take heart in the knowledge that the Cruze's predecessor, the Chevrolet Lacetti, was brought from concept to racetrack in record time.
"We did get the Lacetti onto the grid in eight months," continues Mallock, "although to get it up towards the podium took until the end of the [2005] season. It is not out of the question [that RML could compete with a new manufacturer in 2013], but I don't want to overhype that. We know the return on investment numbers provided by the WTCC is exceptionally good.
"Compared to other motorsport activities it's really good value for money, so it's not surprising that people like Honda have seen it and want to get involved. It's just a fact of life that this cycle for Chevrolet has come to an end and for them it's mission accomplished. We are talking to people about 2013, so we're hopeful."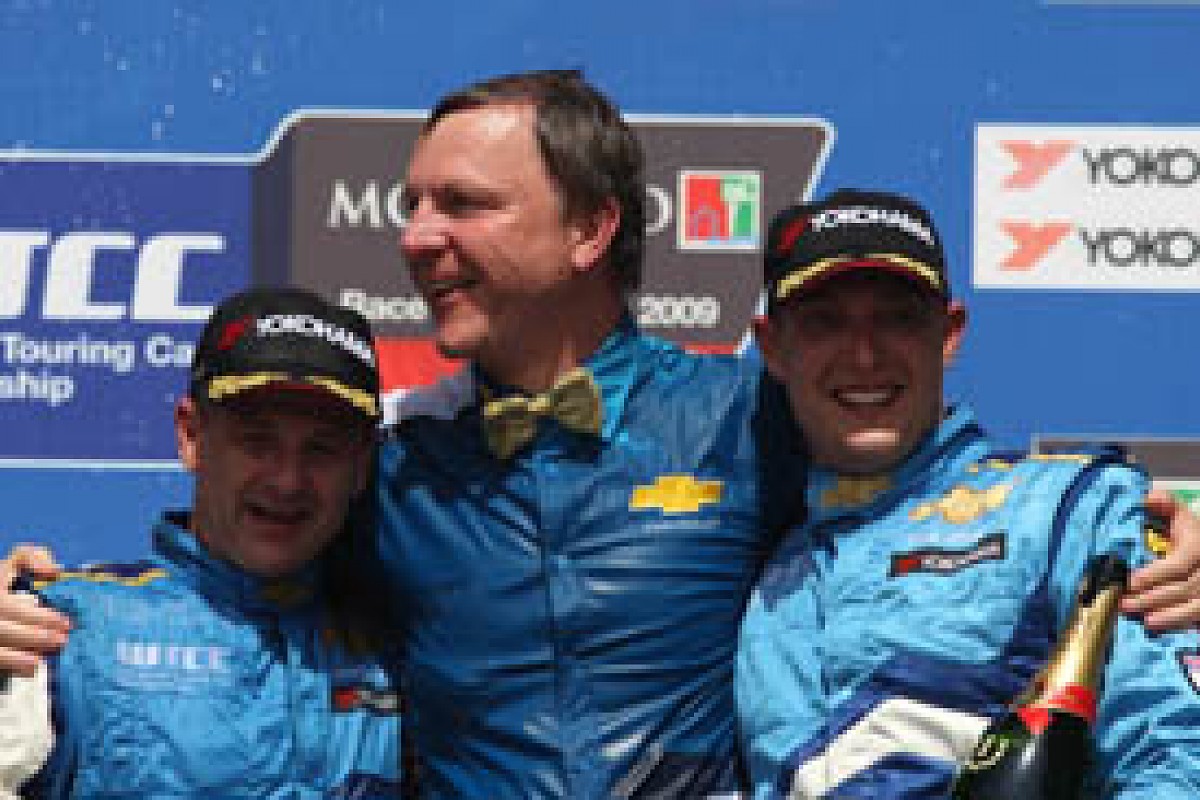 Ray Mallock celebrates with Larini and Huff on the podium in 2009
RML is involved in several programmes above and below the radar. One lucrative offspin from the WTCC programme has been the establishment of an engine division. Built up since 2006, the engine programme initially worked on developing the elderly Vauxhall-based 2.0-litre 'red-top' engine for the Chevy, before RML began work on a clean-sheet design in 2009.
In an impressive turnaround, the development of the Cruze 1.6-litre turbo engine began in January, it was block-cast in June and the first complete engine was on the dyno' by August. Such a timeframe compares favourably to VW's lead time for its World Rally Championship unit.
"It's such a big asset for RML to do most things in-house, purely from the fact that there are so few companies who have the capability to put it all together," says ex-Red Bull Formula 1 engineer and current RML head of engineering Ron Hartvelt. "It works from a technical point of view, and from a financial point of view. If we think it's better to spend X amount of money on the engine rather than the chassis we do it."
While there are no immediate plans to do so, as a Global Race Engine the possibility exists for the powerplant in the Cruze to be used by one of General Motors' brands in a WTCC or WRC car or, if the new rules are confirmed, as a Formula 3 engine.
"Most of our programmes now, whether they are motorsport or high-performance automotive, involve an element of RML powertrain," explains Mallock. "That's either production-based engine or bespoke engine build and development. RML powertrains are a really important part of the business model and our marketing offering."
An example of this, and an important part of RML's on-track activities this year, was the development of a bespoke engine for the Nissan DeltaWing. The project took just 70 days, 40 of which were completed by staff without a break. The involvement blossomed from strictly the engine side into providing a significant level of technical and management support for the programme. Having enjoyed its time in the spotlight, a return to Le Mans for the DeltaWing is unlikely, the philosophy for the organisers' 'Garage 56' entry slot being to seek a different car representing a new technology each year. Many, however, would like to see the car find a home.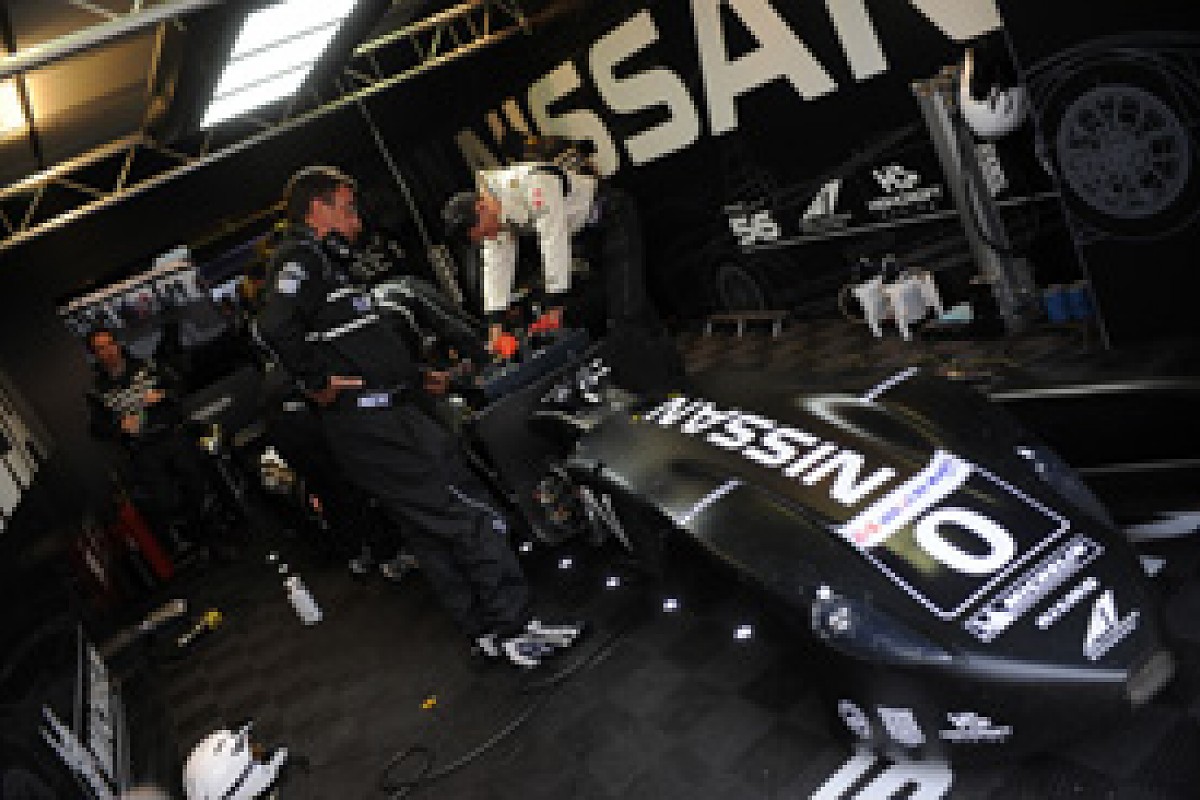 RML provided a bespoke engine for the Nissan DeltaWing © LAT
"My dream would be if the DeltaWing could race in the World Endurance Championship," expresses Le Mans pilot Marino Franchitti. "But it would probably require some sort of performance balancing in the regulations."
RML's links with Nissan extend to the creation of the Juke-R road car; outwardly a Juke on steroids with Skyline GTR running gear. At 500,000 Euros a pop, the car is destined for the sort of lucky customer who may be bored with his Ferrari collection. The car is typical of the sort of projects RML does in parallel with more overt on-track motorsport activities, tapping into the same specialised skillsets. Previous similar projects include the development of the Mercedes McLaren SLR and the Martin Audio Nissan Jukebox.
"My role in the business really is facilitating the structure that enables multiple programmes to operate with dedicated project managers," says Mallock, who in a sign of the evolving face of RML has been absent from most WTCC race weekends this season. "The managers have a good deal of autonomy and responsibility working with an agreed budget and we work out an objective with clients beforehand. I very rarely, in fact I don't, get hands-on involved with racing now. The only hands-on I do is with my own historic racing. That's great fun, and I really enjoy getting the calculator out to look into critical damping, gear ratios and that kind of stuff."
The stoicism pervaded by Mallock extends to driver Rob Huff. The Briton has competed with the RML Chevrolet team in every year of the rebooted WTCC, and before that with SEAT in the BTCC. Huff is keen to remain with RML, even at the expense of moving away from touring cars.
"The dream is to stay put," declares Huff. "I don't want to go anywhere. RML took a big gamble on me eight years ago, and I'm hoping to pay them off by winning the world championship. The last thing that I want to do is lose RML, because I think they're the best team in the world. If that is touring cars, then great; if not, then great. Chevrolet has done us all a favour. They could have done what a lot of manufacturers do, which is to pull out at the last minute. Macau has been quite famous as the location when people find out they haven't got a job."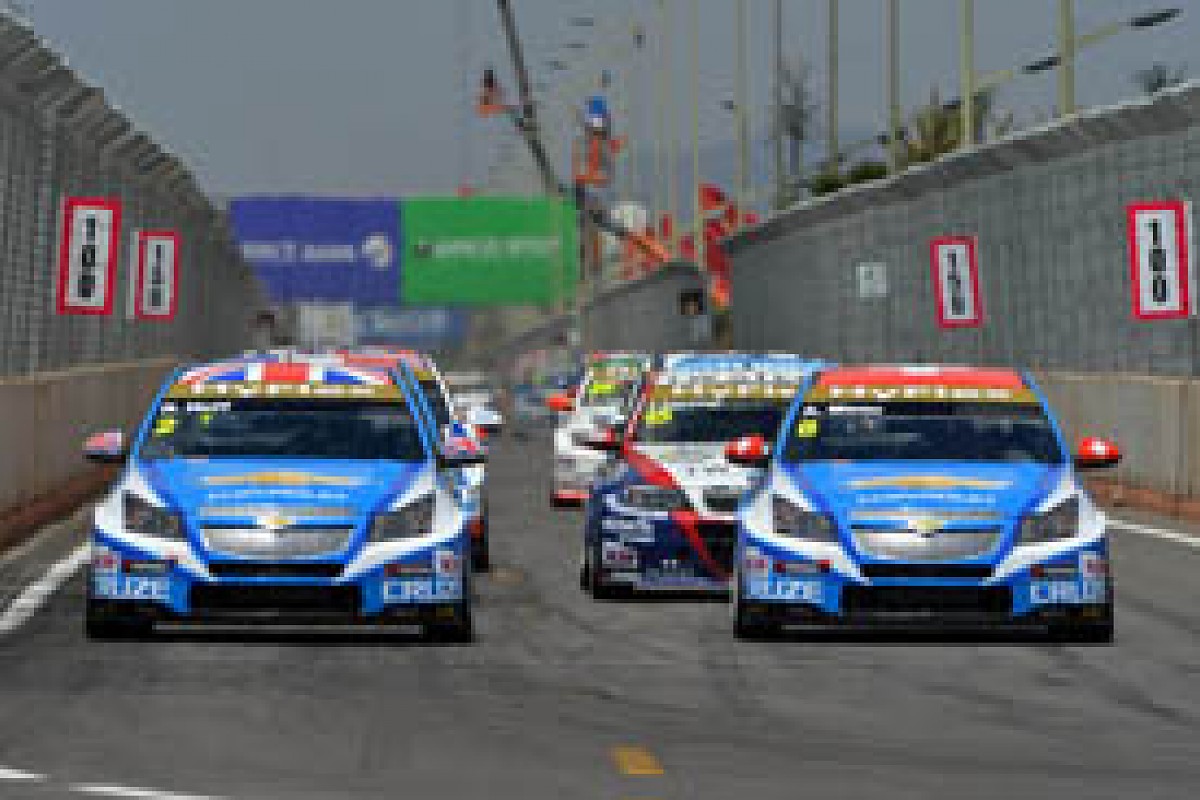 Chevrolet dominated the WTCC in 2011
Should RML not race in the WTCC next year, Huff is pragmatic about his options and confesses to "have been gagging" to race in the blue-riband Australian V8 Supercar race at Bathurst for years.
"I don't need to continue racing because of the money, because these guys have looked after me very well, but I don't want to be out of racing," continues Huff. "I want a full-time drive, because it's very easy to be forgotten about. At the same time I have to choose very carefully, and hopefully I'm going to be in a position where I have a few options. I don't want to be in something that diminishes what I've built up over the last eight years."
As the interview winds down, AUTOSPORT offers condolences on the bad news, only for Mallock to set us straight: "I honestly don't see it as bad news; I just see it as a natural cycle. It probably sounds strange to say this, but even with the Chevrolet withdrawal we are comfortable being focused on motorsport and high-performance automotive businesses.
"There are actually a surprising number of opportunities out there and there's lots going on. Hopefully we'll continue in the WTCC, but if not it won't be the end of the world."