Niclas Gronholm dominated the opening day of the Norwegian World Rallycross round in Hell to lead overnight ahead of team-mate Timur Timerzyanov.
Gronholm, the son of double World Rally champion Marcus Gronholm, missed the previous two rounds of the 2019 WRX season due to an appendicitis operation.
He prepared for his comeback with a brief shakedown in Finland last week, and went on to top the timesheets of each session on day one at Hell's Lankebanen circuit.
Gronholm won the race to Turn 1 from fourth on the grid in Q1 and bettered Andreas Bakkerud's benchmark by over 1.7 seconds.
The Finn then made the best launch in the last race of Q2, led the final encounter of the day from the front and beat the previous fastest time in the session, set by double DTM champion Timo Scheider, to be fastest and lead overnight.
That means Marcus Gronholm's GRX team leads a WRX event on day one for the first time.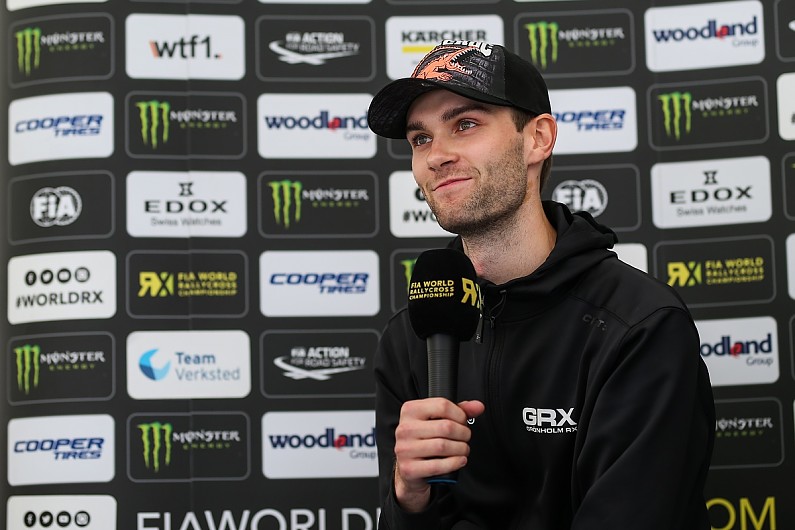 The Hyundai i20 also team holds a one-two as triple European Rallycross Champion Timerzyanov is second in the Intermediate classification thanks to a pair of first-lap jokers and a successful climb back through the field.
He finished second to Bakkerud on-track in Q1 and second to Gronholm in Q2.
Third after the first two qualifiers is Scheider. The Munnich Motorsport driver had his best day of the season so far by winning both of his races.
Current championship leader Timmy Hansen had a frustrating day.
Despite making the best start in Q1, he was slowed after contact from Janis Baumanis that sent the STARD driver into a high-speed spin and into Guillaume De Ridder's Renault Clio.
As Baumanis dragged his damaged car through the race, De Ridder's machine was left on the racing line in the joker lap, which meant Hansen lost time on his final-tour extra route.
He then raced in traffic in the final race of Q2, passing former works WRC driver Kevin Abbring during the race and battling with Bakkerud.
Hansen sits fifth overnight, behind Bakkerud. Abbring's first rallycross start since he began his motorsport career racing in the junior division of Dutch rallycross events started well with eighth in free practice and fifth in Q2.
He benefitted when Bakkerud touched the rear of Gronholm's i20 at the first corner of their Q2 race and went wide, leaving a gap on the inside.
But the Skoda Fabia driver dropped time after his lap three joker and was then slowed by an issue on the final tour.