Double World Rallycross and 2003 World Rally champion Petter Solberg will compete against his 17-year-old son Oliver for the first time this weekend.
The Solbergs and current World RX king Johan Kristoffersson are among the competitors in Saturday's Gymkhana Grid event in South Africa.
Solberg Jr lifted this year's Nordic RallyX title at the wheel of a DS3 Supercar while also tackling the junior category of the Latvian Rally Championship in a Peugeot 208 R2.
This weekend he is driving an updated version of the Citroen Xsara World Rally Car his father used in the 2009 WRC, while Solberg Sr and Kristoffersson wheel out their all-conquering RX Volkswagen Polo R Supercars in Johannesburg.
"I tested a lot of the time with my dad," Solberg Jr told Autosport.
"We drove a lot of cars, testing a lot of the time on the frozen lake and that was really fun.
"But now it's a bit different. It's time for the competition now and it's actually quite a strange feeling to be racing against him.
"I know it's going to be tough, he and Johan have so much more power than me - they have nearly 600 horsepower and I only have 370.
"Don't forget to write down that I'm in the Xsara - make sure you write how old it is!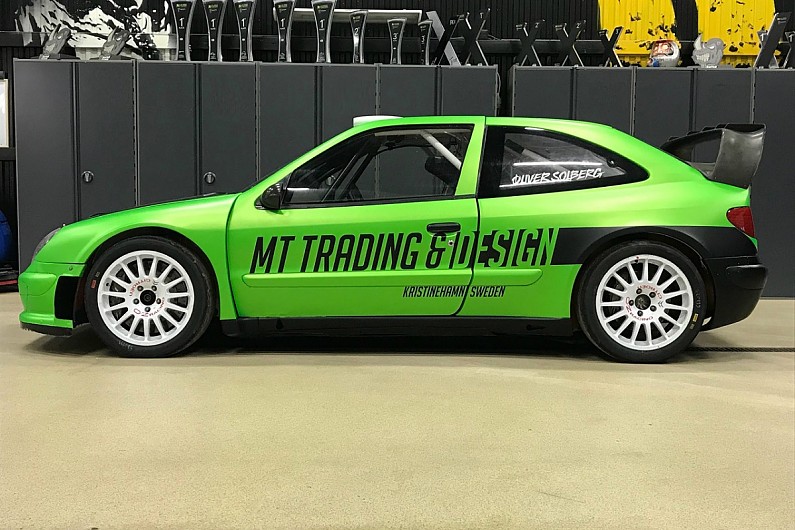 "Seriously, it will be really nice. It's been a long year and we've been travelling a lot, so to finish the season and compete at the same event will be good.
"And I've done some practice. Before we came to South Africa, I was putting the cones out and working with the Xsara on the handbrake and everything.
"When the competition starts, we all want to win."
Petter admitted it would be an emotional weekend for him and wife Pernilla.
"Pernilla and I have seen Oliver growing up and getting faster and faster and now when he's going out to the car, neither of us really wants to race him anymore!" Petter told Autosport.
"Hopefully we might have a bit of an advantage with the car this weekend, but it's going to be incredible to see him on the same entry list as me for the first time.
"I'm just proud of what he's doing and how he's doing it. Did he say he thought he could beat me? Maybe I need to show him, eh? Write down that I will beat him then!"
Gymkhana Grid is the brainchild of American rally and rallycross driver Ken Block, who drives his Ford Fiesta WRC at the event.
Competitors tackle a course that involves drifting and spinning around a series of obstacles side-by-side and against the clock. Kristoffersson won last year.