PSRX Volkswagen driver Johan Kristoffersson edged closer to a second World Rallycross title in a row with another dominant performance in Latvia, his eighth win of the season.
At the circuit where he claimed his first World Rallycross Championship title 12 months earlier, Kristoffersson fended off a fast-starting Mattias Ekstrom at the start of his semi-final to take the lead at Turn 1, and secure a victory that netted pole position for the final.
In the final, he beat fellow front-row starter and nine-time World Rally champion Sebastien Loeb into the first turn in the final and, after setting the fastest lap of the race on the first tour, led throughout to score his eighth win of the campaign.
Peugeot Hansen driver Loeb, the only man to win a World RX event so far this season aside from Kristoffersson, was forced wide by another rapid start from Audi EKS Ekstrom into Turn 1.
That also pushed Loeb's team-mate Timmy Hansen towards the wall on the outside, allowing Niclas Gronholm to climb to third on the exit of Turn 2.
Having dropped to sixth in the first corner melee, Hansen then passed the third Peugeot, driven by younger brother Kevin Hansen, for fifth on the opening lap into Turn 3.
Followed by Kevin Hansen, Loeb was first to take his joker on lap one, leaving Timmy Hansen to close onto the rear of Gronholm's Hyundai.
Kevin Hansen was next to take his extra route on the second tour and returned into the final corner alongside Loeb, but lost track position.
In a bid to cover off the Peugeot's behind to have a chance of a maiden World RX podium, Gronholm responded by following Ekstrom into the joker on lap three but just lost out to Loeb.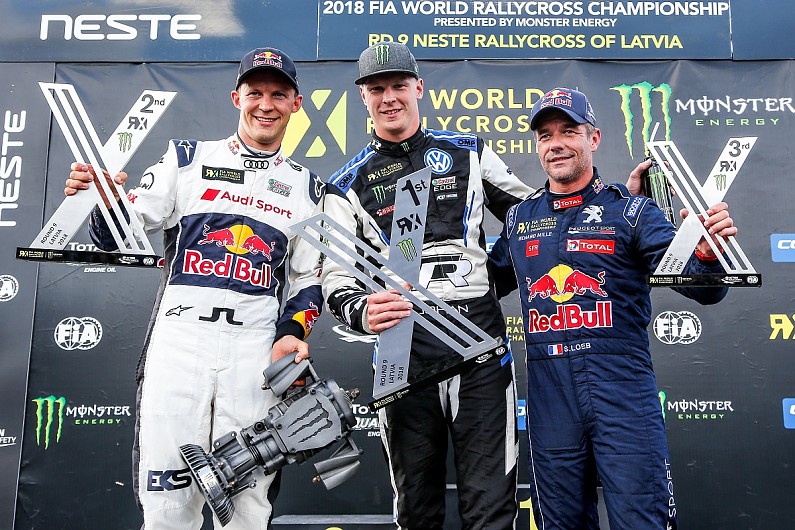 Alone up front, Kristoffersson cruised to another victory, while second to fourth ran nose-to-tail, Gronholm applying increasing pressure to Loeb for the final podium spot until the finish line, but he failed as Loeb held on behind Ekstrom. Kevin Hansen beat younger brother Timmy.
While Kristoffersson claimed another win in his second successive record-breaking season, his PSRX Volkswagen team-mate Petter Solberg was spun at the first corner of his semi-final in a very similar incident to the one that hospitalised the Norwegian at the same corner 12 months earlier.
Solberg did get going again but was out of contention and finished the semi-final fifth.
Much to the delight of the partisan crowd, Latvian Reinis Nitiss secured the European Rallycross title at the end of qualifying, then stormed to victory in the final to cap his title winning season in style.
Final result

| Pos | Driver | Team | Car | Laps | Gap |
| --- | --- | --- | --- | --- | --- |
| 1 | Johan Kristoffersson | PSRX Volkswagen Sweden | Volkswagen | 6 | 5m01.530s |
| 2 | Mattias Ekstrom | EKS Audi Sport | Audi | 6 | 2.306s |
| 3 | Sebastien Loeb | Team Peugeot Total | Peugeot | 6 | 3.332s |
| 4 | Niclas Gronholm | GRX Taneco Team | Hyundai | 6 | 3.894s |
| 5 | Timmy Hansen | Team Peugeot Total | Peugeot | 6 | 4.647s |
| 6 | Kevin Hansen | Team Peugeot Total | Peugeot | 6 | 7.386s |
Drivers' standings

| Pos | Driver | Points |
| --- | --- | --- |
| 1 | Johan Kristoffersson | 254 |
| 2 | Mattias Ekstrom | 181 |
| 3 | Andreas Bakkerud | 179 |
| 4 | Sebastien Loeb | 176 |
| 5 | Petter Solberg | 175 |
| 6 | Timmy Hansen | 163 |
| 7 | Niclas Gronholm | 112 |
| 8 | Kevin Hansen | 98 |
| 9 | Timur Timerzyanov | 73 |
| 10 | Janis Baumanis | 71 |
| 11 | Guerlain Chicherit | 49 |
| 12 | Jerome Grosset-Janin | 47 |
| 13 | Robin Larsson | 22 |
| 14 | Liam Doran | 19 |
| 15 | Kevin Eriksson | 16 |
| 16 | Tommy Rustad | 14 |
| 17 | Nico Muller | 10 |
| 18 | Gregoire Demoustier | 9 |
| 19 | Anton Marklund | 7 |
| 20 | Toomas Heikkinen | 5 |
| 21 | Oliver Bennett | 5 |
| 22 | Timo Scheider | 4 |
| 23 | Francois Duval | 4 |
| 24 | Andrew Jordan | 2 |
| 25 | Joni-Pekka Rajala | 1 |
| 25 | Mark Higgins | 1 |