World Rallycross Championship leader Johan Kristoffersson topped the day one order in France, despite a slow start in Q2 forcing him to fight his way through the field.
Having set the fastest time in Q1, Kristoffersson started the final Q2 race from pole position but took a risk with the launch RPM settings in his PSRX Volkswagen Polo and made the slowest start off the grid.
Audi driver Andreas Bakkerud just avoided jumping the start as the lights went green and led the pack into Loheac's Turn 1, while Kristoffersson fought his way back into the pack and ran side-by-side with Peugeot driver Sebastien Loeb through the opening two corners.
Kristoffersson then took his joker at the first opportunity, ahead of Loeb's team-mate Timmy Hansen, before then clearing PSRX team-mate Petter Solberg when the Norwegian took his joker on the next tour.
With Kristoffersson closing them down, Bakkerud and Loeb took their extra routes on lap three. Loeb dropped to the rear of the field but Bakkerud emerged ahead of Kristoffersson.
But when the Audi S1 pilot made a mistake at the final corner, Kristoffersson needed no invitation to take the lead and went on to win the race.
Kristoffersson leads overnight ahead of Ekstrom - who made a slow start in his Q1 race and started from pole in the penultimate Q2 run, then set the fastest time of the day - and Bakkerud.
Third in Q1 and seventh in Q2 leaves Solberg fourth, one place ahead of Timmy Hansen, who passed the Norwegian at the final corner of their Q2 race.
Despite introducing a new car for round six in Sweden and then scoring a double podium at the last round in Canada, Peugeot drivers Hansen and Loeb are fifth and sixth at the end of day one, with Loeb's fourth in Q1 the fastest time set by the 208 drivers.
Niclas Gronholm continued to improve, and was second fastest in practice and seventh at the end of day one.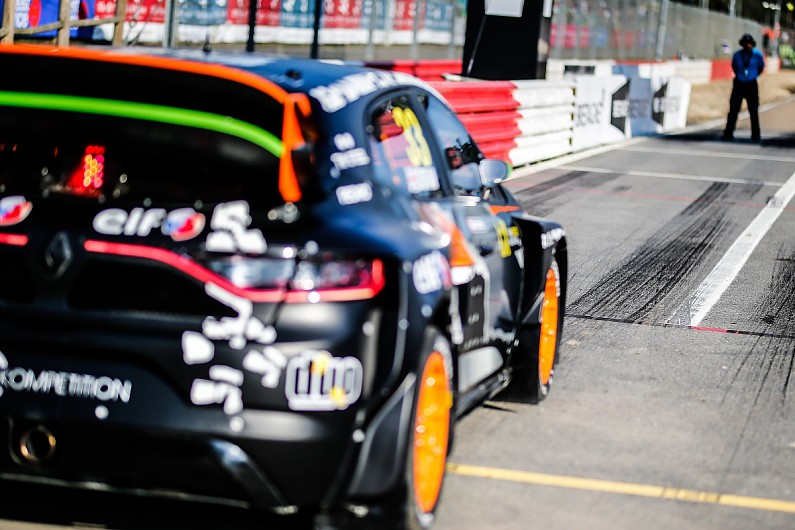 Of the returning drivers, Liam Doran tried an outside move in Q1 on his debut in the GC Kompetition Megane RS RX and had a first lap battle with Kristoffersson.
A pair of solid times leaves the British driver 10th overnight, one position ahead of GCK team-mate Guerlain Chicherit.
Fellow Brit Andrew Jordan was 12th in Q1 but was spun by Gregoire Demoustier in Q2 and dropped to 15th at the end of the opening day.