Petter Solberg topped the order after day one of Silverstone's first World Rallycross Championship round, 12 months on from his last victory in the series.
Fastest in Q1 on a drying circuit, the PSRX driver set the fastest lap of the weekend until that point on his third tour to beat former World Rally Championship rival Sebastien Loeb on track - the Peugeot driver having hassled Solberg's Polo in the opening laps of the race.
Solberg then raced Audi driver Mattias Ekstrom for victory in Q2 but was just pipped by the double DTM champion, who had taken an earlier joker.
Although he won the race of the past World RX champions with Solberg, Ekstrom's time wasn't good enough to beat Timmy Hansen's effort - the Peugeot driver saving a big sideways moment on the entry to the last corner joker section to stop the clocks first in Q1.
Twice second on the timesheets, Ekstrom is second overnight with Hansen third, while a consistent day of being fifth and then fourth fastest in Q1 and Q2 leave's Ekstrom's team-mate Andreas Bakkerud fourth.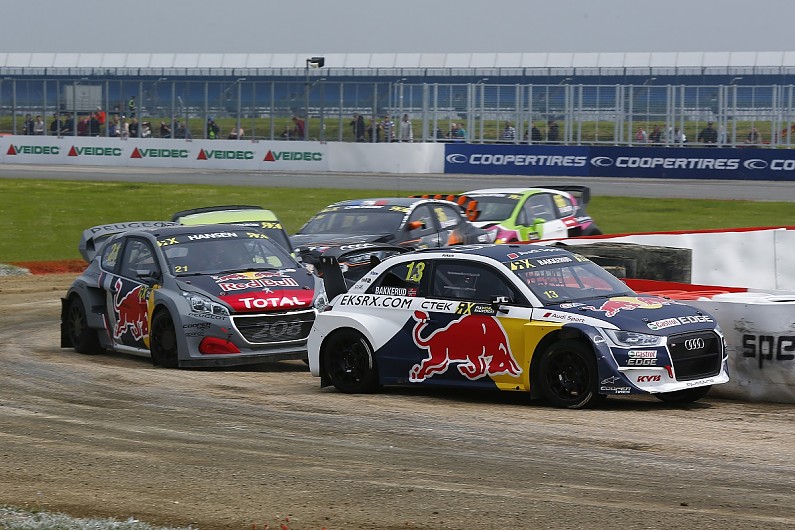 Loeb meanwhile lost time in a close battle for track position in the last World RX race of the day and finished just behind points leader Johan Kristoffersson on the road so was seventh fastest overall.
Coupled with being third in Q1, round three winner Loeb is fifth, one place ahead of Kristoffersson, who is still yet to set a fastest qualifying time in 2018.
Peugeot's third driver, Kevin Hansen, gave his older brother Timmy both respect and racing room in the opening corners of their Q2 race, avoiding contact and ending up fifth quickest in Q2 and seventh in the Intermediate Classification.
Russian Timur Timerzyanov did make it to Silverstone despite last-minute concerns over securing a visa to enter the country and is 11th at the end of day one.
Triple British Rally champion Mark Higgins was 10th quickest in Q1 on his World RX debut but retired from his Q2 race after sustaining damage to his Peugeot 208's rear suspension on landing from the circuit's jump.
The same fate had befallen compatriot Andrew Jordan in Q1, the British Touring Car ace then setting the 17th-fastest time in Q2.
The first round of the new-for-2018 Americas Rallycross Championship is also taking place at Silverstone this weekend.
Volkswagen Andretti team-mates Tanner Foust and Scott Speed shared the spoils in the three qualifying sessions on the opening day, Foust quickest in Q1 and Q2, Speed recovering from being pushed off in Q2 to be fastest in Q3.
Former Subaru WRC driver Chris Atkinson rolled his Subaru USA WRX STI at Turn 2 of Q2 but with the car landing on its wheels, the Australian was able to complete the race distance.