British Touring Car Championship star Andrew Jordan will race in his home World Rallycross Championship round at Silverstone next month as part of a three-event 2018 RX programme.
The 2013 BTCC champion will partner Finn Toomas Heikkinen in privateer Austrian team MJP Racing's Ford Fiesta Supercars at Silverstone, Loheac in France and the Estering in Germany.
Having started his career in rallycross, Jordan has made selected World RX appearances in recent seasons. He finished on the podium at Lydden Hill in 2014 and qualified for the semi-finals at the same circuit last year in his first outing with Max Pucher's MJP squad.
"Max Pucher got in touch about doing one or maybe more rounds and obviously my home event makes sense," Jordan told Autosport.
"I'm not going to turn down that opportunity. I love driving these cars and I really enjoy being part of a world championship at my home event."
Last year Jordan deputised for Timo Scheider at Lydden without having previously driven the car, but he will get a pre-event test this time.
"Last year I hadn't driven the car at all before the event, but I knew Lydden. I won't have driven the circuit at Silverstone, but while I'm sure it's tricky in some ways, it's not like going to a really specialist track like Holjes [Sweden] with no testing there," he said.
"I think we can be pretty strong, my aim is to get into the semi-finals again.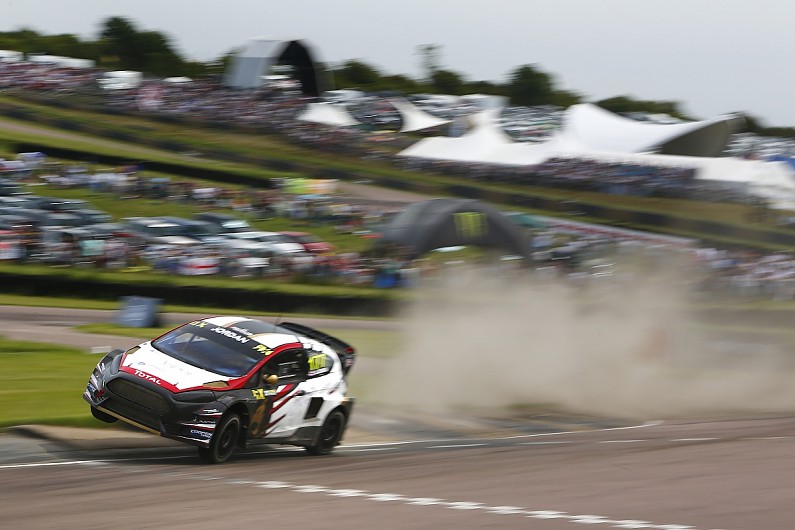 "It's getting harder and harder to get into finals but from the semi-finals, if you can get a bit of luck then you never know. I think we're capable and I'd be disappointed if we didn't make the semis."
This season will mark the first time since 2007 that Jordan has contested multiple rallycross events with the same team.
"Since I started doing these one-off races I've said I wanted to try and do a few in a year to really get into it," he added.
"Every time I get to the end of the first day, you've just gained a bit of experience and got back into the start routines and everything like that.
"To get through to a final by the end of the three events would be my aim. You need a bit of luck to do that, but that's my aim."
World RX race-winner and 2013 Global Rallycross champion Heikkinen parted company with Mattias Ekstrom's EKS Audi squad at the end of 2017 after a two-year spell but will join Jordan in the part-time MJP programme.
"After 2017 it was really hard to find a place and to be honest I almost gave up," Heikkinen told Autosport.
"But I have been in contact with Max for quite a long time and we have exchanged emails quite often.
"A month ago I tested the car for the first time, the feeling was good so we decided to make a deal and do some races."
SPEEDMACHINE - The British round of the WRX comes to Silverstone on May 25-27. To book your tickets visit www.speedmachine.com. For a limited time only get discounts on adult tickets using the codes SMW10 for weekends, SSMSAT10 for Saturday and SMSUN for Sunday