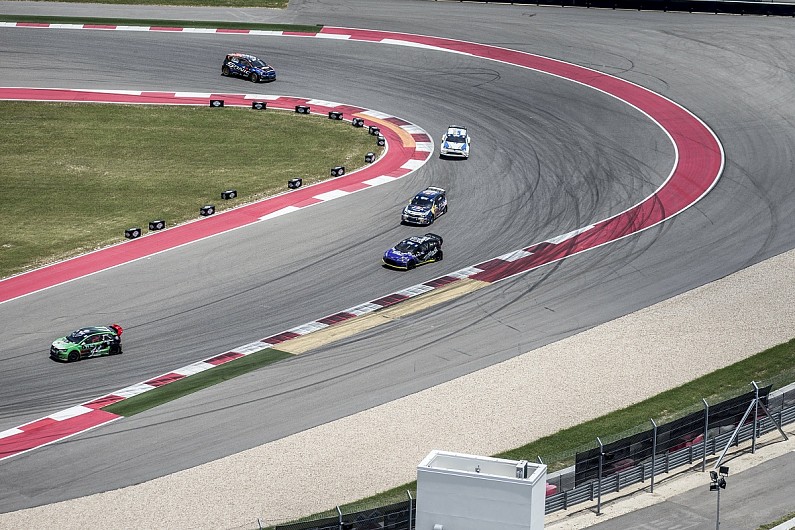 A round of the World Rallycross Championship will be held in the United States for the first time next season at Austin, the home of the Formula 1 US Grand Prix.
The circuit has agreed a five-year deal to host World RX, and its new rallycross circuit is expected to undergo construction in the coming months.
The mixed-surface layout will be located in the stadium area of the F1 circuit, between Turns 12 and 15.
A first World RX event at COTA will be held on the September 29-30 weekend in 2018.
The rallycross event has been announced as part of a 'festival weekend' and will be held three weeks before F1 visits the venue next year.
"We are delighted to announce that another FIA World Championship will be coming to COTA," said COTA Chairman, Bobby Epstein.
"There is no doubt that rallycross is a rapidly growing discipline - the fans can watch races in quick succession and the 600bhp cars are mightily impressive.
"The addition of a rallycross circuit at COTA will be a welcome addition to our growing portfolio of motorsport events in Texas and we look forward to working closely with IMG in making the first ever World RX event in the USA a resounding success."
World RX promotor IMG has confirmed it will announce a provisional 2018 calendar on Tuesday, which will include rounds at COTA, in South Africa, Canada as well as nine venues in Europe.
It has not revealed which of the current 10 European-based events will no longer be part of the 12-round series.
"The United States of America has been on our radar since the World Championship began in 2014 but we were determined to wait for the right opportunity," said World RX Managing Director, Paul Bellamy.
"We have been in discussion with several venues across the USA but COTA shared our vision for the World Championship and can deliver a key objective of building a first-class rallycross facility.
"With IMG's strong presence throughout the US we are confident that the COTA World RX event will be a huge success.
"Other elements of the weekend that we are working on include music, food festivals and action sports - allowing fans from a variety of backgrounds to attend and enjoy an action-packed weekend in the live music capital of the world."
The Austin round will not mark the series' first visit to North America, as Trois-Rivieres in Canada has hosted World RX since its inception in 2014.
Rallycross has been held at COTA previously, in 2014 and '15, running on a temporary circuit as part of X Games Austin.
The first of those events was a points-scoring round of the American-based Global Rallycross series (pictured below), with now three-time GRC champion Scott Speed winning both that and the non-points-scoring round in 2015.