My first weekend of rallycross since 1996 - that's 17 years ago! - was like a strange dream. It's been such a complicated mix of emotions that I hardly know how to begin to describe it.
Definitely one of the reasons why it feels so surreal is the lack of sleep. I can't tell you how hard all the boys, as well as me and [wife] Pernilla, have been working over the past three weeks. It just makes me so proud of everyone. These are the best people in the world.
This is one of the things that inspire me to always do the best I possibly can, to try to repay all the hard work that the boys have put in. The sacrifices they have made are incredible. Many nights, they were sleeping in the workshop, and by the time we got to Lydden Hill for the first round of the FIA European Rallycross Championship they had slept for three hours in the past three days!
Then we had a real panic. When we arrived, the car was actually underweight, so we had to put in some ballast overnight. Everything is new to us. We're just learning as we go along. It's been one hell of an effort.
Still smiling despite the lack of sleep © Gary Hawkins
On Sunday, we won our qualification heat, even though the clutch had broken and we also hit the barriers. On Sunday night, the boys changed the clutch, but the driveshaft broke off the startline for the first heat on Monday. That put me sideways, so I couldn't avoid an impact. You know how it is with me, highs and lows all the time!
The broken driveshaft meant another job to do, but then in the second heat I won again - and that put me in the semi-finals! It was a really close thing because of all the problems we had experienced earlier. I had no clue if I would make the semi-final or not.

You see what I mean about the highs and lows? We still needed to change the centre diff to get the right traction and turn-in. I don't think people realise just how much work goes into a race that only lasts for three or four minutes...
The way the weekend ended for us was quite cruel, though. After working so hard to get into the semi-final, we lost the power steering on just the second lap. With the circuit so tight and twisty, you don't stand a chance without power steering. And so that was that.

We just went backwards, and there was no chance to get into the final. We came really close, though. Without that problem, I think we would have been there, and then it could have been the fairy tale ending - who knows?
I think we showed that we had the pace, but the dream can be over in just a few seconds here. Because of that, rallycross is probably even harder than rallying. You don't have any chance to make any mistakes, and you have to be very precise, so technically everything has to be 100 per cent.
At the moment, it's not really there at all. We had problems with the engine cutting out from the beginning of the weekend. Really it was one thing after another. This car has nothing at all in common with a WRC car at the moment, but we'll keep on improving. It will be very different by the time we've finished with it.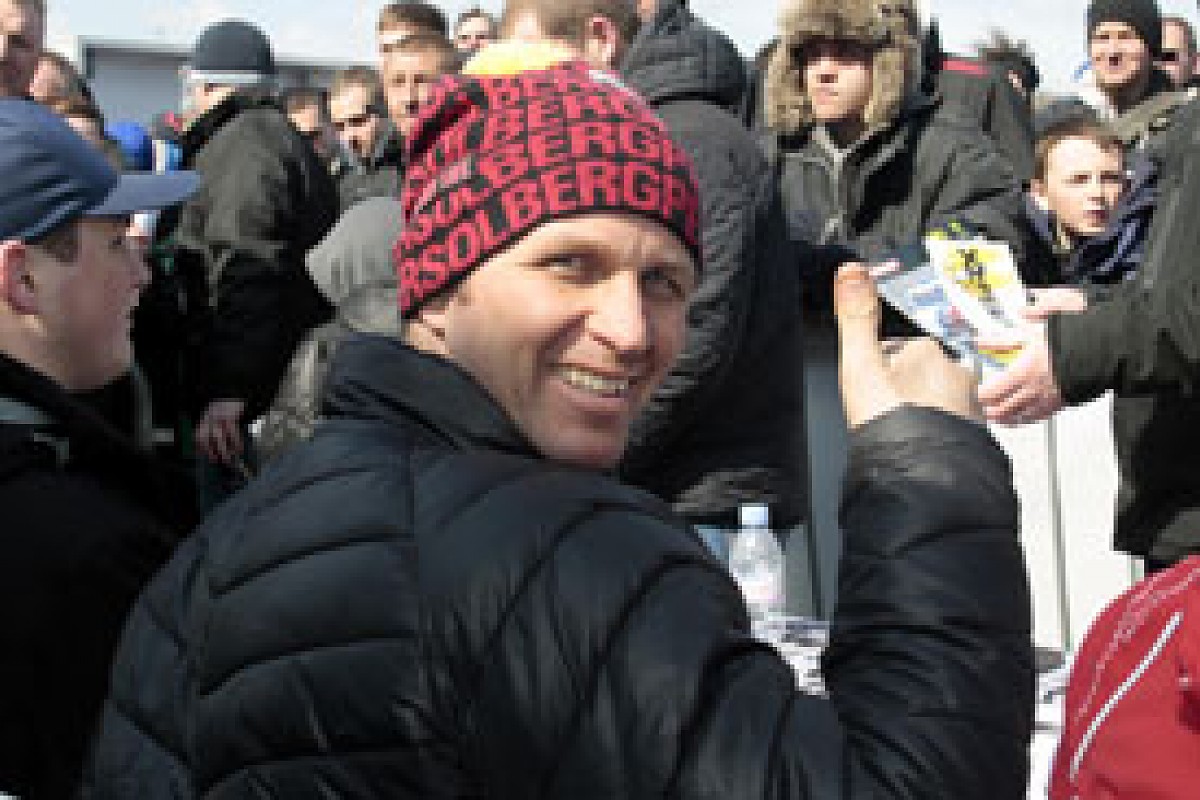 A broken driveshaft led to contact in the third heat © Gary Hawkins
So my life at the moment is quite different from how it was, but I'm absolutely loving it. This is what real motorsport and real passion is all about. It's where my roots are - my mum and dad came to Lydden as well, and all my family. It's something that we can all share - my mum even did the cooking for the team.
Rallycross is a massive tradition in Norway - Martin Schanche is still the most successful driver in the history of the sport. But I have to say that there's a really serious side to it all, too. There's a real buzz to the whole championship, and you can see that IMG has got some really serious plans to make the whole thing even bigger and better, with permanent drivers for the first time this year and live TV. If they had started this a few years ago, then I've got no doubt at all that it would be massive by now. It's got everything that you need to put on a good show, and if you look at all the people who came on Monday, you can see just how popular it's going to be.
Probably one of the hardest things for me to get used to over the weekend was the idea of racing people. OK, I know that I can be quick in a car, but rallycross is a completely different driving style, and it's another set of skills when you have to attack and defend from other drivers. You don't get that in the WRC unless something has gone quite badly wrong!
But, honestly, I've not thought about the WRC once recently. We've had so much stuff to do that I've not had time to think about anything else. I would never close the door on the WRC completely - I never close any doors - but for now I've got a really good focus and so much more to learn. You never stop learning, in life or behind the wheel of a car.
So the end to the weekend was disappointing, but there were more positives than negatives and we'll bounce back, for sure. When have you ever seen me stay down for long?