Inside the FIA's bold mission to unearth the WRC stars of tomorrow
Opportunities for young drivers in elite motorsport are difficult to grasp. Ultimately the biggest stumbling block is funding. However, the FIA has invested in a new scheme to unearth the World Rally Championship stars of tomorrow. Autosport was invited to go behind the scenes to see the programme in action.
"We often say that the best drivers are perhaps not the ones driving, but those that have never had the opportunity," says 2001 world rally champion co-driver and FIA deputy president Robert Reid, as he watches on as FIA Rally Star finalists strap themselves into a Ford Fiesta Rally3 car, for a first taste in remote Sardinia.
It's a statement that perfectly explains why the FIA has embarked on perhaps one of its boldest and largest investments in unearthing driving talent, which it hopes will deliver future World Rally Championship champions. There have been talent-finding initiatives in rallying before, think Pirelli Star Driver and WRC Academy, that helped develop the likes of Ott Tanak, Hayden Paddon and the late Craig Breen, more than 10 years ago.
But the new FIA Rally Star initiative has taken this idea to the next level through a global talent search to find candidates, aged 17-26, that will take advantage of a fully funded four-year programme, designed to develop a future champion driver and co-driver. It has been a significant investment that has received support from Pirelli and M-Sport - the duo supplying tyres, Ford Fiesta Rally3 cars, mechanics and engineers.
It's the brainchild of the FIA's Cross-Country and Regional Rally Championships and former FFSA communications expert Jerome Roussel. The scheme launched in 2021 and shares the core principles of the famous Rally Jeunes slalom challenge initiative in France that can lay claim to providing the first step on the rally ladder for WRC legends Sebastien Loeb and Sebastien Ogier. A similar slalom challenge, using a road car to navigate through cones against the clock, was one of the elements candidates could tackle to throw their hat into the Rally Star ring for regional final selection.
In addition to a physical real-world driving element, Rally Star engaged with the growing Esports trend by encouraging ASNs to host digital events where applicants would tackle a specially designed stage using the WRC9 computer game, while those unable to attend these events could do the same by competing on their computer or consoles at home.
In total almost 7000 applied before the most promising candidates were selected to take part in six, three-day regional finals split into Europe, the Americas, Africa, the Middle East, Asia-Pacific and a final dedicated to female drivers. The finalists were then put through physical driving challenges, using Cross karts, alongside a series of mental tasks.
Juries that have included the likes of Reid, Hyundai WRC driver Thierry Neuville, WRC2 star Gus Greensmith, Pernilla Solberg and M-Sport bosses Malcolm Wilson and Maciej Woda selected the 12 finalists - Romet Jurgenson/Siim Oja (Estonia), Annia Cilloniz/Alvaro Rivera (Peru), Abdullah Al Tawqi/Ronan Comerford (Oman/Ireland), Max Smart/Lorcan Moore (South Africa/Ireland), Taylor Gill/Dan Brkic (Australia) and Jose Abito Caparo/Willy Guillermo Sierra (Peru).
The finalists of the first FIA Rally Star competition
Photo by: FIA
This group of aspiring drivers and co-drivers, coming from different starting points in life and rally experience, headed to Sardinia last week for the next chapter of the journey. The FIA orchestrated an intensive boot camp to prepare for six national rallies, where they will drive a Junior WRC specification Ford Fiesta Rally3. Four crews will then progress into a fully funded two-year programme in the Junior WRC beginning in 2024. If one of the finalists wins the JWRC title, they will earn a coveted WRC2 campaign for 2026.
"I was looking at the WRC standings and it is a struggle to find someone from outside of Europe," Roussel explains to Autosport when asked about the programme's origins. "The idea was to bring new personalities to rally and also the FIA wants to have a more global WRC. It is important to have local heroes that fans can cheer on and be inspired by. The idea was also to bring a new generation to the sport. We know it is difficult to start in rallying and find the money to do it, so we wanted to give this chance to some drivers.
"I remember I was in military service and I was lying on my bed scrolling through my phone and I saw a tweet by Yves Matton [former FIA Rally director] saying something about FIA Rally Star and something clicked. I thought this is my chance," Romet Jurgenson
"It is about showcasing rally, a programme that is global and ticks many boxes. It promotes women in motorsport in a very dynamic way, it promotes Esports, and it promotes that you don't have to have money to succeed. We designed the programme to bring them to the level where if they are super good they will be spotted and taken by a manufacturer. We are not here to make money, we are there to bring them to the level where they can make money. This was the idea. The finalists are living the dream but so am I managing this project."
Roussel is keen to stress that simply being fast isn't enough to guarantee selection, with the focus more on finding the drivers and co-drivers that have the potential to lift the JWRC title in 2024 or 2025.
"If one is fast from the start but is not showing any progression, and we feel they are not pushing they will have less chance to continue than someone who has made lots of progress," he adds.
It's an opportunity rarely afforded to many and one that is simply a dream, according to 24-year-old motocross rider Annia Cilloniz from Peru, whose motivation is to follow in the path of 1982 WRC runner-up Michele Mouton.
"It is like a dream come true," she says. "We have been through a lot here with a lot of learning and improvements and we have to work a lot too. I have been a big fan of Michele Mouton and it is amazing what she achieved. I would really like to get as far as I can and maybe someday be like her."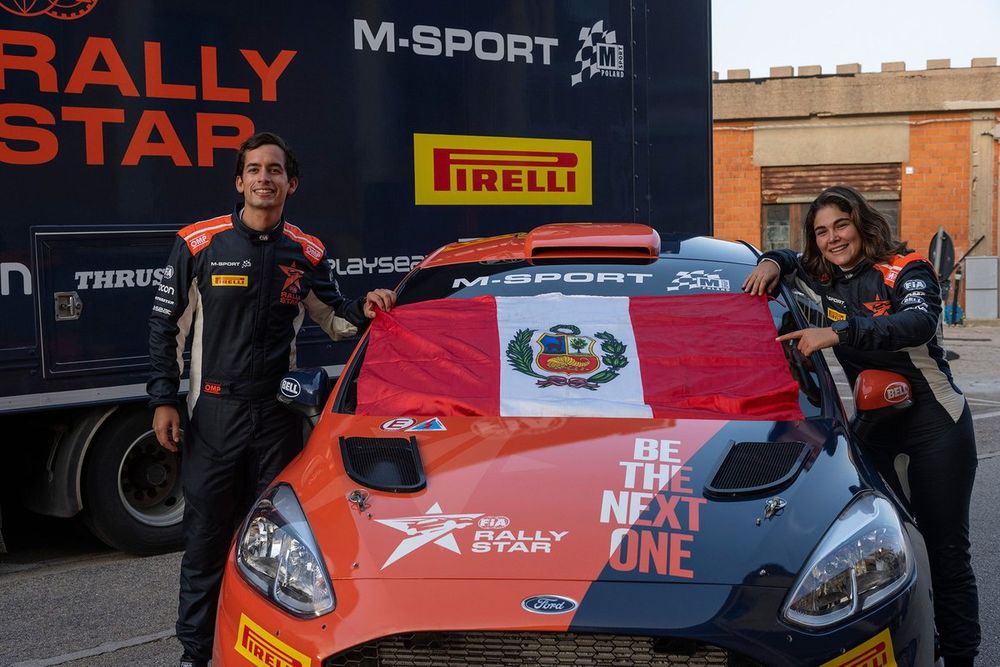 Peruvian motocross racer Annia Cilloniz hopes to follow in the footsteps of Michele Mouton
Photo by: FIA
It's a view echoed by compatriot and former champion Karter Jose Abito Caparo, who adds: "It is a dream and I don't want to wake up from it. In karting, you are alone on the track, but it is not the same as rallying, as I have a co-driver singing to me with a beautiful voice. I think this is fun."
European winner Romet Jurgenson had never set foot in a bespoke rally car before his selection. He earned his regional final berth by winning the 'Rally At Home' competition using a basic console steering wheel, having only applied for the contest following a chance sighting of the Rally Star advert when in Estonian military service.
"It is a really special opportunity," he says. "I have dreamed about this kind of thing for a while. I started doing some rallying using a road car and I wanted to step up but I didn't have the chance and I quit the dream basically," he says.
"I remember I was in military service and I was lying on my bed scrolling through my phone and I saw a tweet by Yves Matton [former FIA Rally director] saying something about FIA Rally Star and something clicked. I thought this is my chance. Now being here, it is unbelievable."
On paper it's clear to see what is on offer, an extremely rare fully funded opportunity for a career in the WRC. But it is only when Autosport joined the finalists at last week's Sardinia boot camp that the level the FIA is going to in providing the tools to ensure its chosen finalists will achieve the ultimate goal is understood. No stone has been left unturned in regard to preparing this group for the multitude of challenges that lie ahead to become a successful rally driver and co-driver. An expert team of coaches and ex-professionals were assembled to offer unrivalled knowledge and experience.
Rally Star HQ for the week was a hotel in the small town of Tempio at the foot of Mount Limbara, a region renowned for hosting WRC stars when manufacturers come to town to prepare for Sardinia's brutal rough gravel roads. Here the finalists are first decked out with their own bespoke race suits, crash helmets, HANS devices, recce cars, pacenote books and all the tools imaginable needed to become rally drivers.
That initial excitement and realisation hit over, the training week begins with rigorous physical and mental training competing in fitness and sports psychology sessions run by Reid's Elite Sports Performance business.
The finalists were tasked to set their own improvement goals which will be analysed by the judges and will factor in the overall selection process. Sports psychology is perhaps an aspect that doesn't receive much limelight in motorsport, but as former team-mate of the late Colin McRae turned sports psychologist, Brian Cameron, explains, it's a pivotal element to achieve success.
Fitness training is an integral part of the programme
Photo by: FIA
"Although there is a season or two in it for the drivers that are doing well, that goes by very quickly," says Cameron, who has worked with the likes of Formula E champion Stoffel Vandoorne and 2016 IndyCar 500 winner Alexander Rossi.
"The greatest impact we can have is by making sure they launch their time in the programme in the best possible way. This being understanding where they are now and where they want to be, across the technical, tactical, mental, physical and environmental attributes. This is what they have to work on. They all come from different starting points but through the process, they have shown that these are a group worth developing and what I have seen so far is tremendous.
"We might get a world champion out of it, but if we get drivers and co-drivers that go on to have a career that is a great win. These are young people that can attract people into rallying. It is important that the sport gives back."
The theory sessions continued with the group focussing on learning the anatomy of the Ford Fiesta Rally3, to get the maximum from it by fettling the set-up and knowing how to repair it should problems arise during a stage or on a road section. These mechanical skills can ultimately decide rallies. Likewise, and equally as important is the art of co-driving and making pacenotes, a skill new to some of the finalists.
The opportunity to be the next WRC star is now in the hands of the finalists to soak up all they have learned and put the theory into practice
With a combined 50 years of experience between them, Chris Patterson, former co-driver to 2003 world champion Petter Solberg, ex-Neuville co-driver Nicolas Klinger, and 2001 champion Reid imparted their knowledge to the group. This came in the form of theory sessions before taking the skills out on the open Sardinian roads to complete recce runs, making pacenotes on real-world stages.
"For me, it is all about passing on our experiences to the next generation of co-drivers," Patterson tells Autosport. "It is a great privilege to do that, and when we were younger, starting out in our careers, we wish we had these types of opportunities. We are here to help them and encourage them. We are openly available as they progress their journey."
Ireland's Ronan Comerford, a late call-up to the programme to co-drive for Middle East final winner Al Tawqi, added: "To say it is exciting is an understatement. It is something I have dreamed of from a very young age. I'm a late call-up to this programme so it has been an intensive week of training, but I have learned so much. It has heightened my determination and drive to do this programme."
The aspiring rally drivers have to get to grips with pacenotes as part of their training
Photo by: FIA
Pacenote and recce training complete, the crews move on to actually jumping behind the wheel of the Fiesta Rally3, with each pairing spending a day driving on both tarmac and gravel stages closed to the public. These are roads that have been used in testing by some of their WRC heroes. Again no expense is spared as M-Sport Poland erects a mini service park in two locations across four days.
One in the centre of a quaint Sardinian village, the other out in the wild rocky hinterland free from phone signal. The process simulates how a top WRC team conducts a test, with engineers and mechanics on site for the crews to use the knowledge gained to convey their thoughts about the car as they aim to improve their own driving and communication skills. This is overseen by driver coaches Alex Bengue and John Haugland.
"This is something extremely special and I have been pinching myself the whole week," said Smart, who is one of two candidates making the transition from motocross to rally. "To be involved in this is something really crazy and I'm very lucky to be here and I'm going to work as hard as I can to stay here."
Adjacent to this two-car tented set-up is an area occupied by a third Fiesta specifically positioned for drivers and co-drivers to put the newly gained mechanical theory into practice by changing wheels against the clock. In addition to the wealth of information to digest, the crews also underwent intensive media training to understand how journalists operate and learn correct social media practices. Led by Neuville's communications personnel Linda Hirvonen and assisted by Autosport, invited to conduct a series of simulated interviews with the finalists.
Training camp over, the opportunity to be the next WRC star is now in the hands of the finalists to soak up all they have learned and put the theory into practice. First, they will join WRC crews to complete the recce for this weekend's WRC Rally Sardinia, before the first of six competitive rallies, that will determine if they will receive a shot at the WRC next year.
It all begins with the gravel-based Rally San Marino from 16-17 June. For some, lining up in San Marino behind the wheel of a Rally3 car had never been on the radar as Asia Pacific winner Taylor Gill, who has elected to move from his native Australia to Finland to enhance his chances.
"I'm trying to take this seriously. This programme is all about showing a good impression and moving to Finland was a crucial part of showing that," says 19-year-old Gill, who competed against Max McRae in the production class of the Australian Rally Championship last year. "It's massive and especially coming from our part of the world in Australia. It is so hard to break into the European scene so to have an opportunity like this is unbelievable and certainly something I couldn't achieve off my own back."
The programme could be a key step in unearthing the next WRC superstar
Photo by: FIA
At the crux of FIA Rally Star is providing opportunities for talents to flourish. It is too early to predict if the scheme will unearth a future WRC champion but it has already achieved one of its core goals.
"It is important for the six drivers and co-drivers on this programme now, but I think it is equally an important message for everybody around the world. It is possible, there is support and a path now," Reid concludes.
The future of the WRC?
Photo by: FIA
Subscribe and access Autosport.com with your ad-blocker.
From Formula 1 to MotoGP we report straight from the paddock because we love our sport, just like you. In order to keep delivering our expert journalism, our website uses advertising. Still, we want to give you the opportunity to enjoy an ad-free and tracker-free website and to continue using your adblocker.
Become a subscriber.
Disable your adblocker.