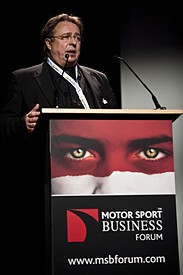 World Rally Championship Commission president Jarmo Mahonen sat down and discussed the current situation in the WRC with AUTOSPORT during last week's Rally Sweden. Here's what the Finn had to say.
Q. What went wrong with Eurosport?
Jarmo Mahonen: We thought the contract was there, but it wasn't. We don't want to make hasty decisions. Now we want to be doctors not nurses, we want to cure the disease. Now is the time to look at this from the clean sheet of paper and also from the business side as well.
Q. What is the Expression of Interest document about?
JM: We want to see what is outside and to see if there is somebody who can come with something creative. What we have had here [North One Sport] doesn't work, but I think there are a lot of learnings to take away from this. We are going to be stronger for the future.
Q. Does this mean there won't be a single promoter but lots of experts in their fields?
JM: No. We want to see what is out there. Is there something we don't know or somebody we don't know. What would be the model? Now we leave that side of things to the people who are interested in the rights. Then we start discussions with those who have some interesting business plans. If you put out a tender then everybody just ticks boxes and says there you are, done. But this way we are asking for what people are thinking and what can they do. The timeframe is very tight, so I'm sure the very serious players will answer in that timeframe. We will have a promoter outside and how he organisers his business is up to him. Let's imagine there's nobody we can see as a satisfactory partner, there is always the potential to do this in-house. But the FIA does now have the infrastructure in place, but we will keep all the options open and we will have this sorted for 2013, I'm very confident that we will do it. We're not into hurrying and we won't make hasty decisions, if we do that then we will end up with the same position in two years.
Q. What is it an Expression of Interest in - how many rounds, what style of rallies?
JM: The criteria, we have them already, but they have to be discussed with the stakeholders. We are in the process. We are using this situation to introduce a new way to work. The calendar is the fundamental thing, almost everything is based on this. We will make a [calendar] proposal to the WRC commission in May and to the World Motor Sport Council in June.
Q. What about contracts for the events?
JM: There are no contracts. No event has a contract at all, every event has to start again.
Q. What about the road map and moving to two new regions?
JM: It's no secret that we have two candidate events this year, so it depends on those. It's possible. It's not a secret that we have made the decision to go to regions where we have never been before and these organisers will get three-year contracts to justify their investment to the championship, so we have to be very confident and clear that this depends on how they can deliver the candidate event.
Q. What do you expect from the 2013 calendar?
JM: It's not so radical. It has to be step-by-step, but compared to 2011 and 12, I see new countries coming: country or countries, I can't say. And it's not a secret to say we are looking to BRICK countries. Brazil and maybe South Africa and China - the biggest car market in the world. Also with Russia, we are working with these options and also with India.
Q. Thirteen rounds?
JM: I don't know, let's say 10-13.
Q. No more than 13 then?
JM: We have to be very cautious not to increase the total costs. My personal view is that if you introduce something which is more costs than a normal classic event - a long haul event - then it has to effect the number of events on the calendar to compensate that cost. It is likely a puzzle to build the calendar and that's why it's impossible to say at this stage how many we will have. As well, we have the new territories and we are going to make the decision before the candidate events have taken place, so they have to be there with an asterix.
Q. So do you put both candidate events in?
JM: We don't know, let's wait and see, but it is possible. It depends what the stakeholders believe.
Q. What is your view of the state of WRC?
JM: The whole situation today, I see it as an opportunity - and this is not some political bull**** - I see it as a chance to create something new: a new way to work, how we can work. I see WRC as the sleeping giant. When I look from the broadcasters point of view, from talking to 20 or 25 of them, there is so much demand for this thing to happen. And from the FIA's point of view, this is the second most important world championship, so I am not worried about this. The value is still in the championship, but if we don't do anything then this value will decrease and that's why we are working on the solutions.
Q. What's the news on long-distance events. In the middle of everything else, we seem to have lost sight of the potential for these to come back?
JM: I share the vision with Jean Todt, but we have to look when the timeframe is right. We need to have the adventure back, but if this doesn't bring any value to the championship then why should we do it? We have to practical and pragmatic about this. If we want to create adventure, but the fans are against this then we would be foolish to do this. In normal business, if you want to invest in something you do that and then a couple of years later you see some return on that. But we shouldn't forget that we are still in the middle of the hurricane of the economic crisis and we creating something which could increase the costs might not be the right thing to do at the moment. What we have to remember is that the organisers know their business. When we leave the organisers to their own business, they make better business. How could the FIA know better what Sweden needs than the organisers here. This is why we opened the regulations from 300 to 500 (competitive kilometres), but we know that we don't solve the problems of the organisers by simply increasing the mileage.
Also, we cannot forget the DNA, if we do this then it can go terribly wrong. In the past rallying has been demanding, a little bit more extreme - but not quite as extreme as rally raid. At the moment it's like a day at the office, you work in the morning, have a long lunch, a little bit more work and then to the hotel for the TV.
Q. What did you think of the Monte Carlo Rally format?
JM: They wanted to use their event to reflect their history. Monte Carlo is an iconic event. Ask the light user and they come up with the name Monte - for us it is great to have them back. I talk to the manufacturers and there were some small things. There is some things to do, they have been away for three years and this year's rally was still run a little bit like an IRC round. But I don't complain on the event at all. We need their kind of local flavor. Not complaining, but if you look at F1, if they don't tell you where they are then it's only the heavy users know where they are - but for us we always take the local flavour and know where we are.
Q. How important is the next month for the WRC?
JM: It will shape the future of the world championship. For us, I am very happy that the senior management of the governing body is so supportive in the ways to find the solution of how we're going to work in the future. All these guys see this as an opportunity for the championship and for the FIA, this gives us the chance to produce something new and something sustainable. There has never been a more important month for this championship, not in all of its history. It takes a huge load of work, but on the other hand it's good to start from scratch. It's very good to know there are people who want to work in this, I should say, circus.
Q. What's the future for television, for Mexico?
JM: That should be OK. I can't go to details, but we are working to the plans to have central distribution - we should come out with these plans in the next few days.
Q. What about the television production?
JM: That's the small part on this game, I can't even take a position on this. The big thing is about the distribution and maintaining in the broadcasters [around the world]. Our aim is to plan and find a system very quickly for the central distribution of footage.
Q. Central distribution controlled by yourselves?
JM: That is one possibility or you put it out to agencies - there are several agencies around the world who can do this.
Q. Is there are danger of individual rallies doing individual broadcast deals?
JM: This doesn't work. The broadcasters wants the whole season and he wants them all. It's quite difficult for them if there's a hole in the calendar (where the individual event has done a deal with another broadcaster).
Q. What's your view on the BMW situation?
JM: Well, I have been in the middle of the process the whole time - I went to visit them in Munich at the beginning of the year. Basically, I don't want to interfere with their own business, but the message from us was that the car was homologated but it wasn't eligible for the World Rally Championship. The only thing they could do to complete their homologation was to enter the Manufacturers' World Rally Championship, what they have done now. They have done it with another team than Prodrive. It's up to them what they do with their money, but the homologation is sorted for seven years. Prodrive is now outside the championship; we cancelled the waiver they had and they can now do whatever events they have. This is not so say Prodrive is not under obligations - they have a P1 (Priority 1) driver (Dani Sordo) and so all of these restrictions will apply. They can't go testing 150 days a year and then come and win, this would be unfair to the other manufacturers.
Q. Qualifying, what did you think?
JM: There are small things to do. Qualifying was a promotional more than an organisational element. It worked well, but all I am afraid of is the gaps increasing which is the risk this year. When the cars are in the reverse order, so the gaps can get bigger and bigger and this is not in the int of the championship, yes it's fair from the sport point of view but I am still a little confused about why we always give the best place to the best drivers. This is absolutely under review.
Q. Is it true that you are still talking to a group from Qatar about promotion?
JM: I think we have to keep talking with all the interested parties to be very honest. Let's see what happens - all the doors are open and the windows as well. We have to do the best for the sport, this sport cannot be just bought. If somebody comes with a lot of money to buy the rights, they have to show the right plan for the promotion. Otherwise we could do a huge mistake.
Q. Is there a danger of forgetting about this year?
JM: We are working flat out for the fundamental things, timing tracking and the distribution of the television. If we don't get 2012 right, we face it in 2013 and we have to get this year right as well - there is no danger for this year.
Access even more news on Autosport.
Register for free to increase your monthly limit from 15 to 25 stories - or subscribe today and get unlimited access.
Get unlimited news
Full access to our news and in-depth Autosport Plus features - all in an ad-free enviroment.
Subscribe to Autosport Plus
Get 10 free extra stories
A quick upgrade and you'll boost your monthly news limit instantly - for free.
Register for free