Toyota's Ott Tanak leads the way after the opening three stages of the World Rally Championship's inaugural Rally Chile, while third-placed Thierry Neuville was affected by a red flag.
The trio are separated by just 6.6 seconds overall after the first morning of the new rally, and moved well clear of the rest on the 19.08-mile El Puma second stage.
Those who ran after them complained about a particular shortage of grip on a hard, polished surface.
It left Tanak in the overall lead, 2.9s clear of Ogier's Citroen C3. Tanak's Toyota team-mate Kris Meeke, who'd jointly topped stage one, was left 12.4s off in fourth place.
Championship points leader Neuville was awarded notional second stage time - 6.6s slower than Tanak's stage-topping mark - on El Puma.
A red-flag was given with only Neuville running, due to FIA safety delegate Michele Mouton having not managed to clear the stage
Neuville's notional time, which he described as "very bad", left him third overall in his Hyundai i20 Coupe, 7.3s off leader Tanak after two stages.
The Hyundai team leader then bounced back on the 13.83-mile Espigado stage, benefiting from fresher tyres after being red flagged early on El Puma to go fastest.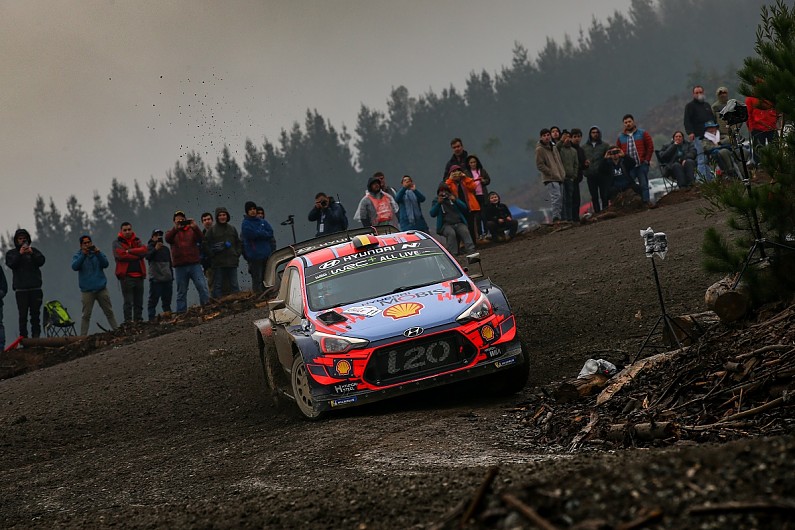 Neuville gained 0.7s on Tanak to end the morning third overall, 6.6s off Tanak at the top and just 0.5s off second-placed Ogier.
Drivers throughout the opening loop complained of low-grip conditions, particularly for those after the first three on the road.
As well as impaired visibility with the low sun and shafts of light through the trees, note-taking for the new rally was made more difficult due to the recce taking place in low cloud conditions.
Both Tanak and Ogier made a similar error at the same spot of the opening El Pinar stage, overshooting and stalled after a short bridge, with Tanak hinting at stage end at needing to "fix" things on his Yaris.
Tanak's Toyota stable-mate Jari-Matti Latvala, with whom Meeke had topped stage one, ended the morning fourth overall, 12.9s off the lead.
Meeke is fifth overall, 27.8s off the top, followed by Elfyn Evans just 1.8s further back in his M-Sport Ford Fiesta.
Hyundai's Sebastien Loeb is seventh overall after the opening loop, 38.1s off the lead, while his team-mate Andreas Mikkelsen is eighth, 1m11.9s off the pace after losing time hitting a rock on the first stage.
M-Sport's Teemu Suninen is a further 2.2s back in ninth, feeling unable to trust his notes.
Citroen's Esapekka Lappi meanwhile lost around 20s on stage one, after having to reverse due to running wide in a corner following a watersplash. He is 10th and last of the WRC runners overall, 1m40.2s off Tanak.
Leading positions after SS3
| Pos | Driver | Team | Car | Gap |
| --- | --- | --- | --- | --- |
| 1 | Ott Tanak, M.Jarveoja | Toyota Gazoo Racing WRT | Toyota | 47m13.6s |
| 2 | Sebastien Ogier, J.Ingrassia | Citroen Total WRT | Citroen | 6.1s |
| 3 | Thierry Neuville, N.Gilsoul | Hyundai Shell Mobis WRT | Hyundai | 6.6s |
| 4 | Jari-Matti Latvala, M.Anttila | Toyota Gazoo Racing WRT | Toyota | 12.9s |
| 5 | Kris Meeke, S.Marshall | Toyota Gazoo Racing WRT | Toyota | 27.8s |
| 6 | Elfyn Evans, S.Martin | M-Sport Ford WRT | Ford | 29.6s |
| 7 | Sebastien Loeb, D.Elena | Hyundai Shell Mobis WRT | Hyundai | 38.1s |
| 8 | Andreas Mikkelsen, A.Jager | Hyundai Shell Mobis WRT | Hyundai | 1m11.9s |
| 9 | Teemu Suninen, M.Salminen | M-Sport Ford WRT | Ford | 1m14.1s |
| 10 | Esapekka Lappi, J.Ferm | Citroen Total WRT | Citroen | 1m40.2s |