World Rally Championship teams have been working flat-out to make their cars as waterproof as possible ahead of Rally Argentina due to the severe weather.
The fifth round of the series features a high number of watersplashes and river crossings and recent torrential rain has raised water levels to potentially dangerous levels for the teams.
The Villa Carlos Paz-based event this weekend will provide the biggest challenge in terms of potential water ingression since the inception of the 2017 generation World Rally Cars.
"One of the problems we're expecting on this event is the depth of water," said Toyota's technical director Tom Fowler.
"We've been looking at ways to increase the drainage of water from the engine bay and we've put some processes into action."
Asked to explain more about those processes, Fowler told Autosport: "We've drilled more holes...
"The problem we've got is that water coming into the engine bay will bend the compressor in the turbocharger, which will deliver very poor performance from the engine.
"Or, water gets into the engine and then, obviously, water can't be compressed [in the cylinders] and that's when we get bent valves and very bad news."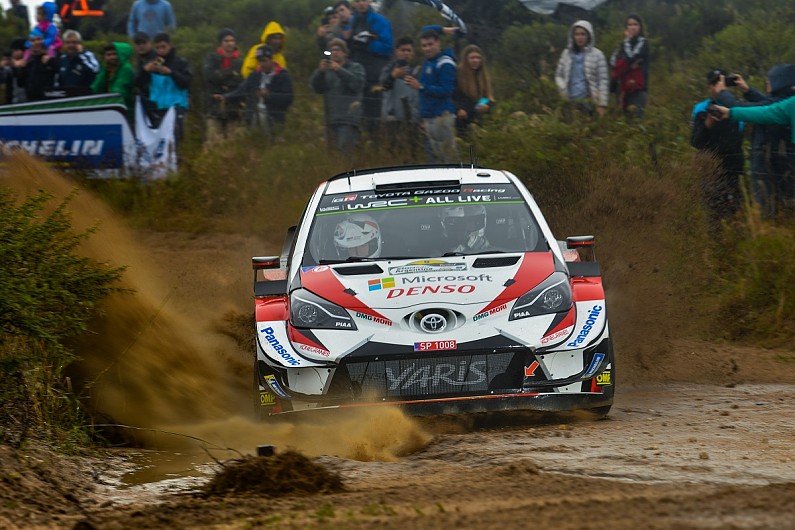 The co-drivers are in charge of stopping the water coming into the engine by pushing a button at their feet to close off the engine's air intake at the vital moment.
"The crews have the watersplashes in their pacenotes and the co-drivers have a note in there to tell them when they have to hit the button," added Fowler.
"The button will shut the intake electronically. If water does get in then the system ensures the engine takes its feed of air from within the engine bay, while the [ingested] water is ditched.
"The crews all have a different strategy for that button - but that strategy is related to other functions on the button relating to starting the wipers: how many wipes does a driver want, or how many squirts of the washer jet. Some drivers want two wiper swipes, some want none and would rather do it themselves.
"All of this is going to be crucial on the opening day - even if the rain stops, there's so much standing water and the crossings are so deep.
"It's going to be vital the drivers remember the advice on taking the watersplashes at a constant speed; overtaking their own bow wave will be a disaster."
Friday's opening day features two runs of the route's southern-most stages around San Agustin in the Calamuchita valley.