Defending World Rally champion Sebastien Ogier says he has no "complex about not winning" Rally Argentina, as the pre-event weather looks to favour points leader Thierry Neuville.
Citroen driver Ogier has yet to win the Villa Carlos Paz-based round and, if he maintains plans to depart the World Rally Championship at the end of next season, this is his penultimate chance to win the event.
But heavy rain in the week leading up to the rally is set to favour Hyundai driver Neuville, who starts first on the road.
"This rally is the same as the others for me," said Ogier about his wait to win.
"I don't have any kind of complex about not winning here.
"It's a difficult rally and it will be the same this year.
"There's a lot of standing water in the stages, the conditions especially [on Friday] could be tricky."
Neuville's road position should mean he finds superior grip levels.
In dry conditions, he would have been forced to sweep the South American surface clean of loose gravel.
That would offer a faster line with improved traction for those who follow him.
But rain frequently counters this, meaning crews further down the order struggle on muddier, more rutted and rougher roads.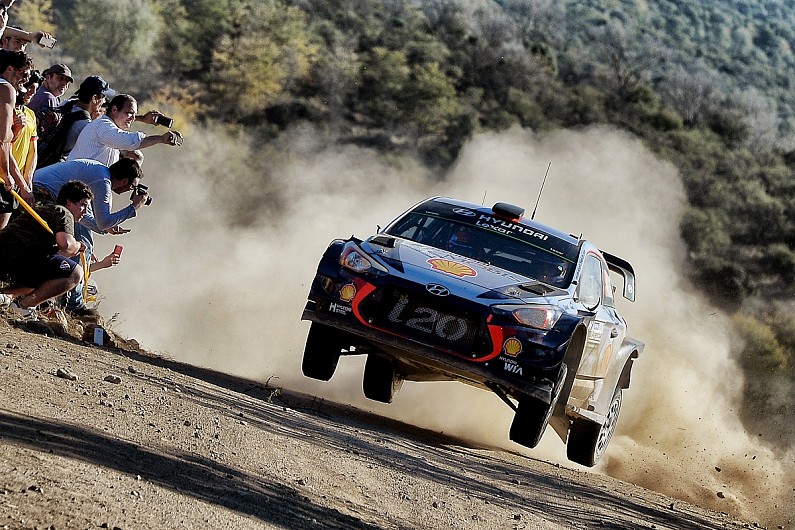 Winner in Argentina two years ago, Neuville said: "I was praying for rain and now it's arrived, but it's a lot!
"During the recce there was a lot of mud around - it's going to be a very challenging rally, but our target is the same as ever: the podium."
The third driver emerging in the early season title challenge is Ott Tanak, who sits third in standings, five points off Neuville.
He added: "Friday will be about survival.
"Even from shakedown we have seen these roads can get rough, but it does look as though the sun's going to come out and that will make things better."
The heavy rain, which hit the Cordoba region during the recce and Thursday's shakedown stage, is expected to ease.
During the event, no rain is forecast and temperatures are expected to rise to around 25 degrees Celsius.