Toyota's Jari-Matti Latvala had resigned himself to 2018 being his first win-less World Rally Championship season as a factory driver, before his unexpected last-minute Rally Australia success.
Latvala was expected to play the Toyota team game on the final day of the WRC season, first being told to play rear-gunner for title hopeful Ott Tanak who had the overnight lead.
Even when Latvala inherited the lead thanks to a Tanak mistake on Sunday morning's loop it was expected Toyota would swap the pair over to keep Tanak in the title fight.
But Toyota never had the chance, with Tanak swiping a tree and damaging his transmission on the penultimate stage.
That opened the door for Latvala to win the event, help secure the manufacturers' title for Toyota, and keep a record stretching back to 2008 alive.
"I must say I had given up, I thought that this will be my first year [with a works team] when I did not win a WRC round," he said.
"Even before the rally, journalists were telling me I had won a rally every year [since 2008].
"I said: 'Yes, I know!' But OK, if I didn't win a rally, then winning the manufacturers' title is like one victory.
"We had a good second half of the season and I'm really happy with this victory.
"When you work hard and don't see the results it keeps you down and doesn't motivate you.
"This was an important victory, but more important was the manufacturers' championship."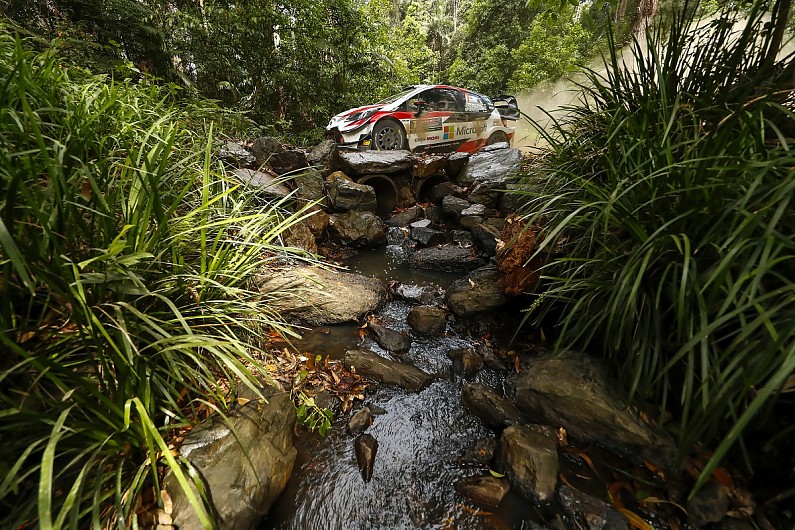 Latvala added that the wet conditions on the stages around Coffs Harbour that caught out title contenders Tanak and Thierry Neuville required "110%" concentration.
"I had in my mind the only target was to get more gap between me and Hayden [Paddon] - I didn't think to win this event," he explained.
"But the wet conditions, they were in my favour and it gave me the chance to attack.
"And if you do it well, you can take good time. But it can also go wrong, really wrong.
"I had good attack early [on Sunday] and then I thought I would calm down a bit. Then Ott went off a little bit.
"Talking to [team boss] Tommi [Makinen] at lunchtime, I said we'd continue with the controlled driving, no big risks - we needed to get the car to the finish.
"I focused on the afternoon, but making a mistake was so easy if you didn't concentrate 110%.
"Some places were a bit more slippery than the others, they could catch you out so easily."
Last year Latvala crashed out of third on the Wedding Bells powerstage in Australia.
"I know I am coming out of the stage hero or zero, and I don't want be zero," he said of his return there.
"I knew we couldn't afford to lose this year. I didn't want a sad Christmas, I wanted a happy one!"