Brought to you by
Subscribe today
World Rally Championship leader Thierry Neuville's title hopes were dealt a blow when he slid off road and into a ditch on the second stage of Saturday's Rally GB running.
The Hyundai driver began the day second overall, half a minute behind rally leader Ott Tanak, but hit trouble during the final third of the 20-kilometre Sweet Lamb Hafren stage.
At the apex of a sweeping right-hand hairpin, he suffered a spike of oversteer and the rear axle of his i20 went off the road and became stuck in a ditch.
Neuville was fortunate that his error came during a section that was lined with spectators, who he shouted at to help retrieve the car. He was pushed out and completed the stage.
He has now dropped to eighth in the overall classification, behind team-mate Hayden Paddon.
Crucially, he has a 39-second deficit to Sebastien Ogier and is 1m22s behind rally leader Tanak - his two title rivals.
Neuville dismissed the crash, however, suggesting that perhaps it was overdue.
"At one point it has to come when you're driving on the edge since the beginning of the year," he said.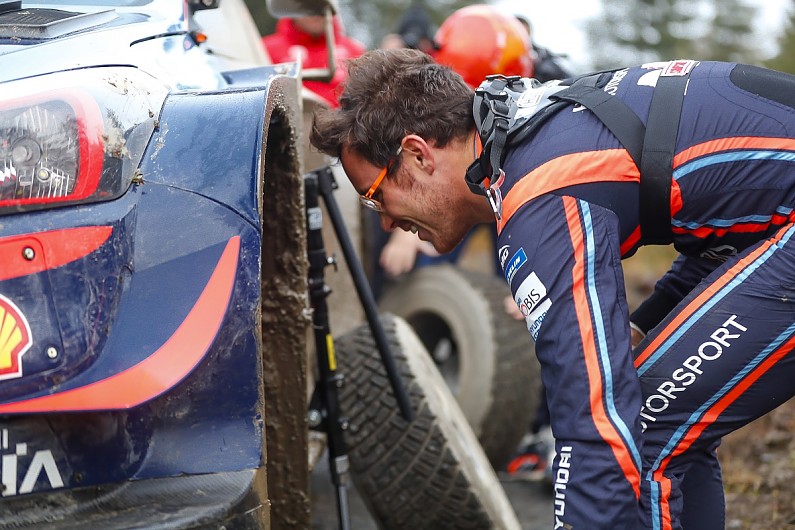 "It's my first real mistake where I've gone off got stuck since Monte Carlo. It's all part of the game."
He added that the excursion had only caused cosmetic damage to the car.
Neuville entered the rally with a 13-point lead in the standings but, after Tanak's run of three consecutive rally wins, if the result remains the same this weekend the Toyota driver is set to take the lead of the championship.
WRC coverage brought to you by Motorsport News
For more from the Voice of British Motorsport subscribe to Motorsport News today