Esapekka Lappi is hoping for a cleaner first full season in the World Rally Championship in 2018, the Toyota driver admitting he has made too many mistakes this year.
The reigning WRC2 champion stepped up with Toyota from the sixth round in Portugal, and won Rally Finland.
But he crashed in Germany and Spain, and had to retire with suspension damage from corner cutting in Poland.
"During the season we've had some technical issues and driving issues - at least from my side," he told Autosport on the eve of the season-ending Rally Australia.
"I joined the team in Portugal, and OK, the speed was getting there quite quickly but I made too many mistakes.
"On the other hand, I'm thinking that this year was for me to show speed, to understand what is the limit of the car at this level. And to find the limits, to be able to be on the pace next season.
"I'll try and have a good season next year and not make so many mistakes."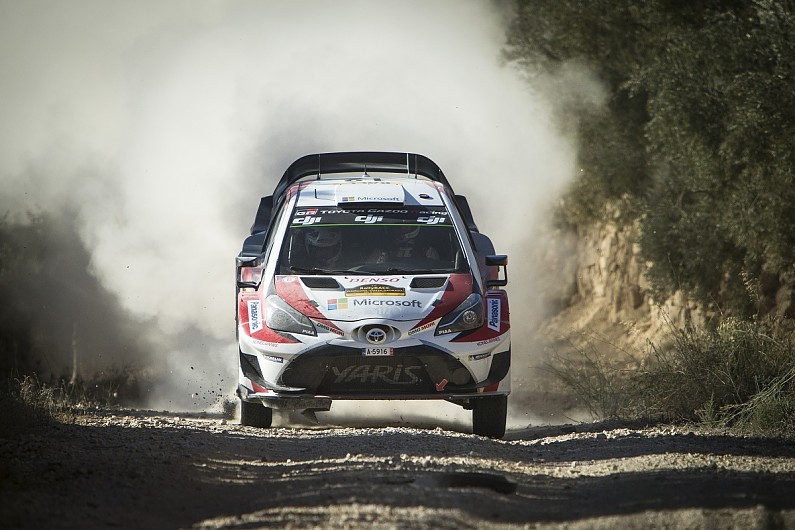 Tanak signing motivating for Lappi
Lappi will have a new team-mate next year as Ott Tanak joins him and Jari-Matti Latvala at Toyota having been a title contender with M-Sport this season.
"It's good to have such a strong team-mate [as Tanak]," Lappi said.
"In our team the raw speed will be really good next year.
"It will motivate me to be even better as well, because it will be harder to beat him.
"We need to work harder and be more motivated to try and be faster all the time.
"These kind of really fast team-mates are good for me. At least I think that at the moment! We will see how it is next year."
Last year in Australia Lappi's focus was on wrapping up the WRC2 title, which he achieved with a dominant class win on a rally his championship rivals did not contest.
"It was quite a long week last year, because we just needed to finish the rally to secure the WRC2 title," said Lappi.
"In that way, I really couldn't enjoy it.
"But from a stage point of view, I liked the surface and I liked the stages. I think this year will be much more enjoyable than last year."