M-Sport team principal Malcolm Wilson says he will not give up hope of keeping Sebastien Ogier for the 2018 World Rally Championship until every avenue has been exhausted.
Ogier has made clear staying at M-Sport is his preference, but wants guarantees that it can continue to fight the manufacturer squads - either through Ford making a full works WRC return or the team landing a major backer - and to make a decision by September.
Wilson told Autosport: "I will explore every avenue to keep him with us. We'll do whatever we can for as long as we can to keep him.
"Seb knows that, I've been very open with him and I've shown him all the plans and all the work we're doing towards 2018.
"There's no doubting the commitment we've made to him this year, and him to us, and I'm doing all I can to keep that going.
"I appreciate he wants to get things sorted as early as possible."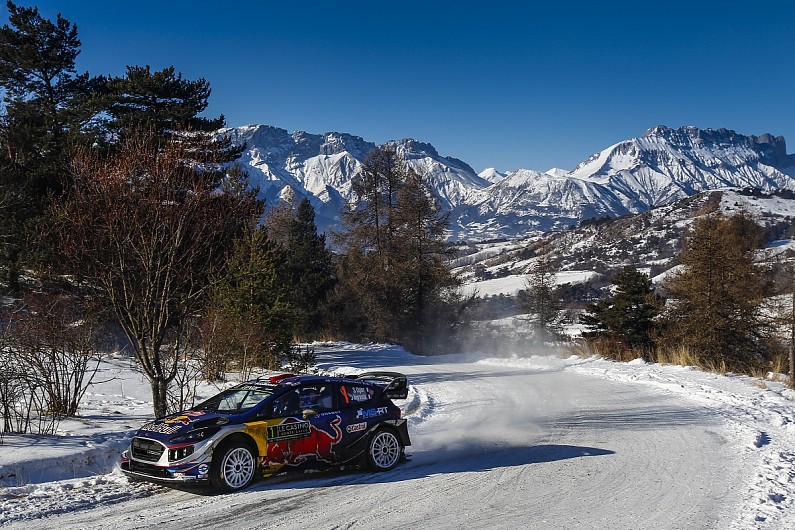 Ogier sealed a last-minute M-Sport deal for 2017 after Volkswagen's exit, won on his debut in the Fiesta in Monte Carlo and has since led the championship for most of the season.
His options beyond M-Sport appear limited for 2018.
Hyundai team principal Michel Nandan has already ruled out signing Ogier.
"I can't because there's no space," Nandan told Autosport.
"My drivers are all contracted until the end of 2018, so unfortunately it's a no for Sebastien Ogier here."
Citroen already has Kris Meeke, Craig Breen and Stephane Lefebvre under contract and has been reluctant to discuss its 2018 line-up so far.
Autosport understands Citroen could accommodate Ogier next season, but whether his wage demands could be met is another matter.
Toyota would be able to maintain Ogier's current salary and has been tipped as a possible destination, but Tommi Makinen's team is believed to be lukewarm about pursuing the reigning champion.
One insider told Autosport: "Everybody would want Ogier, buy him and you are buying a lot of points and some big, big performances, but the team is settled right now.
"Would Jari-Matti [Latvala] relish the chance to work with Ogier again? Who knows, but I'd doubt it.
"Tommi has a team around him that he's very happy with and, much as Sebastien would be great, there's a feeling that it could also upset the balance a little."
Ogier's former VW team-mate Andreas Mikkelsen is another key player in the driver market, but it is understood Ogier's current M-Sport team-mate Ott Tanak tops Toyota's shopping list.
"He's free to talk to them but I want to keep him next season," said Wilson of Tanak.
"I've been investing in Ott since 2012. I can't think of another driver that I've put so much into or given so many chances.
"I'm not going to give that up easily."
Wilson has indicated that if Ogier does leave M-Sport, Tanak and Elfyn Evans would both be kept on.