Brought to you by
Subscribe today
Rally Poland winner Thierry Neuville has admitted he was frustrated by his rivals' inability to keep World Rally Championship title rival Sebastien Ogier off the podium on Sunday.
Neuville's third victory of 2017 cut Ogier's lead from 18 to 11 points with five rounds of the season remaining.
Ogier looked as though he would finish as low as sixth but was promoted when Jari-Matti Latvala's Toyota suffered a clutch problem and Ott Tanak crashed on the final morning, and he also overhauled Neuville's Hyundai team-mate Dani Sordo.
Although Tanak shunting out of the lead aided Neuville's path to victory, the Belgian said he was annoyed circumstances went more in Ogier's favour.
"The objective for me this weekend was to come here and take points away from Ogier," Neuville told Autosport.
"But we cannot be confident for anything in the championship.
"All I can do is keep my pace and my rhythm - but also we must rely on the team and on the car, and on our rivals as well.
"Ogier could have been much more behind, but the other drivers give him the chance to be on the podium again.
"We have closed the gap in the championship for the second rally in a row.
"We have to continue in this way, but for now we can enjoy our third win of the season and celebrate with the team who have worked so hard for this result."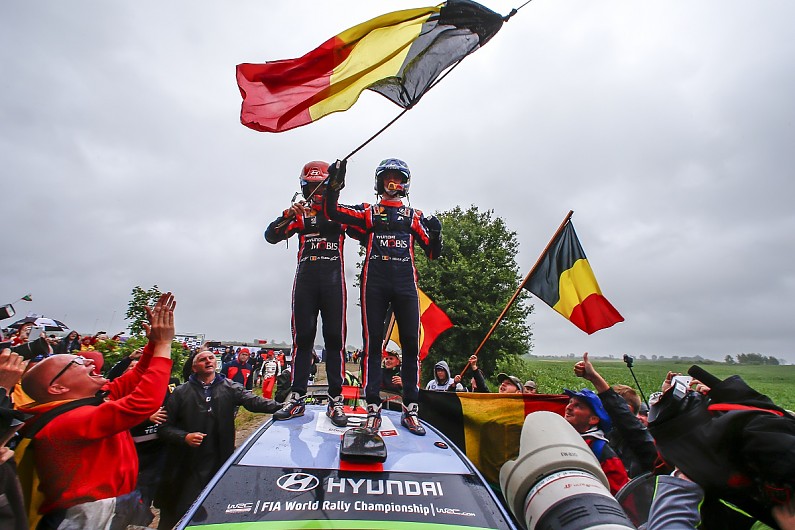 Neuville himself allowed Ogier to minimise the damage to his lead on the powerstage.
Had he been 1.6 seconds faster through the powerstage he would have beaten Ogier to second place on it rather than only picked up a solitary bonus point for fifth.
Neuville added: "When we came through the powerstage I said to Nicolas [Gilsoul, co-driver]: 'Shit, we missed two points by one second.'
"I should have pushed. I wanted to go as fast as possible, but we have to be clever.
"The fight is tough. Ogier is always close to or on the podium and, if we want to catch points, we have to be at the finish.
"Now, if I could go and do the stage again, I would go a little bit faster, but not more than this."
LEADING CHAMPIONSHIP STANDINGS:

| Pos | Driver | Points |
| --- | --- | --- |
| 1 | Sebastien Ogier | 160 |
| 2 | Thierry Neuville | 149 |
| 3 | Jari-Matti Latvala | 112 |
| 4 | Ott Tanak | 108 |
| 5 | Dani Sordo | 82 |
WRC coverage brought to you by Motorsport News
For more from the Voice of British Motorsport subscribe to Motorsport News today