The World Rally Championship will definitely undergo significant format changes for 2015, senior figures have confirmed to AUTOSPORT.
As outlined previously, the option most likely to be selected for the revamp is the final-stage shootout system favoured by Volkswagen team principal Jost Capito.
That plan has gathered support since evolutions were made following criticism from within the sport.
The new version of the format will offer points at the end of each day and a performance weighting in the shootout to reward being fastest throughout the rally.
If, for example, the driver in first place heading into the decider has been a tenth of a second per kilometre faster across the whole event than the driver in second place, then they will take that advantage multiplied by the stage distance into the shootout. So, if the final test was 10 miles, the quicker driver would start with a one-second time advantage.
A source told AUTOSPORT: "We understand there was a lot of resistance to this plan, which is why we have worked hard to evolve it and to answer a lot of the criticisms.
"This plan involves the least amount of format change for the rally organisers.
"The format will remain as it is now: a ceremonial and maybe a superspecial on Thursday night, then normal days Friday and Saturday and a shorter day on Sunday.
"There are a couple of options, but this is the one people are going for.
"It will be discussed more in the next couple of months, with probably a few more refinements made - it will then be signed-off at September World [Motorsport] Council."
SCEPTICAL TEAMS BEING WON OVER
M-Sport team principal Malcolm Wilson admitted he had been sceptical at the start, but could see the benefit now.
"It's going in the right direction now," he said. "There are some other people who have to agree with it, but I think we're getting there.
"The teams are all working on how the points would theoretically be working and how it would be affecting the championship."
Hyundai's Michel Nandan echoed those sentiments, with the caveat that WRC Promoter must have a market for what is a made-for-television spectacle.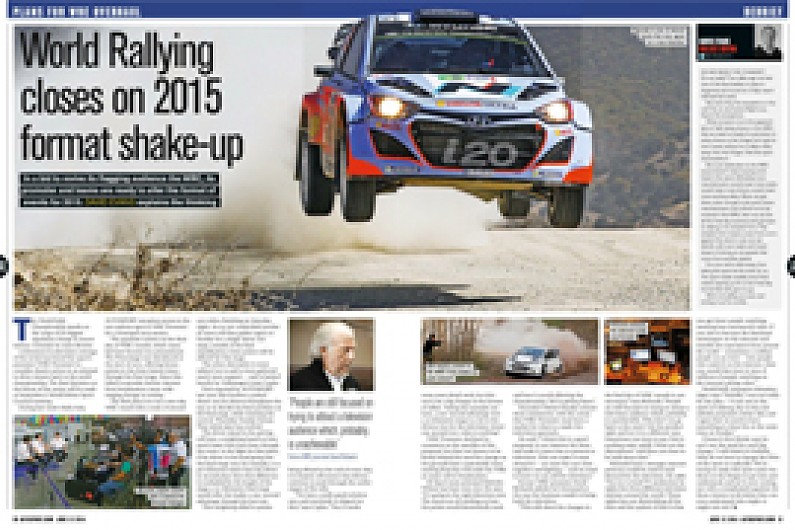 "I think this is a good proposal, it can improve the show and make it more easy to present to television," said Nandan.
"Still, we need to do some more simulations to be done to make sure you are not giving too much to the very fast drivers.
"This can make it more attractive - we want the cars close together and fighting - and we need to know we can sell the television."
This week's AUTOSPORT magazine - available online and in shops now - includes an in-depth analysis of the WRC revamp plan and the thinking behind it