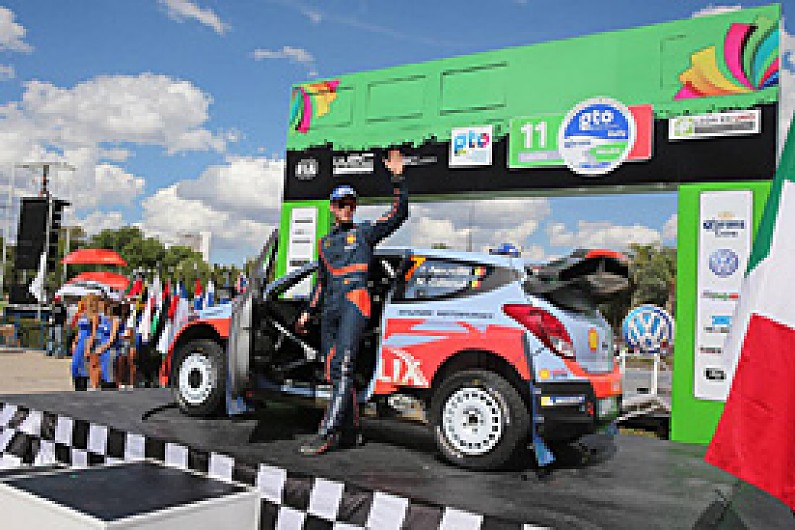 Thierry Neuville said he managed to remain calm during the post-Rally Mexico drama that nearly cost him the Hyundai i20's first World Rally Championship podium.
After completing the final stage in third overall, behind only the dominant Volkswagens, Neuville's car developed a radiator leak.
Had he not made it back to the official finish in the service park in Leon, he would have lost his podium finish, but he managed to nurse the car back - at one point pouring beer into the radiator.
"We had a small hole in the radiator and we fixed it and got back on time," said Neuville.
"It was very stressful but we stayed calm.
"On the road section we had to wait for more than 20 minutes and we had 34 kilometres to run and we had a hot temperature from the car and we realised that we needed to fix the problem.
"I tried to put something on the hole and fill the radiator with water and beer and we came back!
"When I realised we had still 25 kilometres to go, I thought maybe it was the end. Then we stopped the engine and the temperature went down and we thought it was OK."
Hyundai had predicted before the start that it would be further off the pace in Mexico than it had in Monte Carlo and Sweden, where it showed promise but was hamstrung by incidents, including mistakes from Neuville on both rallies.
"We knew it would be difficult," said Neuville.
"We had a weekend without trouble except for the last stage! Saying that, the team has done a good job.
"We were not on the pace of Volkswagen but we knew we might struggle with the temperature and the altitude.
"We are still improving. I hope it does not take too long to be here again at the [top three] press conference."