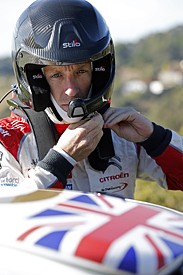 Kris Meeke says he feels immediately at home in the Citroen team ahead of his first full season as a factory World Rally Championship driver.
Meeke tested the DS3 WRC earlier this month and will return to the test car on Thursday January 9 for one more session ahead of the 2014 season-opening Monte Carlo Rally.
While Meeke competed in the WRC twice in 2013 - in Finland and Australia - he has not been a full-time factory team member since he drove for Mini in 2011.
He accepts there is pressure at Citroen but adds that the team has welcomed him warmly.
"I was at the factory for a full day before Mads [Ostberg, team-mate] was announced," Meeke said, "and when I went in to meet the mechanics and the engineers, I could feel all of their eyes on the back of my head.

Opinion: Time to believe in Meeke
"This is a team which has been used to a lot of success and they want to know if you're going to give it to them again.
"I feel a real appreciation of where I'm at and the boys know it's going to take a bit of time to fine-tune and polish me up.
"I'm not coming in to try and emulate Sebastien Loeb, nobody could ever do that. But I feel comfortable here, I feel at home here and I couldn't be in a better place."