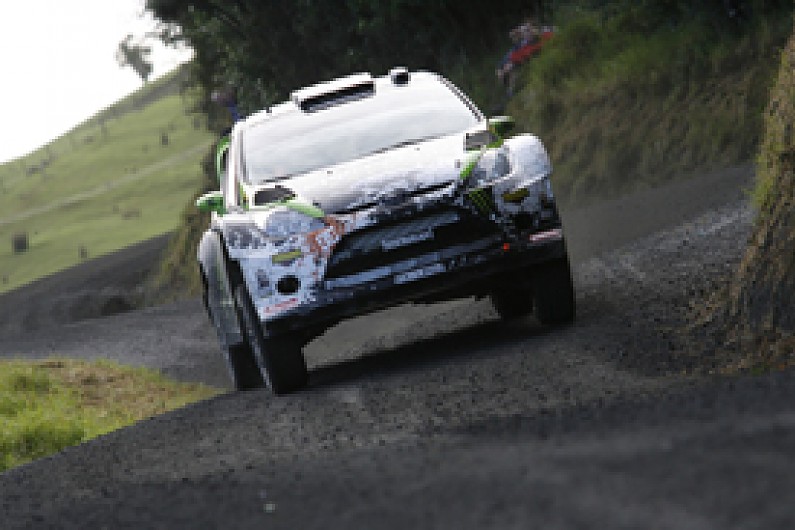 Ken Block says the current World Rally Championship regulations are hampering his chances of developing as a driver.
The American Gymkhana star is only competing on three WRC rounds this season. This year the day one running order on gravel rallies is set by allowing the fastest drivers from qualifying to have first choice of their road position. Block was only 11th quickest in New Zealand qualifying on Thursday so is likely to be among the drivers running in the worst of the dusty conditions on Friday's opening loop of competition south of Auckland.
"I'm facing the fact that I'm coming here to sweep roads for factory drivers," said Block. "The FIA is putting private drivers in a scenario that hurts private drivers. Other championships try to promote all the competitors and when one driver is winning a lot they might even put more weight on that car, but here they put everything in favour of the factory guys."
Block said he would not let his position on the road hinder his enjoyment of the stages.
"There will be a substantial amount of sweeping tomorrow," said Block, "but it is what it is and I'm going to just go out and enjoy myself. I love this country and these roads."
Block is no stranger to New Zealand, having contested four rounds of the New Zealand Rally Championship in 2007.
"I had a great time that year," he said. "I was driving a Group N car and wanted more experience - and we don't run Group N in America. I finished on the podium on my fourth event, which was a good achievement given how specialised these roads are."
Autosport has produced a standalone special magazine to celebrate our 70th birthday. All current print subscribers will receive a copy for free. To order your copy of the 196-page Autosport 70th Anniversary issue, please go to: autosport.com/autosport70th