Five days and a world - that's the difference for Sebastien Ogier. And I'm not talking about the gap between him and his closest challenger for this year's World Rally Championship title.
Last Sunday he was on the streets. Come Friday, he'll be on the rocks.
I'll be honest, Porsche Supercup races have never held me captivated - not even around Monaco - but Ogier's arrival on the entry list for Sunday's race worked for me. As much as I wanted to see how the Frenchman managed in what would be just his second ever GT race, I wanted to see how he handled himself in the paddock. How would he adjust from the top of the tree to standing in the shade cast by the stars of circuit racing?
The answer: with a self-effacing modesty rarely - if ever - seen from the self-styled service park Super-Seb.
The World Rally Championship leader did himself a power of good in the principality last weekend. Last time we were there, he was guiding his Polo R WRC to second overall on its debut, the Monte Carlo Rally. But we'd seen the sulky Ogier; dropping time to his arch-rival Sebastien Loeb, he refused to answer questions about the on-event rivalry between them. He sat in the car and stared straight ahead.
A repeat performance would have had him laughed out of the paddock on Sunday.
Again, he sat in the car and stared straight ahead. But this time there was the hint of a smile. And a glint in the eye. This time the silence was born out of a dream-like disbelief.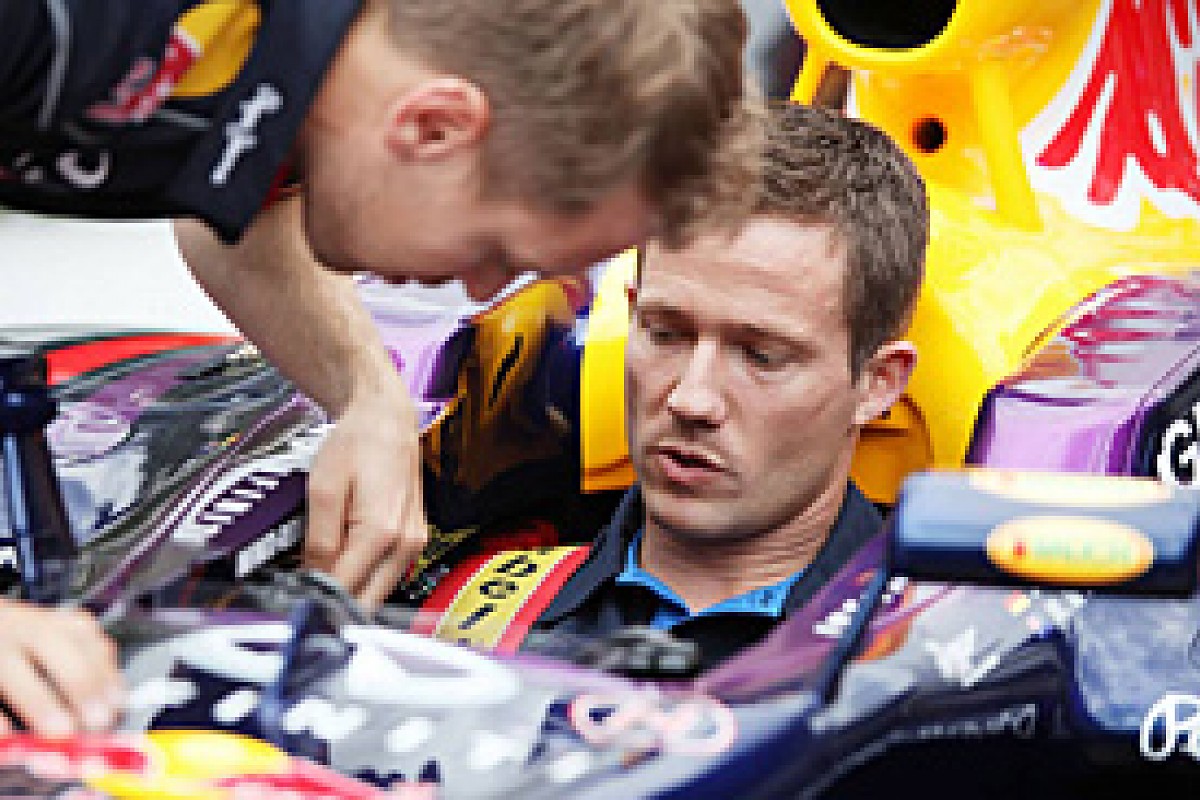 Ogier spent time with Vettel at Monaco © XPB
For years, Ogier and his dad had made the 150-mile journey south through the mountains to the sunshine and the seaside on a Thursday morning. Unable to afford race-day tickets, they came, stood, watched and dreamed. The practice session for Formula 1 was captivating. And a world away.
"How," thought, Ogier, "could I ever dream of racing around Monaco?"
Simple. He couldn't.
Especially when he took up rallying not racing.
Monaco gets to you though. It's that kind of place. Motor racing has no business on those streets. But it's there and for all of us, it's always been there. This is racing in its rawest form.
And Monaco got Ogier, to the point that he worked as a fire marshal for two years as he sought to further his relationship with - for one week only - the world's most iconic circuit.
And now this. Staring down the start/finish straight; belts tight, helmet tighter. And if the mind does start to wander, take a look in the rear-view mirror... there's Loeb. Both stars of world rallying had suffered horrible qualifying sessions, unable to find the space to string those corners together to get into the top half of the grid. That's Monaco. It's about making the best of it.
Lights on and there's still an element of doubt for Ogier - he's only ever done one practice start in the Team Allyouneed Project 1 911 GT3. And if he gets this one wrong, there's another French Seb ready to pounce.
Lights out. Start done. Sainte Devote's coming and coming quickly. And the good news is that Ogier had already passed one Porsche on the run into the right-hander.
But Loeb's still nailed to his bumper. The nine-time world champion was close enough to give his namesake a nudge, but he doesn't - Loeb's far to fair for that. And anyway, he's had to deal with somebody clouting his Martini car from the right. Loeb lines up a possible lunge at Loews, starting out wide, but gets shoved further up onto the kerb and into the wall. Another place gone. There's breathing space for Ogier, his mirrors are still GT3-full, but it's not the silver one he fears falling to the most.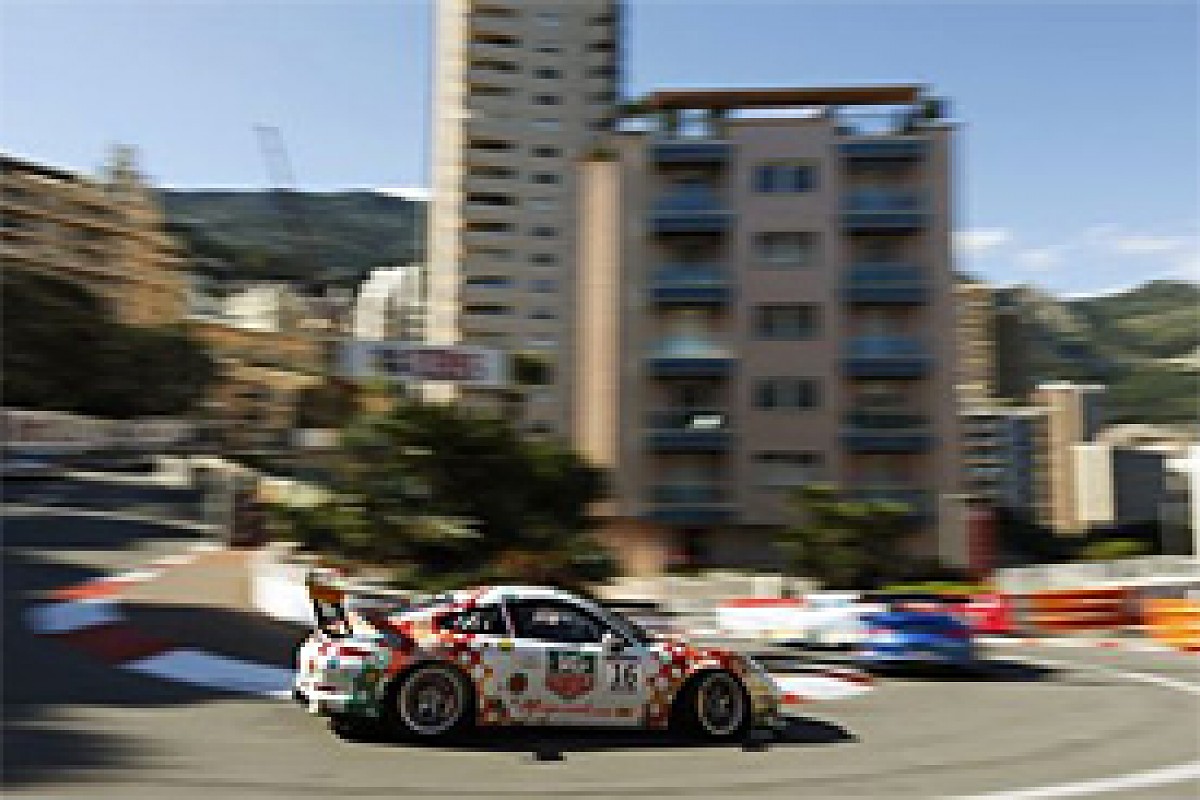 The WRC star finished the Porsche race in 13th place © LAT
And then, as is often the case with Monaco, the rest of the race is a procession. For us. Not for them. And certainly not for Ogier. He's living his dream. Gear after gear, he sends his six cylinders up the hill towards Massenet with a smile on his face. He's here, he's doing it.
And then it's done.
The result always matters to Ogier and this one's a double-edged sword. He's 12 places lower than he's used to being at the finish, but he's three places and 11 seconds up on Loeb. And that's a result in itself for the man from the mountains.
Beyond the result, Ogier's done himself a lot of good as well. He's opened himself up, shown another side to his character and his personality.
He stepped far from his comfort zone and put himself in the spotlight alongside Loeb, a far, far more experienced racer. And he did so successfully and with dignity.
Ogier's often castigated for a conceited and arrogant approach in rallying. But last weekend, humility was all we could find.
Personally, I like Ogier's approach to his day job. He's the best, he knows he's the best and it's up to the rest of the world to put him down. There's a lot to be said for the predictable, soundbite-driven approach, but when sport's brought to the base level, talking the talk in the Cassius Clay way works every time.
Having floated, butterfly-like, through the streets of Monaco last weekend, expect him to sting like a bee on his world rally return in Greece this weekend.
Having taken the obvious Ali quote, here's an analogy with another favourite. Ali said: "I'm so fast, I turned off the light in my bedroom and I was in bed before it went dark."
Ogier's faster. Even than that.
And one of us as well. The only difference being that he's lived his dream with his eyes open. For the rest of us, catching that slide through the swimming pool section is still done with our eyes shut.
But now, it's back to the day job for Ogier. Back to winning that first world title.
OK, time for one more Ali line. And, if this week's Acropolis pans out the way the rest of the year has (save for Loeb wins in Monte and Argentina) so far, Ogier can deliver this one at the end of day one proper on Saturday night (Acropolis starts Friday night, remember).
"Get up sucker. Get up and fight..."