We won! OK, it wasn't Chris [Patterson, co-driver] and I who won, but Jari-Matti [Latvala] and Miikka [Anttila, co-driver] did. Fantastic! What a fantastic feeling in the team. You know, to hear the boys - and girls - cheer again, for the first time in too many rallies was so special.
And this really was a big team effort from everybody at Ford World Rally. It would have been easy for people to let their heads drop, to let the lack of wins get them down, but they didn't. As a leader, Malcolm Wilson is fantastic. Let me tell you, he is the most motivated man in all of the sport. He never stopped believing and kept driving his team on - we all learn from Malcolm.
Gerard [Quinn] is another with exactly the same principles. And, of course, you know that I am the same. When I set up my own team, our catchphrases were: 'Never give up' and 'This is my life' and, believe me, it is and I won't.
Sitting here typing these words just hours after spraying champagne all over Jari-Matti, the feeling is still great - you get a fantastic tingle when you win with a team. But when you pull on your crash helmet, you are also doing your best as a driver and as a driver you always want to win. I desperately wanted to win Rally GB last weekend.
I love the rally, the roads and the people. I always have such a good reception from all you British rally fans out there, so much so that this really feels like a home event for me. And Chris and I arrived in Cardiff with real confidence. I know I have said this before this season, but this time it was absolutely for real. The car was amazing. And it truly felt like my car. I felt totally comfortable, like pulling on the old slippers, like you say in Britain. Except that's not such a good way to describe it: my Fiesta RS WRC isn't a pair of old slippers, it's a pair of David Beckham's football boots. And I felt like he does, just as he steps up to take one of his fancy freekicks.
Solberg felt at home in Rally GB © LAT
We had done a really good pre-event test up in Greystoke and we had genuinely found something with the rear suspension. Of course, we can't change the homologation on the car, so it wasn't anything too much like a revolution with new parts, but we had found some new settings in the suspension. The first time I drove the car like this, it felt special. In the long corners, the car was holding the line, it wasn't sliding too much, no understeer flicking to oversteer, nothing. The car was calm in the middle of the corner.
When you have the car like this, you can really attack more and push harder - but with the car like this you are keeping neater and tidier. The result is that you are faster and using the tyres less. The tyre wear at the front of our car is usually better than on the Citroens, but this time it was really, really good.
The other reason I was on a high coming to Rally GB was because of my weekend before the rally. I was at the CarFest with Chris Evans from the radio. This was an amazing event. It was somewhere with a castle [Cholmondeley[ halfway between
Cumbria and Cardiff. I didn't know I was going until quite late the week before and I really didn't know too much about what to expect. I have to be honest, as well, I didn't really know much about Chris Evans - we don't hear much from Radio 2 in Norway! I went on his show a couple of days before the event started and I could hear his enthusiasm; a man who had a lot of excitement about cars. I thought: "OK, here is a guy I can work with!"
And then when I got there, it was brilliant. The tyre wear on the Fiesta RS WRC was terrible that day, though - mainly because I was doing so many donuts! I couldn't help it. The more I went around in circles, the louder people cheered. In fact I seemed to spend the weekend going around in circles!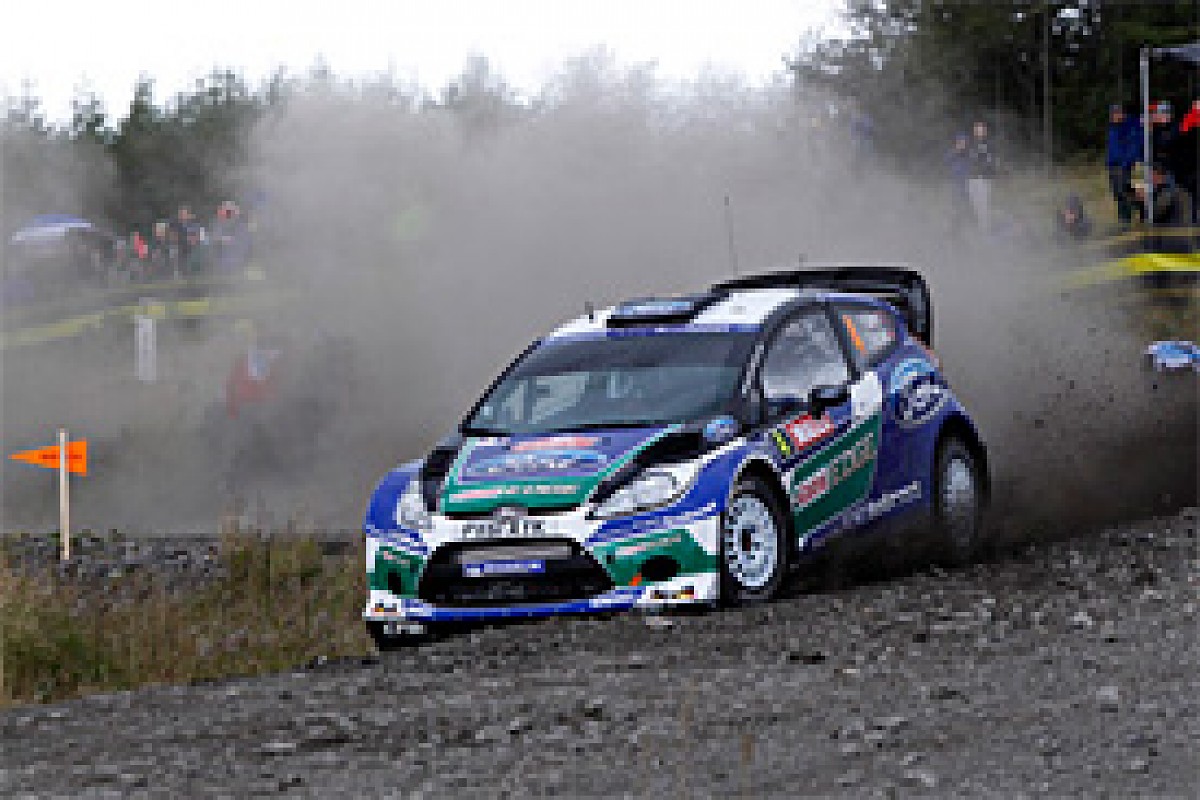 Solberg kept up with Latvala early on © LAT
Then when I came out of the car, I was commentating about the other cars - I really enjoyed that as well. I have to say, though, I have some more admiration for what Colin [Clark] and Becs [Williams] and the guys from WRC Live do. When I hear them on the radio talking about the WRC, I think it sounds easy, I'm not so sure now.
The real treat at the end of the event was to give Nick Mason a ride in the car. That was really cool. He's a great guy and another man who loves cars - we all had a lot in common at CarFest.
I will be back to that event again next year, for sure.
And the great week continued when we got to Cardiff: fastest in the first two stages. Everything was going to plan. We'd just missed fastest time at qualifying by something crazy like five hundredths of a second, but this was OK. The rain had come for us as we sat on the startline, so I knew we could have beaten [Sebastien] Loeb in there, but at the same time it was quite good to know where he was going to run on the road.
After those first two stages, it was looking good. And I was very, very happy. I hadn't gone mad to make those times, it was the feeling in the car that was helping us to do what we were doing. But then in Myherin, I relaxed a little bit too much. Actually, not relaxed, I took the wrong split times. I was watching the split times of Loeb. I saw we were two seconds away and thought: "OK, that's not so bad, I know where that time is." But then Jari-Matti came with the real time. And he took the lead.
We kept right in touch with him through the next stages, but then we dropped more time on Saturday morning. I thought it would rain - there had been some rain overnight - and I wanted the car soft to give good traction. But it was much drier than I thought it would be and we missed some of the precision you would get from a stiffer car. We dropped more time. Maybe now Jari-Matti had gone and we were now right in the middle of a big fight with Loeb.
That fight with Seb carried on until the final stage. He had taken me, then I passed him again - it was a really, really big fight.
Going into the final stage there was a tenth of a second between us and the tension was amazing at the start. We didn't look at each other or anything, I tried to talk, but there was nothing to say really. I hit a bank a little bit in the stage and, with that small mistake, he took us.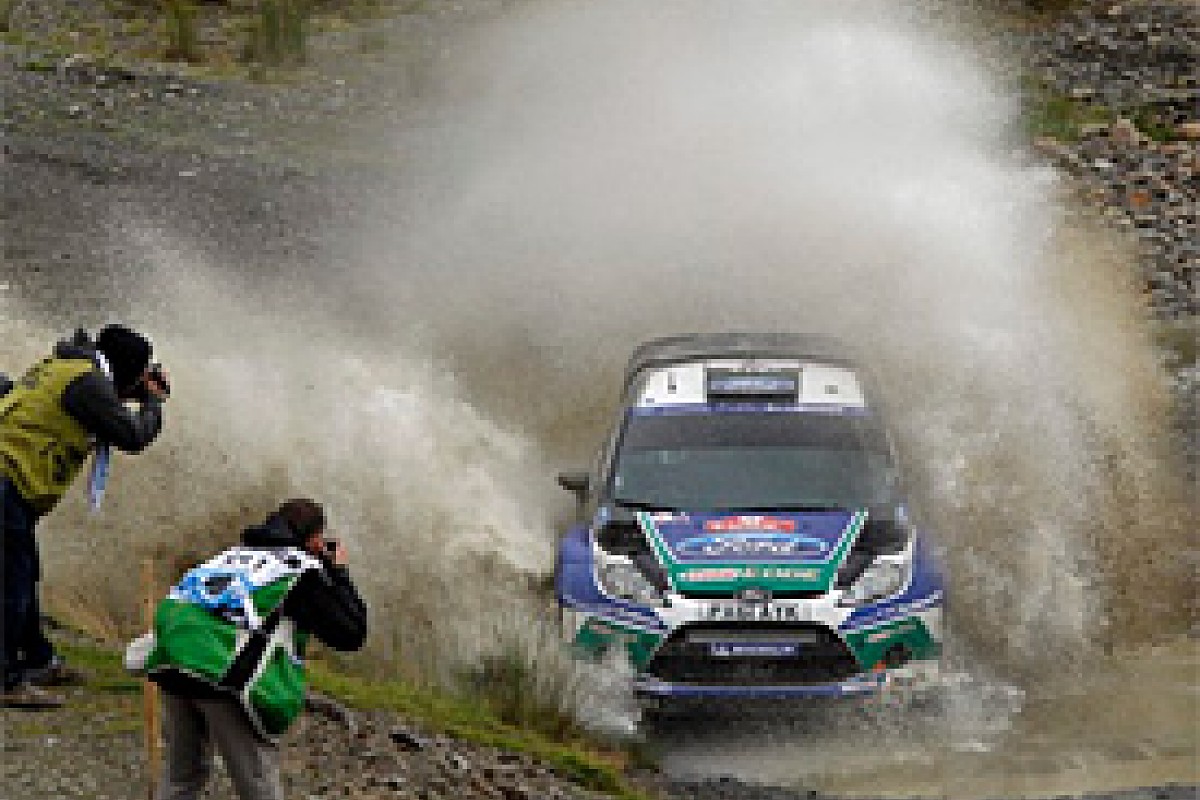 In the end Solberg lost out to Loeb © LAT
I have to be honest, through the morning I was thinking a little bit about an afternoon in Greece this summer. That afternoon, I made a mistake and had to go and tell Malcolm what had happened. That wasn't such a nice feeling and I didn't want to make the same conversation again. Two Fords on the podium in Cardiff was more important than me risking any kind of glory to try to take second.
Don't get me wrong, I'm not being cocky and saying we gave second place to Loeb - we pushed like hell. But we were not super-crazy. For us, we have to take this speed and show what we can do in France. Having got back up onto the top step of the podium, the Ford World Rally Team is quite keen to stay there...