Marcus Gronholm may have lost his world champion's mantle to Richard Burns, but he did so in style, romping to a runaway victory in the muddy Welsh forests for Peugeot.
There is a fine line between the edge and going over it. All four World Rally Championship contenders knew they had to push hard; three of them found the limit the hard way. Richard Burns said the champion would be the man still on the road after three days of flat-out competition. Somehow he managed it, under the biggest pressure he has known in his life. The relief was like letting a champagne cork out of the bottle. Burns took third place in Britain to clinch the series with the lowest ever number of points. After the Safari Rally in July, he thought his title chances were ruined. Just four months later, he has a very special trophy to add to his collection.
LEG 1
Tommi Makinen looked ragged through the floodlit Cardiff SuperSpecial on Thursday night, won by Colin McRae.
Burns said he would take revenge in the forests and he was spectacularly right. On the very first stage, Makinen cut a left-hand corner that contained a rock. A bolt on the suspension snapped and the Mitsubishi's wheel came off instantly.
A reflective Makinen said: "I just feel very said to be leaving Mitsubishi like this. It was strange; just a normal left-hand corner. My new co-driver Kaj Lindstrom was doing well. The notes were perfect."
A charging McRae set fastest time to extend his lead over Marcus Gronholm and Didier Auriol. Burns was seven seconds behind in fourth.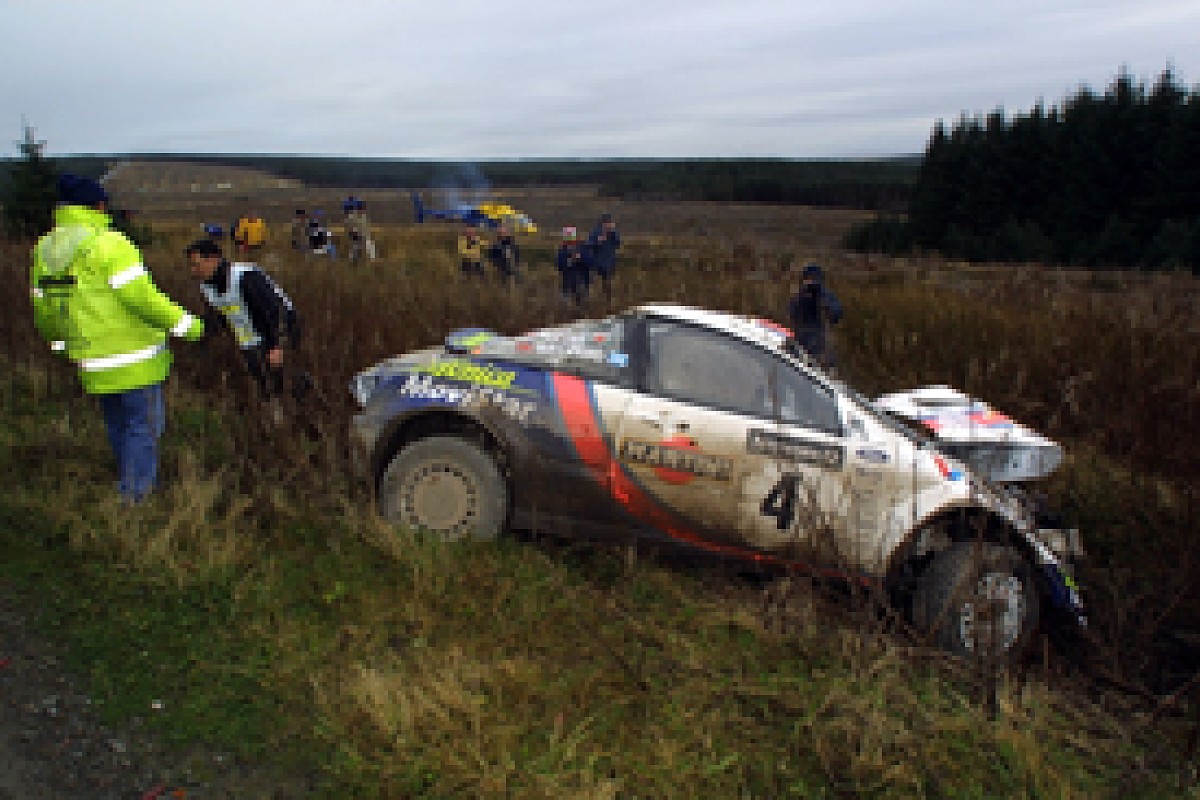 Colin McRae's title bid ended in a massive crash © LAT
Then came the bombshell. McRae rolled his Focus five times at 100mph on stage three, reducing the car to scrap metal.
Burns, now in third, still had to finish fourth or higher to clinch the title. Ford's dazed team boss Malcolm Wilson said: "Richard's still under pressure, but less than he had half an hour ago. As for the manufacturers' championship, it's all over."
McRae suffered blurred vision and was taken to hospital for a scan. "I made a mistake," he admitted. "We cut a right-hand corner and there was a hole which launched us into the air."
Burns said his first thought on seeing McRae's car was "that's a f***ing big one". But McRae's co-driver Nicky Grist, still somehow smiling, said it wasn't over yet. "Remember 1998 when Tommi won the title after Carlos [Sainz] went out on the last stage?" he said. "Anything can happen."
Sainz had a front brake failure after a pipe was cut following a puncture on the first stage of the day. He tried to fix it himself, but failed and collected 40s of road penalties for his trouble. On the final stage before service the rear brakes failed too. Sainz was not even able to stop at the stage finish.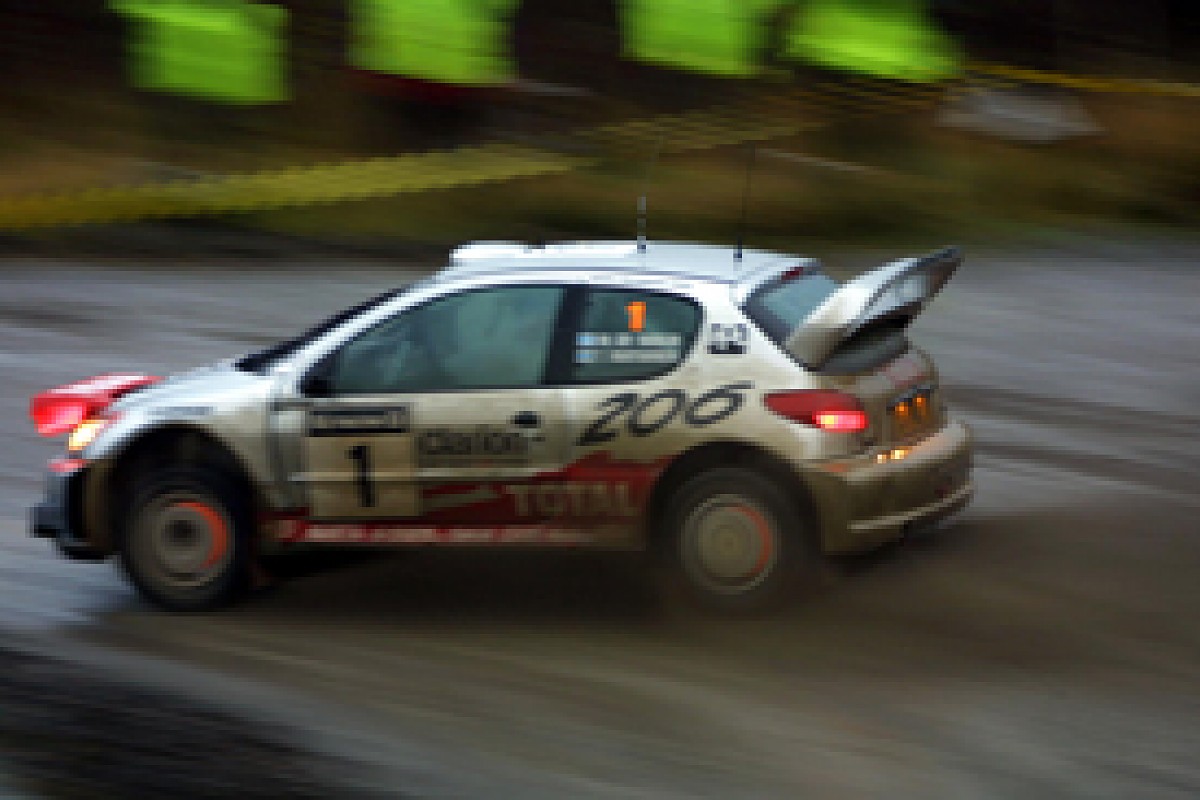 Gronholm pulled away at the front after McRae's exit © LAT
The pace-setter throughout the day, though, was Peugeot. Gronholm was quickest on five of the day's seven stages to open up a 36s lead by the end of the leg. "The car feels good," said the outgoing world champion. "We've got the same settings as in Australia, where we won. We're pushing hard without taking any risks."
The biggest surprise came from Auriol, on his last drive for Peugeot. The Frenchman dislikes the Rally Great Britain, but was up to second by SS4.
McRae's elimination promoted Burns to third, but Harri Rovanpera was right behind him in fourth. As Burns' co-driver Robert Reid pointed out, this would be a long two days.
One of the outstanding drives of the day came from Alister McRae in the Hyundai. The Scot set some eye-opening times to end the day sixth overall. "I've been pushing hard," he said. "But grip is so inconsistent that it's easy to make a mistake.
The final pair of stages were run in fog, which reduced visibility to 20 metres in places. It was also pitch-black - causing a problem for Reid when his map light failed. He had to strap a pocket torch to his thumb and call out the notes like that. "This little thing," he said, shining the torch playfully in peoples' eyes at final service, "saved our lives."
Burns said he had "absolutely no intention," of chasing Gronholm. But the Englishman was up to second overnight, when Auriol dropped to fourth with broken suspension after clouting something on the final stage. Auriol was lucky not to have an accident, as it broke on a fast corner. His team-mate Rovanpera set the fastest time to finish up third overnight.
Sainz also had problems after sliding off on the final stage. The fog was so thick that he couldn't work out how to get back on track. He dropped a minute, but that was still enough for him to return to Cardiff fifth, ahead of Alister McRae.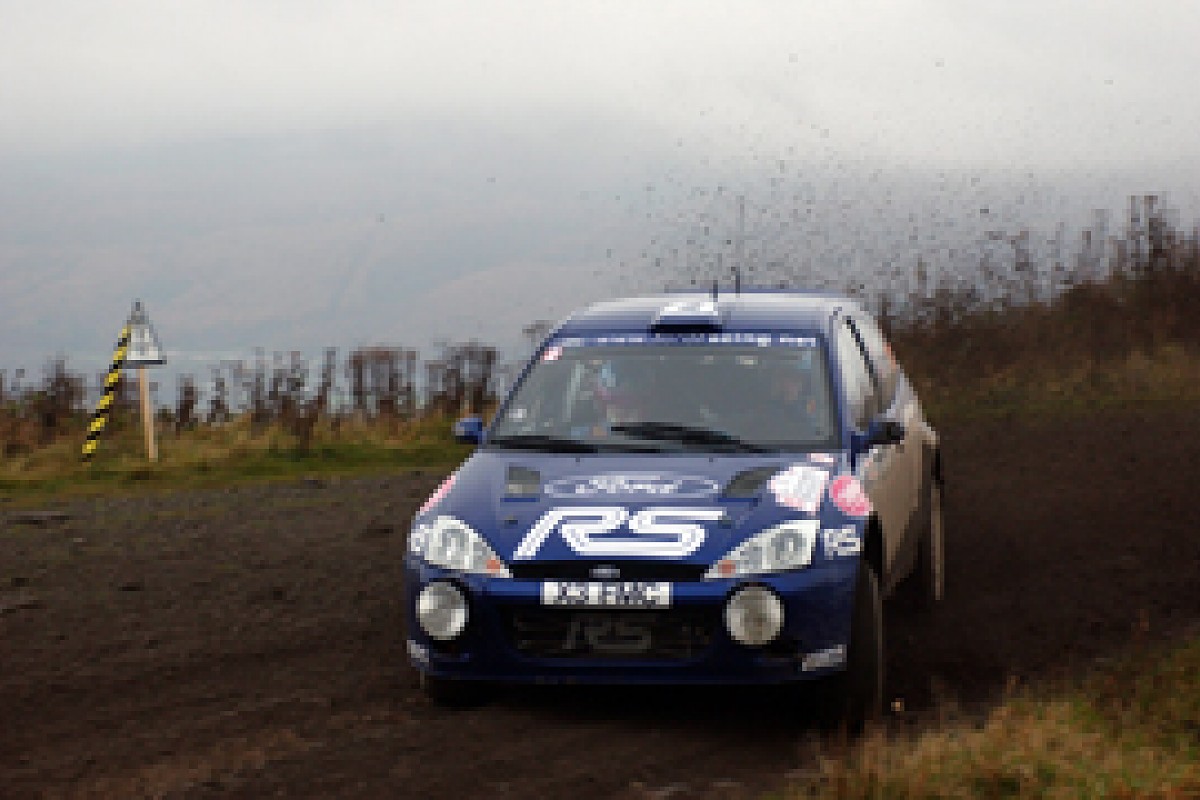 Mark Higgins impressed on a rare outing in the WRC's top class © LAT
Mark Higgins was in seventh after his first day at work in a Focus WRC. "I was driving like an old woman at first," he said. "But my confidence grew in the afternoon and I'm very pleased.
Armin Schwarz in the Skoda, Kenneth Eriksson in the Hyundai and Freddy Loix in the Mitsubishi rounded out the top 10; the Belgian suffering from a lack of boost and differential pressure. Neil Wearden was 11th on his first run in a privateer Subaru. With the exception of Burns, Subaru had a disastrous opening leg; Petter Solberg retured with fuel pressure problems on SS2, while Markko Martin stopped with a failed ECU on SS5. Also on the retirements list was Piero Liatti, whose Hyundai's clutch failed on SS2, and local hero Gwyndaf Evans, who rolled his SEAT on SS7.
LEG 2
It was still dark when Burns went down to collect his Subaru at 7am, but his mood was even blacker when the Impreza refused to fire up. Fighting the rising panic, Burns pushed the car out of parc ferme and changed the spark plugs. The noise of the engine roaring into life must have sounded sweeter than a choir of angels.
"Not a pleasant start to the morning," he said before tackling a soggy Resolfen - at 28.9 miles, the longest stage of the rally.
Gronholm was again quickest, the gangly Finn unfeasibly relaxed. He watched television during the regroup and said that he really wasn't pushing too hard. Rovanpera was next quickest ahead of Sainz and Burns, but Auriol overstepped the limit. The Frenchman missed a braking point for a 90-degree corner and slithered into a ditch. By the time some spectators had manhandled him out of it, three minutes had passed and Auriol had dropped to 10th.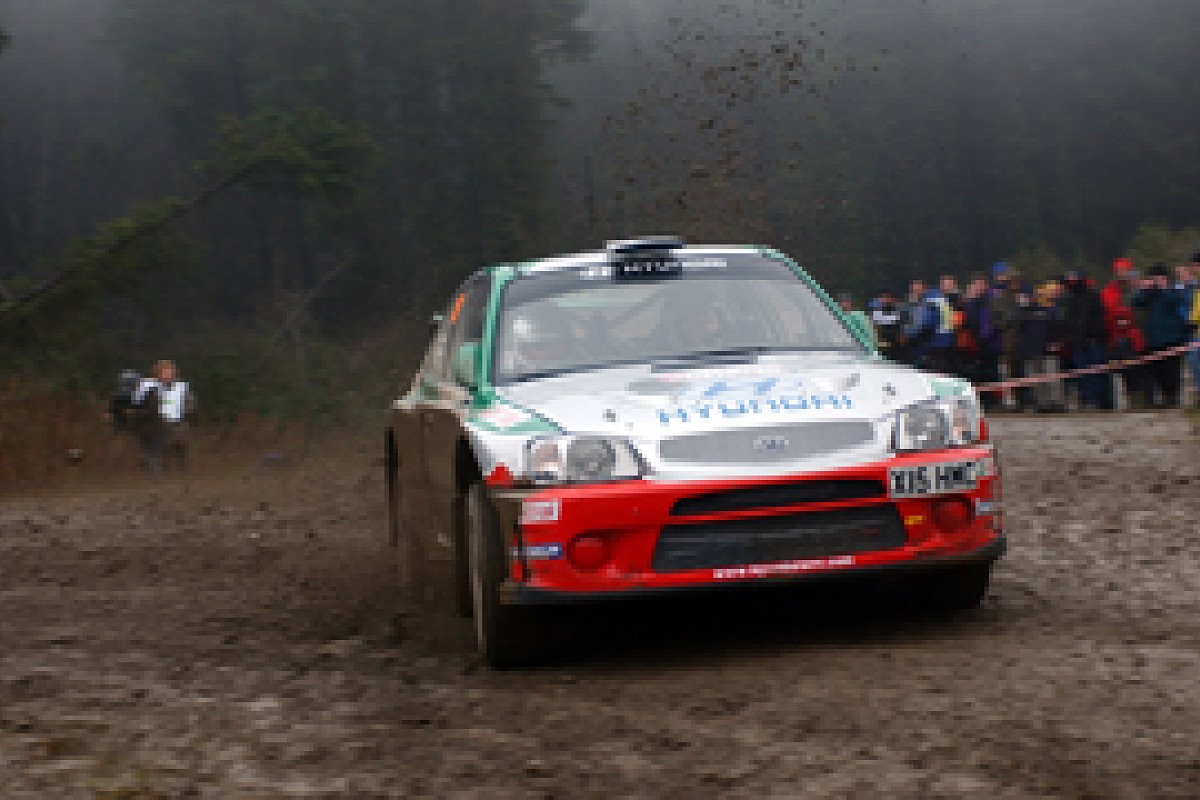 Alister McRae produced heroics in the Hyundai © LAT
This moved Sainz up to fourth and Alister McRae up to fifth. The Scot could probably have set fastest time if his front differential had been working. The problem almost certainly cost more than the 30s by which he was slower than Gronholm. "It's pretty amazing," said his co-driver David Senior. "Who needs front diffs? Actually, we do."
Higgins lost fourth and fifth gears on the stage, allowing Schwarz and Eriksson past him. But the three of them were still only separated by 15s heading into Margam.
Eriksson made a bad tyre choice on the stage, which dropped him further back from Schwarz.
But Schwarz was having to work hard, whereas Gronholm made it look easy. "My only regret is that Colin is not here, so that I could fight properly with him and Richard," said the Finn. "I still think I could be in front, but it would have been nice to know for sure."
Burns was still punching in times metronomically, while Gronholm extended his advantage to more than a minute. After the opening stage of the day, Rovanpera had closed to within 2s of Burns, but the Briton did enough on the next stage to give himself a 16s breathing space over the Peugeot driver. He admitted he had started to think about the title, but it probably made him more focused.
"I'm half-thinking of it, half not," he said. "I know what I have to do and that's the objective."
Higgins fought back after a gearbox change and passed Eriksson for seventh in Margam. Sainz, too, was pushing hard, and closed to within 1m30s of Rovanpera, who bent his steering on a rock.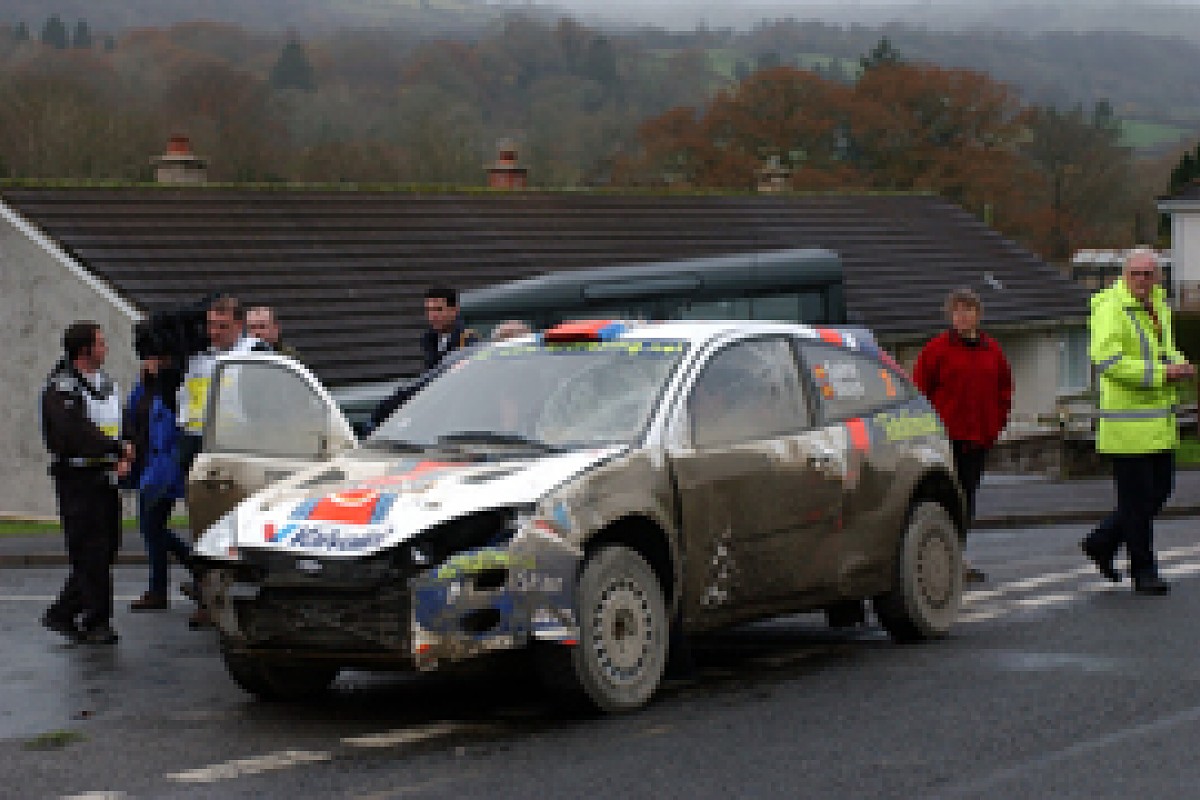 Sainz's crash left spectators injured © LAT
But Sainz was out on the following stage, Brechfa, when he crashed two thirds of the way in on a slippery corner, injuring 13 spectators. The stage was stopped and ambulances sent in. Ford then decided to withdraw Sainz and Higgins - a pity for the Manxman, who had moved up to fifth place.
As so much time had been lost, SS12 was cancelled too, and the cars proceeded straight to service and then the SuperSpecial.
The 1.5-mile blast was won by Alister McRae, but Burns was thinking only of the championship. He ended the leg a whole 1m30s behind Gronholm and with only a 9s advantage over Rovanpera.
"We kept our concentration with a sustained speed," said Burns. "But the double usage of stages tomorrow will make it difficult."
Not as difficult as it had been for Loix, though. The Mitsubishi driver struggled with gearbox problems all day, which eventually proved terminal. Wearden was another retiree, ending an impressive run by breaking his steering against a wall in Margam.
LEG 3
Subaru's sporting director George Donaldson summed it up as follows: "Since Colin and Tommi went out on Friday, we've been doing a rally that feels like the old London to Mexico. Each leg seems like 500 miles."
The weather took a turn for the worse, with dank cloud, driving rain and patchy fog making conditions as swamp-like as they have ever been. "It's back to the bad old days of the RAC!" joked Gronholm after the first two stages. Rhelola and Rhondda 2. Many drivers feared that the reuse of stages would cut them up badly, but Gronholm estimated that only about 10 per cent of Rhondda 2 was really bad.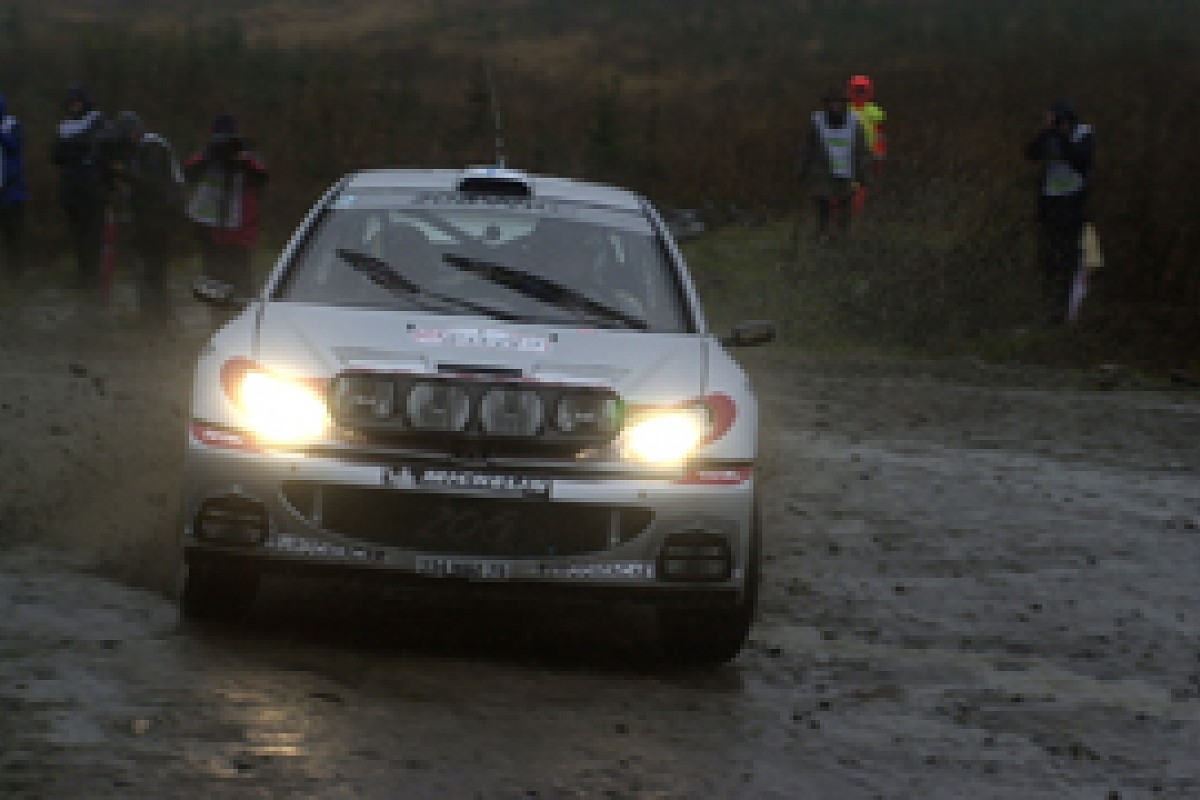 Gronholm pushes on in typical Welsh conditions © LAT
Not that it stopped him setting fastest time there, although he was beaten by his team-mate Rovanpera over the first stage.
It was enough to put Rovanpera ahead of Burns in the overall classification, who said he was driving hyper-cautiously. Burns didn't comment much beyond that at service, but if the nerves were getting to him, it didn't really show. He rushed into his motorhome to think for a while and shelter from the rain.
Reports of worsening weather must have set his mind racing. In just three hours, the nightmare would be over. He had a 3m30s cushion now to Alister McRae in fourth, but the Hyundai driver had problems of his own. His windscreen wipers had stopped and he improvised a temporary repair for the second stage by tying a length of electric flex around the stem for his co-driver Senior to operate manually. He still set top 10 times on both stages and, although the wipers were fixed at service, he had managed to maintain nearly a minute's lead over Schwarz.
"I'm just trying to keep Kenneth behind - that's my motivation," said the Skoda driver. Eriksson managed to set faster times than his Hyundai rival all day, helped by what had been one of Skoda's most reliable runs of the year.
Burns was sixth quickest through the slime of Rheola 2, the penultimate stage of the rally, and heading into the final test he said he was "beginning to enjoy the moment."
But the final stage was none other than Margam Park, the scene of Sainz's championship heartbreak in 1998. "I'm trying not to get too excited," said Burns wryly, but already some of the tension was beginning to disappear from his face.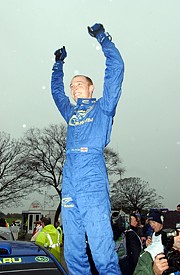 Burns celebrates his crowning moment © LAT
Sixth fastest time would do nicely, thank you, and then he really had to believe it - the world championship was his.
"I just don't know what to day," was his first comment at the stop board in Margam. "This means more..." England's first World Rally champion was too choked to carry on.
Typically, Gronholm's first reaction was to congratulate the man who had stolen his crown away. "Richard deserves it," said the Finn. "For me it was quite an easy rally - not pushing 110 per cent. But for him, it must have been quite nervous - just like it was for me last year."
Rovanpera came home in second, despite a spin in the morning, ahead of Burns, with Alister McRae in fourth, then Schwarz and Eriksson. Auriol was seventh, ahead of the other Skoda of Bruno Thiry. The Skodas' combined efforts were enough to boost them ahead of Hyundai in the final championship standings, but the manufacturers' title went to Peugeot for a second season running, following Ford's withdrawal.
Group N was won by the Subaru of David Higgins after a thrilling final day charge during which he overhauled the Mitsubishi of Ramon Ferreyros by just 3s. Alistair Ginley was third in another Mitsubishi, while Super 1600 - and the Junior World Rally Championship - was won by Sebastien Loeb.
The pun was inevitable, but as the commentator on the victory ramp proclaimed, November 25 was Burns' night. "In the end we chose the right tactics and kept the car on the road," said the champagne-soaked Burns after the event. "There were moments of huge pressure, particularly the first three stages, fighting with Colin."
So had McRae called to congratulate the new champion? Cue a big Burns grin. "Not yet, no."