Toyota led the way during the first free practice sessions for this weekend's Fuji round of the World Endurance Championship.
The #8 Toyota TS050 HYBRID ended up fastest in both 90-minute practice periods on Friday despite penalties under the new system of success handicaps designed to slow it by one second a lap.
Kazuki Nakajima set the best time of the day on a simulated qualifying run at the beginning of the second session with a 1m26.623s, which eclipsed Sebastien Buemi's 1m27.373s in the morning by seven tenths of a second.
The second Toyota, which has been slowed by a theoretical 1.4s under the system of handicaps, took third place in the first session with a 1m27.790s with Kamui Kobayashi at the wheel.
The #7 TS050 did not do a qualification simulation in the afternoon and ended up fifth and the last LMP1 car in the times in session two with a 1m28.171s from Mike Conway.
Kobayashi's session one time put the car fourth in the combined times across the day.
The car spent the final part of the session in the pits after sustaining damage to the underfloor in an off-track excursion from Jose Maria Lopez.
The Rebellion Racing ended up second in both sessions with its solo entry.
Norman Nato set the fastest time in the #1 Rebellion-Gibson R-13s in both sessions, ending up with a 1m27.042s set in the afternoon.
Fastest Ginetta in both sessions was the #5 entry in which Egor Orudzhev posted a 1m27.602s in the quicker afternoon session to take third position overall ahead of the second Toyota.
The second of the Ginettas was the slowest LMP1 across the two sessions with a 1m28.062s from Charlie Robertson.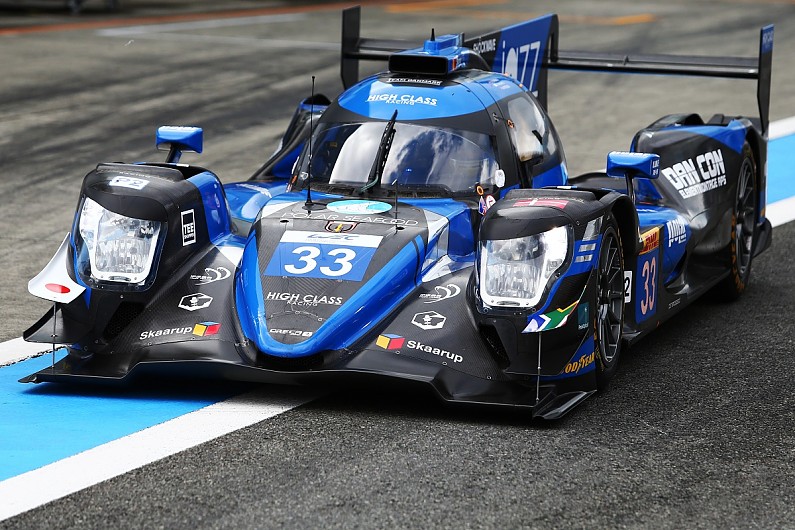 The LMP2 pace was set by Kenta Yamashita in the High Class Racing ORECA-Gibson 07.
His 1m29.624s from the opening session was almost matched by Anthony Davidson's second practice best of 1m29.633s aboard the Jota Sport ORECA.
Third fastest in class over the two sessions was the United Autosports ORECA on a 1m30.205s from Phil Hanson.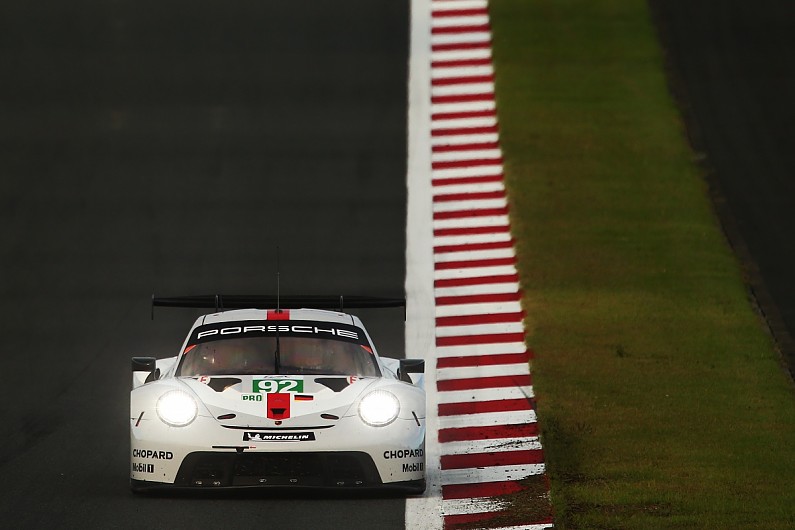 Porsche topped the GTE Pro times in both practice periods, the two factory 911 RSRs ending up fastest in one session each.
Michael Christensen's 1m38.214s from practice two was the fastest time of the day.
That put him just four hundredths up on James Calado's 1m38.252s, also from session two, in the best of the AF Corse Ferrari 488 GTEs.
Gianmaria Bruni was fastest in the morning session on 1m38.315s, which team-mate Richard Lietz exactly matched to take third place on the timesheets in the afternoon.
The best of the Aston Martin Vantage GTEs took fourth spot with a 1m38.451s from Maxime Martin in the second session.
Charlie Eastwood was quickest in GTE Am with a 1m38.719s set aboard the TF Sport Aston in FP2.
Practice one times
| Pos | Class | Driver | Team | Car | Time | Gap | Laps |
| --- | --- | --- | --- | --- | --- | --- | --- |
| 1 | LMP1 | S.Buemi, K.Nakajima, B.Hartley | Toyota Gazoo Racing | Toyota | 1m27.373s | - | 49 |
| 2 | LMP1 | B.Senna, G.Menezes, N.Nato | Rebellion Racing | Rebellion/Gibson | 1m27.659s | 0.286s | 41 |
| 3 | LMP1 | M.Conway, K.Kobayashi, J.M.Lopez | Toyota Gazoo Racing | Toyota | 1m27.790s | 0.417s | 24 |
| 4 | LMP1 | L.Ghiotto, B.Hanley, E.Orudzhev | Team LNT | Ginetta/AER | 1m28.449s | 1.076s | 7 |
| 5 | LMP1 | C.Robertson, M.Simpson, G.Smith | Team LNT | Ginetta/AER | 1m28.712s | 1.339s | 8 |
| 6 | LMP2 | M.Patterson, K.Yamashita, A.Fjordbach | High Class Racing | ORECA/Gibson | 1m29.624s | 2.251s | 34 |
| 7 | LMP2 | F.van Eerd, G.van der Garde, N.de Vries | Racing Team Nederland | ORECA/Gibson | 1m30.382s | 3.009s | 49 |
| 8 | LMP2 | N.Lapierre, A.Borga, A.Coigny | COOL Racing | ORECA/Gibson | 1m30.814s | 3.441s | 39 |
| 9 | LMP2 | T.Laurent, A.Negrao, P.Ragues | Signatech Alpine Elf | Alpine/Gibson | 1m31.025s | 3.652s | 39 |
| 10 | LMP2 | R.Gonzalez, A.F.da Costa, A.Davidson | JOTA | ORECA/Gibson | 1m31.141s | 3.768s | 45 |
| 11 | LMP2 | P.Hanson, F.Albuquerque, O.Jarvis | United Autosports | ORECA/Gibson | 1m31.398s | 4.025s | 34 |
| 12 | LMP2 | H-Pin Tung, G.Aubry, W.Stevens | Jackie Chan DC Racing | ORECA/Gibson | 1m31.805s | 4.432s | 40 |
| 13 | LMP2 | R.Lacorte, A.Belicchi, G.Sernagiotto | Cetilar Racing | Dallara/Gibson | 1m32.491s | 5.118s | 34 |
| 14 | GTE Pro | G.Bruni, R.Lietz | Porsche GT Team | Porsche | 1m38.315s | 10.942s | 38 |
| 15 | GTE Pro | M.Christensen, K.Estre | Porsche GT Team | Porsche | 1m38.419s | 11.046s | 38 |
| 16 | GTE Pro | D.Rigon, M.Molina | AF Corse | Ferrari | 1m38.707s | 11.334s | 41 |
| 17 | GTE Pro | M.Sorensen, N.Thiim | Aston Martin Racing | Aston Martin | 1m38.738s | 11.365s | 50 |
| 18 | GTE Pro | J.Calado, A.P.Guidi | AF Corse | Ferrari | 1m38.825s | 11.452s | 40 |
| 19 | GTE Am | S.Yoluc, C.Eastwood, J.Adam | TF Sport | Aston Martin | 1m39.010s | 11.637s | 43 |
| 20 | GTE Am | M.Ishikawa, O.Beretta, K.Cozzolino | MR Racing | Ferrari | 1m39.039s | 11.666s | 42 |
| 21 | GTE Pro | A.Lynn, M.Martin | Aston Martin Racing | Aston Martin | 1m39.069s | 11.696s | 47 |
| 22 | GTE Am | M.Wainwright, A.Watson, B.Barker | Gulf Racing | Porsche | 1m39.351s | 11.978s | 46 |
| 23 | GTE Am | E.Perfetti, D.H.Hansson, M.Cairoli | Team Project 1 | Porsche | 1m39.542s | 12.169s | 37 |
| 24 | GTE Am | S.Hoshino, A.De Leener, T.Preining | Dempsey-Proton Racing | Porsche | 1m39.576s | 12.203s | 44 |
| 25 | GTE Am | C.Ried, R.Pera, M.Campbell | Dempsey-Proton Racing | Porsche | 1m39.616s | 12.243s | 40 |
| 26 | GTE Am | T.Flohr, F.Castellacci, G.Fisichella | AF Corse | Ferrari | 1m39.618s | 12.245s | 45 |
| 27 | GTE Am | F.Perrodo, E.Collard, N.Nielsen | AF Corse | Ferrari | 1m39.663s | 12.290s | 42 |
| 28 | GTE Am | P.D.Lana, D.Turner, R.Gunn | Aston Martin Racing | Aston Martin | 1m39.761s | 12.388s | 47 |
| 29 | GTE Am | B.Keating, F.Fraga, J.Bleekemolen | Team Project 1 | Porsche | 1m39.942s | 12.569s | 43 |
| 30 | GTE Am | B.Grimes, J.Mowlem, C.Hollings | Red River Sport | Ferrari | 1m40.678s | 13.305s | 35 |
Practice two times
| Pos | Class | Driver | Team | Car | Time | Gap | Laps |
| --- | --- | --- | --- | --- | --- | --- | --- |
| 1 | LMP1 | S.Buemi, K.Nakajima, B.Hartley | Toyota Gazoo Racing | Toyota | 1m25.623s | - | 49 |
| 2 | LMP1 | B.Senna, G.Menezes, N.Nato | Rebellion Racing | Rebellion/Gibson | 1m27.042s | 1.419s | 42 |
| 3 | LMP1 | L.Ghiotto, B.Hanley, E.Orudzhev | Team LNT | Ginetta/AER | 1m27.602s | 1.979s | 30 |
| 4 | LMP1 | C.Robertson, M.Simpson, G.Smith | Team LNT | Ginetta/AER | 1m28.062s | 2.439s | 23 |
| 5 | LMP1 | M.Conway, K.Kobayashi, J.M.Lopez | Toyota Gazoo Racing | Toyota | 1m28.171s | 2.548s | 34 |
| 6 | LMP2 | R.Gonzalez, A.F.da Costa, A.Davidson | JOTA | ORECA/Gibson | 1m29.633s | 4.010s | 50 |
| 7 | LMP2 | M.Patterson, K.Yamashita, A.Fjordbach | High Class Racing | ORECA/Gibson | 1m30.163s | 4.540s | 37 |
| 8 | LMP2 | P.Hanson, F.Albuquerque, O.Jarvis | United Autosports | ORECA/Gibson | 1m30.205s | 4.582s | 39 |
| 9 | LMP2 | N.Lapierre, A.Borga, A.Coigny | COOL Racing | ORECA/Gibson | 1m30.346s | 4.723s | 48 |
| 10 | LMP2 | F.van Eerd, G.van der Garde, N.de Vries | Racing Team Nederland | ORECA/Gibson | 1m30.462s | 4.839s | 49 |
| 11 | LMP2 | T.Laurent, A.Negrao, P.Ragues | Signatech Alpine Elf | Alpine/Gibson | 1m30.833s | 5.210s | 42 |
| 12 | LMP2 | H-Pin Tung, G.Aubry, W.Stevens | Jackie Chan DC Racing | ORECA/Gibson | 1m31.118s | 5.495s | 51 |
| 13 | LMP2 | R.Lacorte, A.Belicchi, G.Sernagiotto | Cetilar Racing | Dallara/Gibson | 1m31.836s | 6.213s | 37 |
| 14 | GTE Pro | M.Christensen, K.Estre | Porsche GT Team | Porsche | 1m38.214s | 12.591s | 46 |
| 15 | GTE Pro | J.Calado, A.P.Guidi | AF Corse | Ferrari | 1m38.252s | 12.629s | 49 |
| 16 | GTE Pro | G.Bruni, R.Lietz | Porsche GT Team | Porsche | 1m38.315s | 12.692s | 49 |
| 17 | GTE Pro | A.Lynn, M.Martin | Aston Martin Racing | Aston Martin | 1m38.451s | 12.828s | 49 |
| 18 | GTE Am | S.Yoluc, C.Eastwood, J.Adam | TF Sport | Aston Martin | 1m38.719s | 13.096s | 46 |
| 19 | GTE Pro | M.Sorensen, N.Thiim | Aston Martin Racing | Aston Martin | 1m38.728s | 13.105s | 48 |
| 20 | GTE Pro | D.Rigon, M.Molina | AF Corse | Ferrari | 1m38.909s | 13.286s | 40 |
| 21 | GTE Am | E.Perfetti, D.H.Hansson, M.Cairoli | Team Project 1 | Porsche | 1m38.916s | 13.293s | 41 |
| 22 | GTE Am | P.D.Lana, D.Turner, R.Gunn | Aston Martin Racing | Aston Martin | 1m38.949s | 13.326s | 47 |
| 23 | GTE Am | T.Flohr, F.Castellacci, G.Fisichella | AF Corse | Ferrari | 1m38.953s | 13.330s | 48 |
| 24 | GTE Am | S.Hoshino, A.De Leener, T.Preining | Dempsey-Proton Racing | Porsche | 1m39.051s | 13.428s | 45 |
| 25 | GTE Am | C.Ried, R.Pera, M.Campbell | Dempsey-Proton Racing | Porsche | 1m39.071s | 13.448s | 49 |
| 26 | GTE Am | B.Keating, F.Fraga, J.Bleekemolen | Team Project 1 | Porsche | 1m39.127s | 13.504s | 45 |
| 27 | GTE Am | F.Perrodo, E.Collard, N.Nielsen | AF Corse | Ferrari | 1m39.337s | 13.714s | 46 |
| 28 | GTE Am | M.Ishikawa, O.Beretta, K.Cozzolino | MR Racing | Ferrari | 1m39.405s | 13.782s | 47 |
| 29 | GTE Am | M.Wainwright, A.Watson, B.Barker | Gulf Racing | Porsche | 1m39.676s | 14.053s | 41 |
| 30 | GTE Am | B.Grimes, J.Mowlem, C.Hollings | Red River Sport | Ferrari | 1m40.512s | 14.889s | 48 |