The Keating Motorsports team that was stripped of its GTE Am class win in the Le Mans 24 Hours "should've built in a little more margin" admits driver Jeroen Bleekemolen.
Along with owner-driver Ben Keating and Felipe Fraga, Bleekemolen had helped seal class honours for the Wynn's-liveried Ford, seeing off a late challenge from the Project 1 Porsche that was handed victory after the Keating car was excluded.
Scrutineers found post-race that the #85 machine had a fuel tank capacity that was 0.1 litres larger than the maximum allowed by the GTE Am Balance of Performance, as well as a refuelling time that was 0.6 seconds quicker than the prescribed 45 seconds.
Bleekemolen told Autosport: "The rules are well known, everyone knows that a fuel tank can have a certain capacity. One brand consumes more than another, the other refuels faster.
"With a Balance of Performance they try to equalise everything so that everyone takes the same amount of time to complete a fuel stop.
"We know these rules but of course we try to push the boundaries. You want to refuel as fast as possible but legally. The team checked several times that everything was according to the rules.
"During the race the components can change marginally due to temperature and pressure and that's what we were caught for. We had no advantage, but that's not the point.
"The rule is there and they have to draw a line somewhere. And looking back, perhaps we should have built in a little more margin as a team."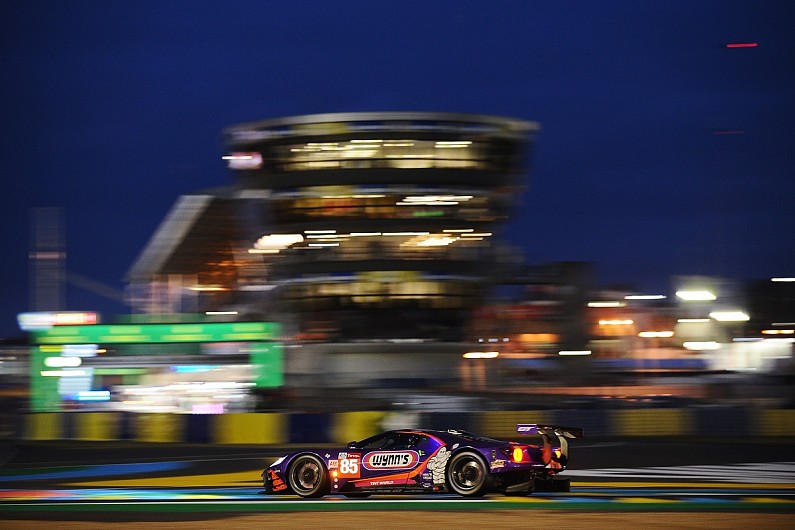 Bleekemolen alleged that race organiser Automobile Club de l'Ouest was searching for a way to ensure the Keating squad did not win its class.
The disqualification followed the #85 Ford being given a black-and-orange flag for a nose change in the early morning hours and a late stop-and-go penalty for Keating spinning his wheels in a pitstop.
"I've never seen the scrutineers searching for something until late Monday evening," Bleekemolen said.
"It wasn't meant to be, but on the other hand it is up to us to make sure that everything is right and that there is nothing to be found; 99.99% was fine.
"Maybe others would have gotten away with it, but that's a question you can't answer."
The ACO declined the opportunity to comment on the matter when contacted by Autosport.
Bleekemolen described the disqualification as the "heaviest thing in terms of experience and emotions I've ever experienced in racing" but said the Keating squad should return to Le Mans next year to avenge its exclusion.
"There are two things you can do: either you stay very angry and don't come back, or you go back to win in 2020.
"We have a very good team and we think we should just go for it again.
"We've shown that we can do it, now we have to make sure that the victory really counts.
"Last night I was really broken. This morning I didn't wake up very well either, but there's nothing I can do about it. You have to go on."