Ex-McLaren Formula 1 driver Stoffel Vandoorne's SMP Racing World Endurance Championship debut was marred by the privateer LMP1 squad suffering with only four gears in the closing stages at Spa Francorchamps.
Vitaly Petrov and then Mikhail Aleshin, who shared the #11 BR Engineering BR1 with HWA Formula E driver Vandoorne, were unable to engage fifth or sixth gears in the closing stints of a race affected by rain and snow.
"We only had four gears for maybe the last two hours," said former IndyCar driver Aleshin, who brought the car to the finish.
"Luckily the track was wet, because it would have been a much more difficult job if it had been dry."
The transmission issue meant that that Petrov was powerless to prevent Thomas Laurent in the #3 Rebellion-Gibson R-13 from passing him for second at the restart after the penultimate safety car.
There were only nine more green-flag racing laps before the race was stopped with 11 minutes of the six hours left on the clock.
That explained the gap of only six seconds between the top two non-hybrid cars behind the winning Toyota TS050 HYBRID in the final results.
Gaetan Jego, technical director of the ART Grand Prix SMP squad, suggested that the best of the AER-powereed BR1s would probably have been second but for the gearbox problem.
But he conceded that it had been a tight battle with the Rebellion that Laurent shared with Gustavo Menezes and Nathanael Berthon.
"We made different choices on tyres, so it was very up and down between the two cars," he explained.
"It is difficult to say who was quicker over the whole race."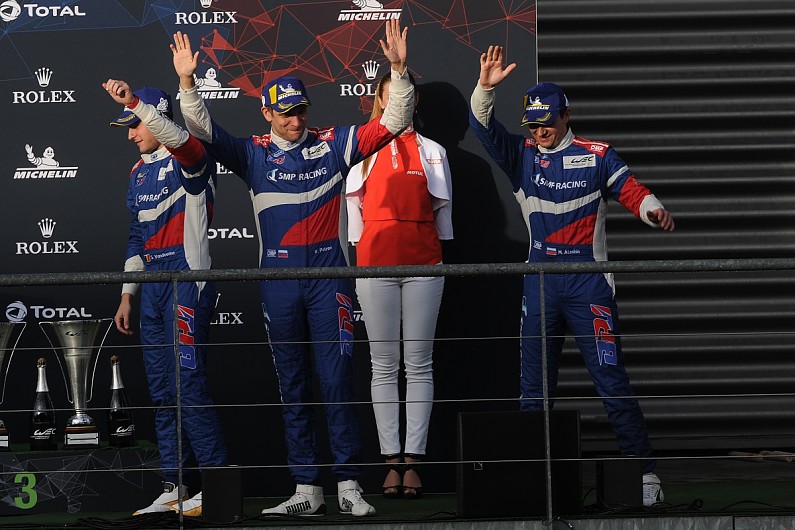 Jego stressed that a penalty incurred by team newcomer Vandoorne during an early full course yellow virtual safety car had no bearing on the final result.
He also reckoned that it validated SMP's decision to bring in the former McLaren Formula 1 driver into its line-up for a race in which Brendon Hartley had originally been scheduled to drive.
"That's why we wanted Stoffel in the car at Spa, to get mistakes like that out of his system before he gets to the Le Mans 24 Hours," said Jego.
The second of SMP's BR1 chassis finished a delayed fourth in the hands of Sergey Sirotkin, Egor Orudzhev and Stephane Sarrazin after losing its right front wheel early in the third hour.
The incident happened 16 laps after its previous change of wheels and tyres and the Jego stated in the wake of the race that it was still investigating the problem.