The #7 Toyota extended its gap at the front of the field in second free practice for this weekend's Silverstone World Endurance Championship event.
This time with Jose Maria Lopez at the wheel, the #7 beat the sister car of Kazuki Nakajima, Sebastien Buemi and Fernando Alonso by nearly 1.4 seconds and ended up 1.6s clear of the fastest privateer.
Lopez, who shares with Kamui Kobayashi and Mike Conway, posted a 1m38.536s early in the 90-minute practice period, which compared with Nakajima's session best of 1m38.893s.
The fastest of the LMP1 privateers was the #17 SMP Racing BR Engineering BR1.
Egor Orudzhev recorded a 1m40.179s in the AER-powered car to end up more than a second ahead of the next best privateer, the #3 Rebellion-Gibson R-13 entry, despite briefly stopping on track with electrical problems.
Thomas Laurent's 1m41.369s was four tenths down on the first session best from the car in the hands of Gustavo Menezes.
The second of the SMP entries took fifth with Vitaly Petrov driving, ahead of Ben Hanley in DragonSpeed's Gibson-engined BRE.
The #1 Rebellion, in which Bruno Senna suffered a fractured ankle after crashing in the opening session, did not run as it continued to undergo repairs.
The ByKolles ENSO CLM-Nissan P1/01 also didn't take to the track after suffering an oil leak in the first practice period.
The Jota-run Jackie Chan DC Racing squad topped the LMP2 class times.
Gabriel Aubry ended up fastest in the team's #38 ORECA-Gibson 07 with a 1m45.311s.
The Signatech Alpine ORECA took second with a 1m45.751s from Nicolas Lapierre, which just edged out Matthieu Vaxiviere's 1m45.818s in the TDS entry.
Ford returned to the top of the GTE Pro times in the closing minutes of the session courtesy of 1m56.898s from Harry Tincknell.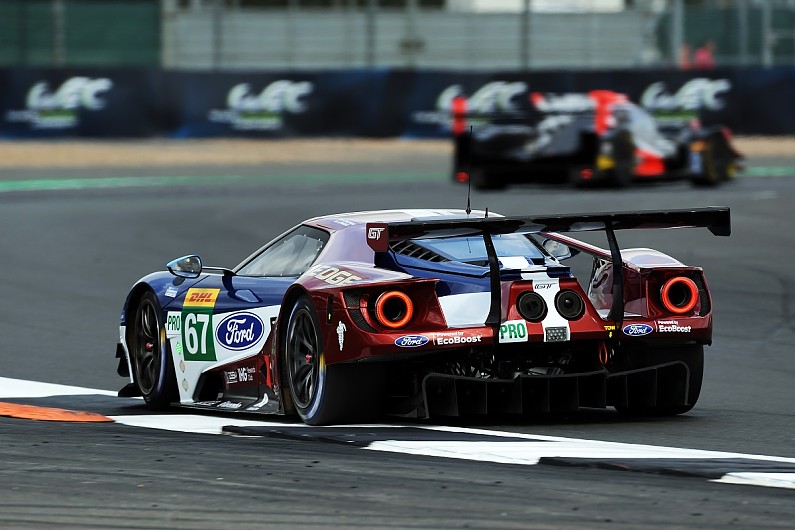 That vaulted him ahead of the two Aston Martin Vantage GTEs, which had headed the times in the middle of the session first with Marco Sorensen and then Alex Lynn.
Lynn ended up second in the 1m57.026s, while Stefan Mucke jumped to third with a 1m57.182s in the second Ford.
Andy Priaulx and Olivier Pla had topped the times initially in the two Ganassi Fords.
Ferrari led the chasing pack courtesy of a 1m58.190s from James Calado as the Italian manufacturer and Porsche filled out the next four positions in class.
Matteo Cairoli was fastest in GTE Am in his Dempsey-Proton Porsche 911 RSR.
Watch the Silverstone WEC race live with Motorsport.TV On Demand

FP2 times
| Pos | Class | Driver | Team | Car | Time | Gap | Laps |
| --- | --- | --- | --- | --- | --- | --- | --- |
| 1 | LMP1 | M.Conway, K.Kobayashi, J.M.Lopez | Toyota Gazoo Racing | Toyota | 1m38.536s | - | 48 |
| 2 | LMP1 | S.Buemi, K.Nakajima, F.Alonso | Toyota Gazoo Racing | Toyota | 1m39.893s | 1.357s | 47 |
| 3 | LMP1 | S.Sarrazin, E.Orudzhev | SMP Racing | BR Engineering/AER | 1m40.179s | 1.643s | 27 |
| 4 | LMP1 | M.Beche, T.Laurent, G.Menezes | Rebellion Racing | Rebellion/Gibson | 1m41.369s | 2.833s | 32 |
| 5 | LMP1 | M.Aleshin, V.Petrov, J.Button | SMP Racing | BR Engineering/AER | 1m41.587s | 3.051s | 40 |
| 6 | LMP1 | H.Hedman, B.Hanley, R.van der Zande | DragonSpeed | BR Engineering/Gibson | 1m43.449s | 4.913s | 21 |
| 7 | LMP2 | H-Pin Tung, G.Aubry, S.Richelmi | Jackie Chan DC Racing | ORECA/Gibson | 1m45.311s | 6.775s | 43 |
| 8 | LMP2 | N.Lapierre, A.Negrao, P.Thiriet | Signatech Alpine Matmut | Alpine/Gibson | 1m45.751s | 7.215s | 43 |
| 9 | LMP2 | F.Perrodo, M.Vaxiviere, L.Duval | TDS Racing | ORECA/Gibson | 1m45.818s | 7.282s | 42 |
| 10 | LMP2 | J.Jaafar, W.Tan, N.Jeffri | Jackie Chan DC Racing | ORECA/Gibson | 1m46.074s | 7.538s | 36 |
| 11 | LMP2 | R.Gonzalez, P.Maldonado, A.Davidson | DragonSpeed | ORECA/Gibson | 1m47.069s | 8.533s | 36 |
| 12 | LMP2 | F.van Eerd, G.van der Garde, N.de Vries | Racing Team Nederland | Dallara/Gibson | 1m47.601s | 9.065s | 37 |
| 13 | LMP2 | E.Creed, R.Ricci, Y.Mori | Larbre Competition | Alpine/Gibson | 1m49.486s | 10.950s | 41 |
| 14 | GTE Pro | A.Priaulx, H.Tincknell | Ford Chip Ganassi Team UK | Ford | 1m56.898s | 18.362s | 43 |
| 15 | GTE Pro | A.Lynn, M.Martin | Aston Martin Racing | Aston Martin | 1m57.026s | 18.490s | 38 |
| 16 | GTE Pro | S.Mucke, O.Pla | Ford Chip Ganassi Team UK | Ford | 1m57.182s | 18.646s | 44 |
| 17 | GTE Pro | M.Sorensen, N.Thiim | Aston Martin Racing | Aston Martin | 1m57.281s | 18.745s | 34 |
| 18 | GTE Pro | A.P.Guidi, J.Calado | AF Corse | Ferrari | 1m58.190s | 19.654s | 39 |
| 19 | GTE Pro | M.Christensen, K.Estre | Porsche GT Team | Porsche | 1m58.288s | 19.752s | 31 |
| 20 | GTE Pro | D.Rigon, S.Bird | AF Corse | Ferrari | 1m58.606s | 20.070s | 39 |
| 21 | GTE Pro | R.Lietz, G.Bruni | Porsche GT Team | Porsche | 1m58.869s | 20.333s | 21 |
| 22 | GTE Pro | A.Farfus, A.F.da Costa | BMW Team MTEK | BMW | 1m58.893s | 20.357s | 35 |
| 23 | GTE Pro | M.Tomczyk, N.Catsburg | BMW Team MTEK | BMW | 1m58.950s | 20.414s | 35 |
| 24 | GTE Am | G.Roda, G.Roda, M.Cairoli | Dempsey-Proton Racing | Porsche | 1m59.105s | 20.569s | 37 |
| 25 | GTE Am | P.D.Lana, P.Lamy, M.Lauda | Aston Martin Racing | Aston Martin | 1m59.378s | 20.842s | 38 |
| 26 | GTE Am | C.Ried, J.Andlauer, M.Campbell | Dempsey-Proton Racing | Porsche | 1m59.449s | 20.913s | 32 |
| 27 | GTE Am | M.Wainwright, B.Barker, A.Davison | Gulf Racing | Porsche | 1m59.476s | 20.940s | 34 |
| 28 | GTE Am | T.Flohr, F.Castellacci, G.Fisichella | Spirit of Race | Ferrari | 1m59.716s | 21.180s | 39 |
| 29 | GTE Am | J.Bergmeister, P.Lindsey, E.Perfetti | Team Project 1 | Porsche | 1m59.760s | 21.224s | 40 |
| 30 | GTE Am | S.Yoluc, J.Adam, C.Eastwood | TF Sport | Aston Martin | 1m59.953s | 21.417s | 31 |
| 31 | GTE Am | M.Ishikawa, O.Beretta, E.Cheever | MR Racing | Ferrari | 1m59.984s | 21.448s | 36 |
| 32 | GTE Am | Mok W.S., K.Sawa, M.Griffin | Clearwater Racing | Ferrari | 2m00.213s | 21.677s | 37 |
| 33 | LMP1 | N.Jani, A.Lotterer, B.Senna | Rebellion Racing | Rebellion/Gibson | - | - | 0 |
| 34 | LMP1 | O.Webb, R.Binder | ByKOLLES Racing Team | ENSO CLM/NISMO | - | - | 0 |