Rebellion LMP1 driver and past Le Mans winner Neel Jani has labelled the 2018 24 Hours a "procession" and the "most boring" of his 10 appearances.
Toyota finally won Le Mans at the 20th attempt last weekend, with its pair of TS050 Hybrids a class apart from their privateer LMP1 opponents.

What made the difference in Toyota's race against itself

Such was Toyota's pace advantage that it was 1m10s clear of the third-placed BR Engineering BR1 after just one hour and lapped that car during hour three.
Rebellion ended up securing third and fourth places with its pair of ORECA-built, Gibson-powered R-13s, 12 and 13 laps respectively behind the victorious #8 Toyota.
Jani, who shared the fourth-placed car with Bruno Senna and Andre Lotterer, told Autosport that the sheer size of Toyota's advantage, especially in traffic, made the race particularly tedious.
"On one clear lap with zero traffic, we are maybe two seconds off [Toyota], but the problem is in traffic the hybrids are so much more flexible to overtake [lapped cars]," explained Jani.
"Our spread between our quickest lap and our average is huge, their spread is a lot smaller because they can be flexible with how they overtake cars in a straight line.
"It was the most boring race I've done [here] so far. We've had unbelievable races the last five years, so it's OK to have one boring one at some stage.
"Everyone is happy for Toyota, but it was not a race in the end. It was a procession."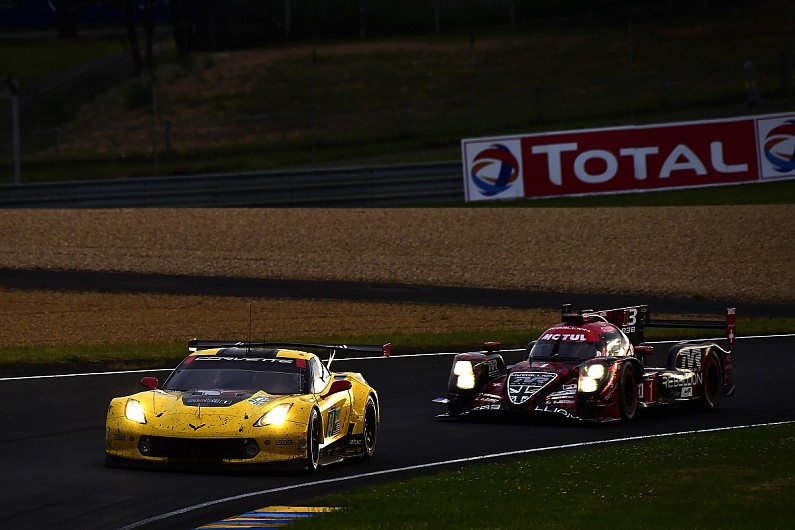 Jani said Rebellion's difficulties passing traffic were such that the R-13s could lose upwards of 10 seconds a lap to the Toyotas trying to pass slower cars.
"The LMP2s were better on top speed," he said. "They re-overtook us at the end of the straights.
"You get frustrated, like when you're on the motorway. That's what made it very difficult for us.
"We could lose 10s or 12s a lap [to the Toyotas], if we were unlucky, if we were lucky three or four.
"We need more top speed, that's what would make us more competitive."
Jani and his team-mates ultimately lost out in the battle for third to the sister Rebellion entry thanks to a door coming loose and a pair of penalties for exceeding stint lengths.
The door issue meant the Swiss driver had to complete the final three hours, pulling a sextuple stint.
"At the end we couldn't close the door, so I stayed in for the last three hours," Jani revealed. "Then we had a slow puncture, so that's why I came in again.
"After the slow puncture we had no tyres left. We had to put the medium [compound] on, which is not good for the cool conditions.
"But it was not like we [the two Rebellions] could race each other, hunt each other down, it was purely who has more luck at the end.
"Unfortunately we were on the unlucky side."